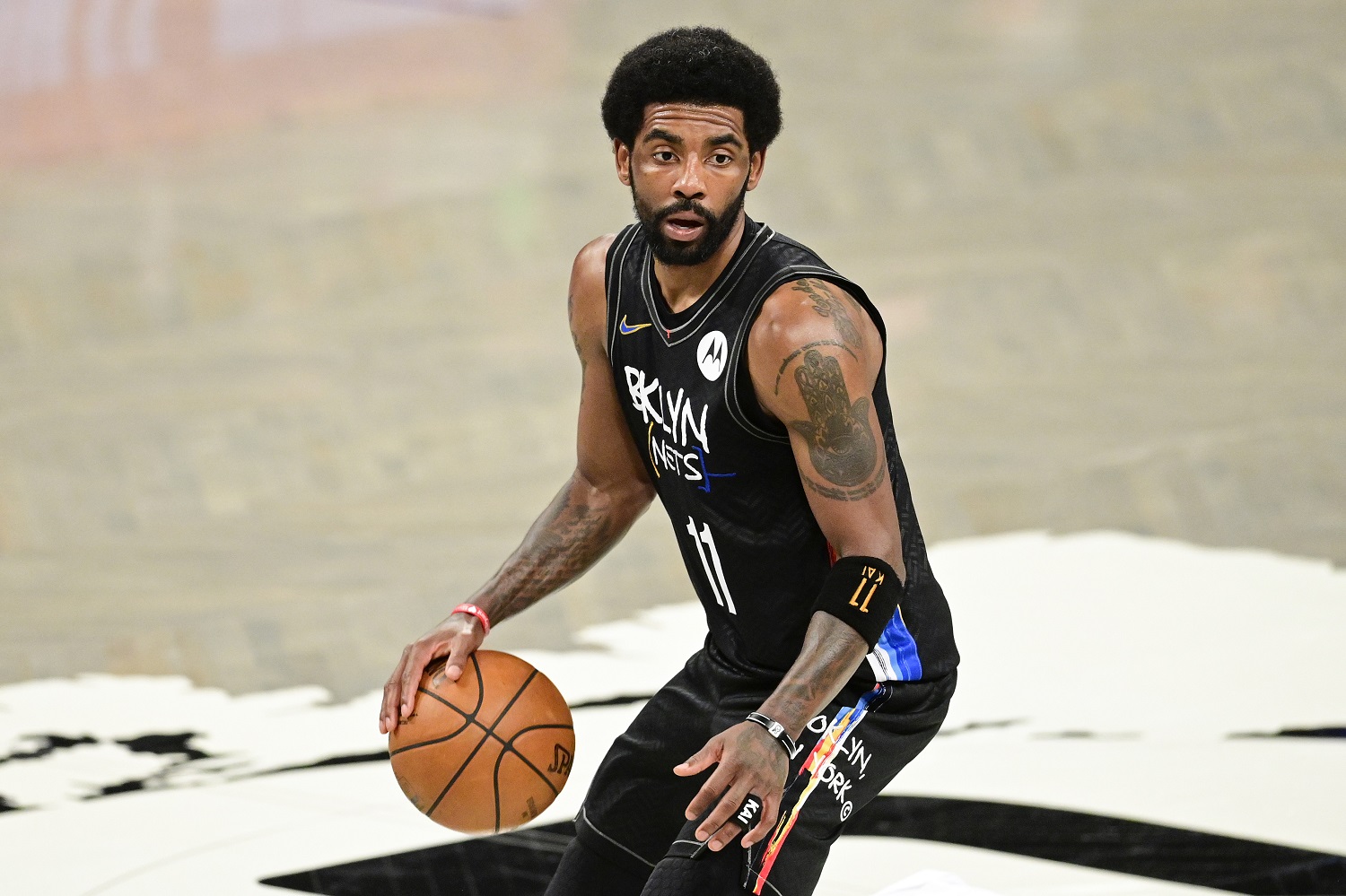 Kyrie Irving Has Picked an $11 Million Fight He Can't Win
Brooklyn Nets guard Kyrie Irving is raising a ruckus over Nike's plans to release the 'Kyrie 8' line of basketball shoes He has called the shoes 'trash' on social media.
If you've ever had to decide between eating liver or anchovies, then you know what it's like to wake up and find Kyrie Irving feuding with Nike. I mean, how does one choose who's right in a fight between two entities who've mastered the art of making themselves unlikeable?
In this instance, we're just going to suggest that Irving is wrong 11 million times over.
Kyrie Irving is a legitimate talent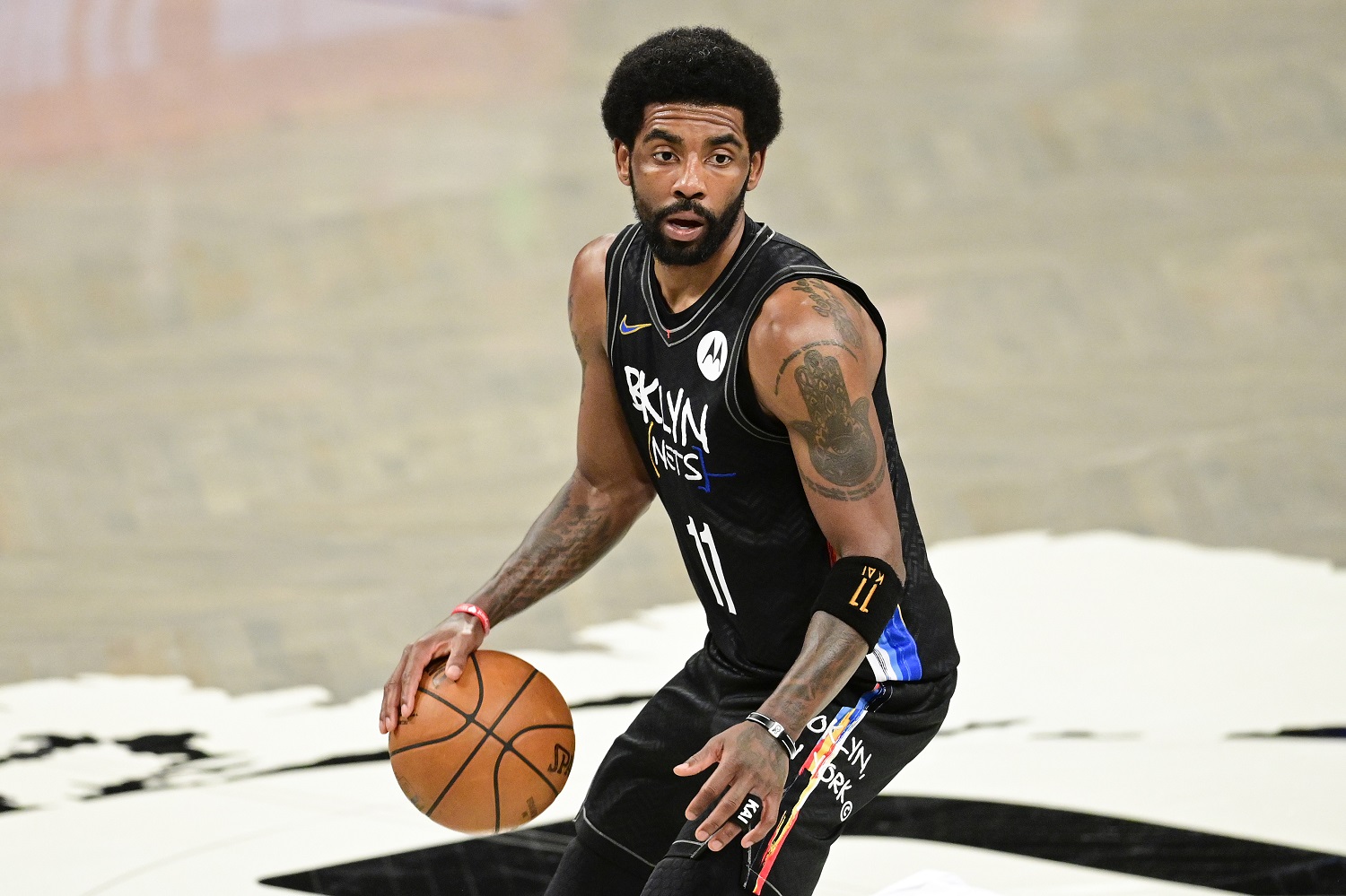 First, let's give Irving the credit he deserves. The veteran of 10 NBA seasons can certainly play basketball. Irving, who arrived in the league out of Duke as the No. 1 overall pick of the 2011 NBA Draft, is a sound talent who has appeared in seven All-Star Games.
Irving shoots a bit too often and doesn't get into the paint often enough to create opportunities like a classic point guard would. On the other hand, he's a reliable perimeter shooter who makes 39.1% of his 3-pointers and 47.0% overall. And he's done that with consistency beginning honors as the NBA Rookie of the Year in 2012 for the Cleveland Cavaliers.
On the downside, Las Vegas would never set his over/under for appearances during an 82-game season higher than about 65. Aside from being somewhat injury-prone throughout this career, Irving can be unreliable. He left the Brooklyn Nets for two weeks last January, citing "personal reasons." His presence without a mask at a party subjected Irving to COVID-19 protocols before he could return. He missed seven games and lost close to $1 million.
Kyrie Irving has picked an $11 million fight he can't win
Irving fired a salvo on Wednesday at footwear and apparel behemoth Nike, with whom he has an $11 million a year endorsement contract, according to Fox News.
The player said that Nike intends to release a "Kyrie 8" line of sneakers soon but that the company is doing so without his approval. Nike strikes deals with controversial athletes, but being in a relationship with one who lashes out at them is relatively new ground.
That's where company executives find themselves after Irving saw leaked photos of the shoes on social media. He called the shoes "trash" and said he had nothing to do with them.
"I have nothing to do with the design or marketing of the upcoming #Kyrie8, IMO these are trash!" he posted on Instagram. "I have absolutely nothing to do with them! Nike plans to release it without my okay regardless of what I say, so I apologize in advance to all of my sneaker heads and true supporters of the #KAI11 brand."
Irving is due $34.9 million from the Nets next season. After starting a fight he cannot win, Irving should plan accordingly. Nike executives can lace up a pair of Kyrie 8 shoes to kick him to the curb.
There's a whole new wave of players they can sign to replace him after the 2021 NBA Draft.
The player has a bit of a history
Perhaps Irving sees himself as a maverick of some sort, a pioneer in the area of controlling his own destiny. But a neutral observer would probably skew closer to writing him off simply as a pain in the butt.
Irving demanded a trade from the Cavaliers, reportedly because he felt underappreciated in the shadow of LeBron James. That earned him a ticket to Boston, where Irving told the Celtics he would put down roots. He high-tailed it out of town after two seasons to take a four-year, $136.9 million deal from the Nets.
Whispers from the Celtics' locker room were that a player who'd averaged 24.1 points and 6.1 assists in 127 games there wasn't missed.
Now, he's picking a fight with Nike, his own marketing partner and a company with a market cap of $261 billion. Such foolishness gets a child sent to his room without dinner in some homes.
Unless they were serving liver, of course.
Like Sportscasting on Facebook. Follow us on Twitter @sportscasting19.