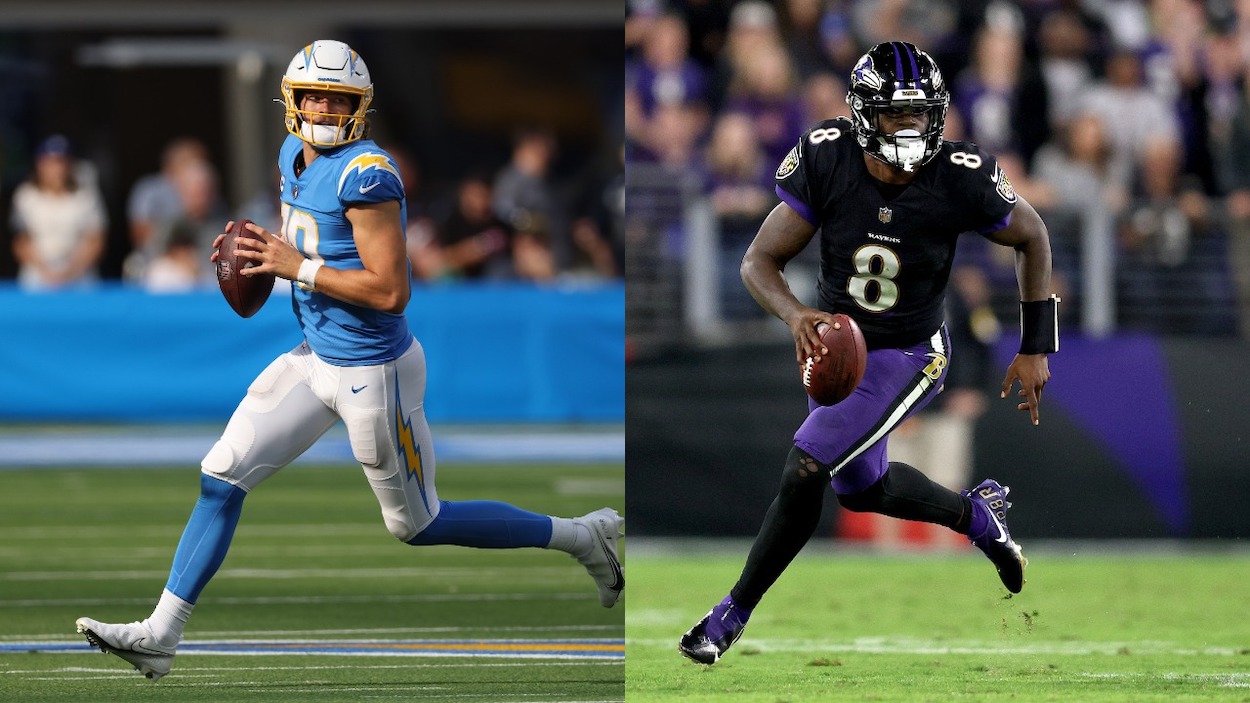 Lamar Jackson vs. Justin Herbert, the Best Team in the NFL in Prime Time, and a Must-See Train Wreck: The 3 Most Intriguing Matchups of NFL Week 6 
The three most intriguing matchups of NFL Week 6 includes some of the best young quarterbacks in the game and one complete disaster that you can't look away from.
The NFL's Week 6 starts bye weeks. This week's schedule will be without the Atlanta Falcons, New Orleans Saints, New York Jets, and San Francisco 49ers. While the slate is skinnier, that doesn't mean there aren't still some incredibly interesting matchups that will keep fans dialed in. Here are the three most intriguing matchups of NFL Week 6. 
Los Angeles Chargers vs. Baltimore Ravens – Sunday, October 17, 1:00 p.m. EST, CBS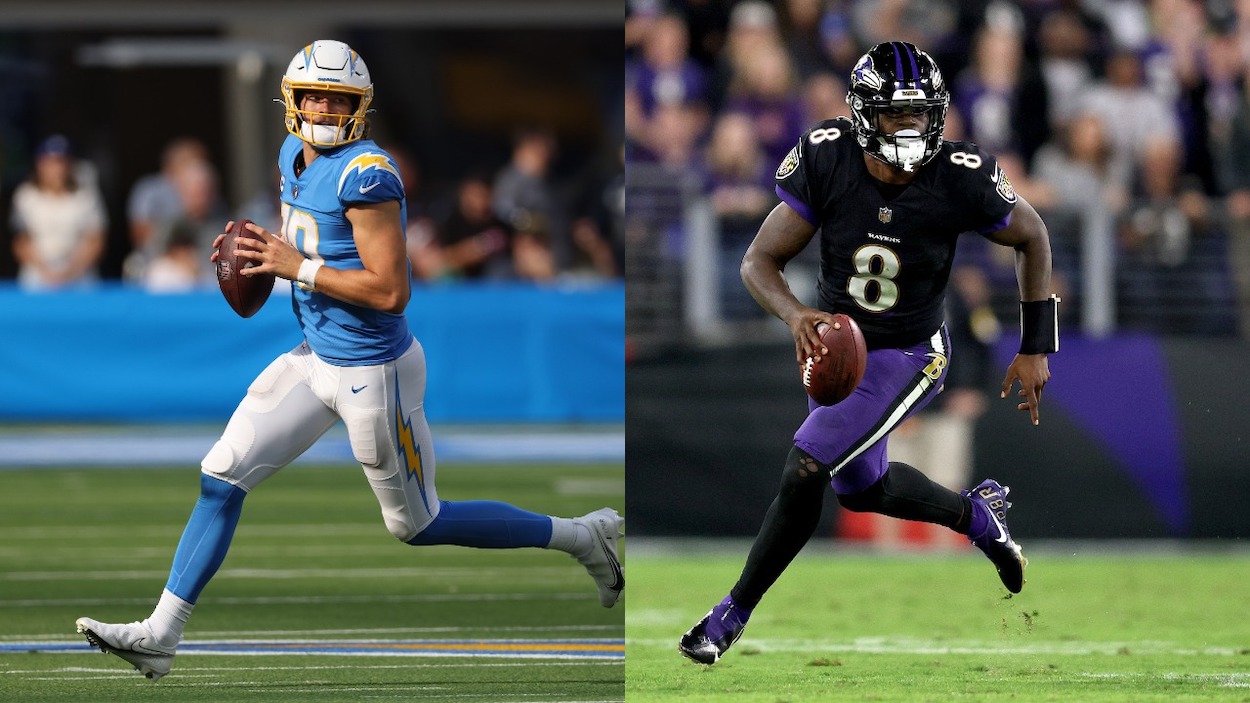 The Baltimore Ravens have made the playoffs in each of Lamar Jackson's first three seasons. However, the team hasn't won a postseason game since before Jackson showed up in 2018. The Los Angeles Chargers haven't made the playoffs as an organization since that same year, but second-season sensation Justin Hebert is trying to change that.
Both teams are 4-1 and sit atop their divisions. Both teams have top 10 scoring offenses (Chargers No. 6, Ravens No. 9), and both have middle-of-the-pack defenses (Chargers No. 13, Ravens No. 14). 
This game should be a showcase battle between Herbert and Jackson, but the winner will likely be decided by which defense can step in and make one big play late. 
The last we saw the vaunted Ravens D, Carson Wentz and the Indianapolis Colts were carving them up like they were the Greatest Show on Turf. The Chargers D has also surrendered a lot of yards and points, but with Joey Bosa and Derwin James, LA has two more big-time playmakers than Baltimore does, which may give them the edge in this NFL Week 6 showdown. 
Las Vegas Raiders vs. Denver Broncos– Sunday, October 17, 4:25 p.m. EST, CBS
Don't sleep on the Cincinnati Bengals vs. Detroit Lions, Arizona Cardinals vs. Cleveland Browns, or Dallas Cowboys vs. New England Patriots NFL Week 6 matchups. These were all in contention to make this list. 
Then the Jon Gruden scandal happened. 
Now, the Las Vegas Raiders traveling to face the Denver Broncos has to make the list. The Raiders, once the darlings of the 2021 NFL season, are now a complete mess. The franchise lost its head coach as the result of a thoroughly modern scandal that involves everything the gossip-hungry American public can't turn away from — technology, politics, race, sexual orientation, leaked documents, and more. 
After a week of salacious details, all eyes will now be back on the football field to see how Derek Carr, Josh Jacobs, Darren Waller, Maxx Crosby, and Carl Nassib can do their jobs after one of the swiftest downfalls in sports history. 
On top of all that, this is a division game between two teams that started 3-0 but now have two consecutive losses on their records. Are either of these teams for real, or was it all just an early-season mirage? 
Fans will come to see the human element of this NFL Week 6 contest but should stay for the intriguing AFC West context. 
Buffalo Bills vs. Tennessee Titans– Monday, October 18, 8:15 p.m. EST, ESPN
Outside of the "Hail Murray" loss to Arizona, only two teams truly beat the Buffalo Bills during the 2020 season. Josh Allen and company avenged two losses by taking down the Kansas City Chiefs. Now, Buffalo sets its sights on revenge against the Tennessee Titans, who beat down the defending AFC East champs 42-16 in Week 5 last season. 
The Titans get a different Bills team than the one they ran roughshod over last season. This Bills squad has the No. 1 scoring offense (34.4 points per game) and scoring defense (12.8 points per game allowed).
If Allen's crew goes to Nashville on Monday Night Football and takes care of business, the Bills are no doubt the best team in the game. However, the Titans present a unique challenge. 
Last season, Tennessee rushed for 139 yards against Buffalo, didn't turn the ball over, and took the ball from the Bills three times. Buffalo is built to compete with Kansas City and its high-powered, pass-first offense. If a power-rushing team like Tennessee can once again flummox Sean McDermott's side, maybe the Bills aren't who we think. 
We'll find out in the final game of the NFL Week 6 schedule. 
All stats courtesy of Pro Football Reference