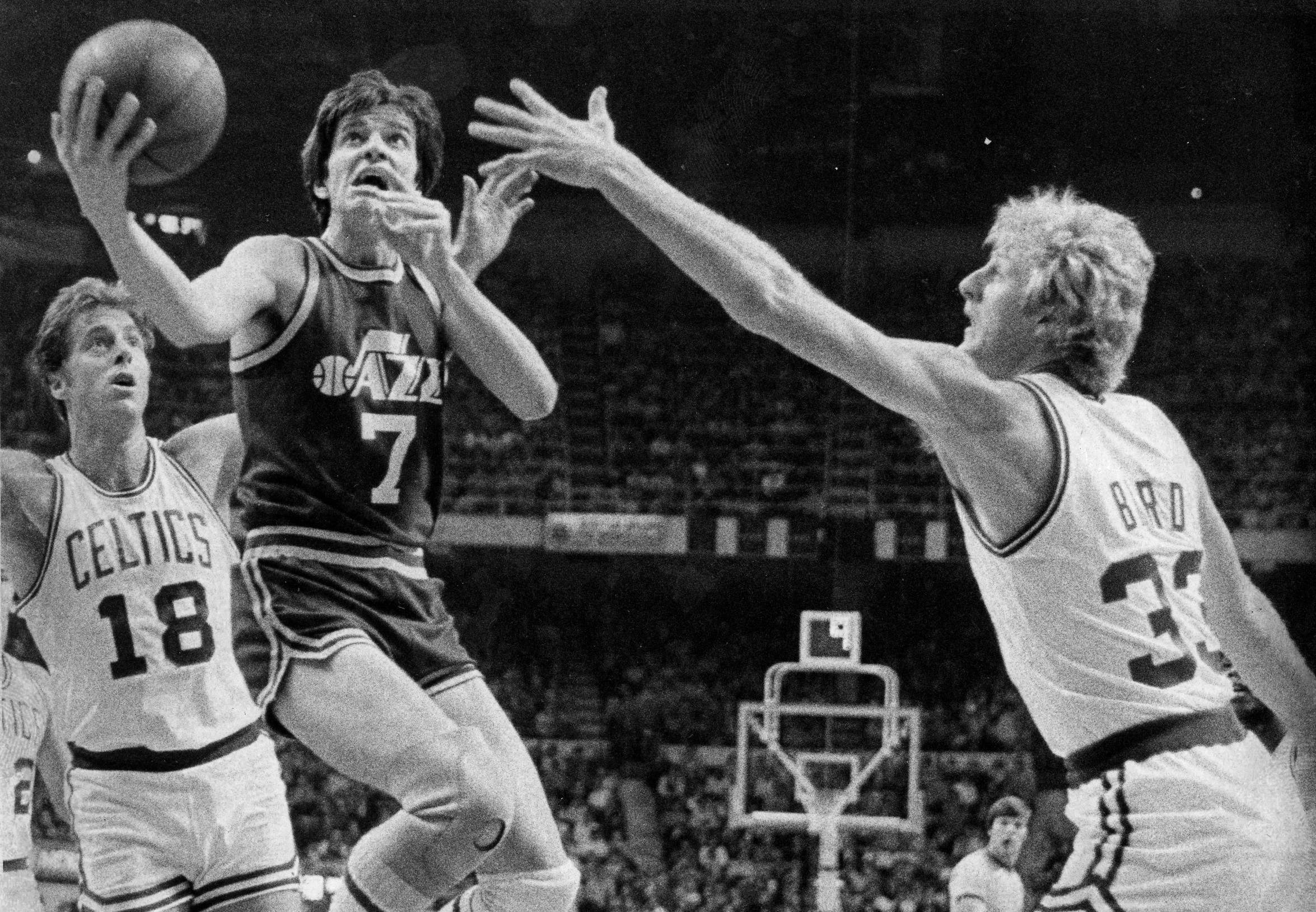 Larry Bird Admitted Dave Cowens' Retirement 'Shook Me Up,' and Then He Watched Pete Maravich Walk Away the Same Year
Larry Bird saw two veteran stars — Dave Cowens and Pete Maravich — walk away from the Boston Celtics during training camp in 1980.
Larry Bird had just won Rookie of the Year and helped the Boston Celtics improve their win total by 32 games. While the Celtics beefed up their team the following season after pulling off one of the biggest trades in franchise history, acquiring Kevin McHale and Robert Parish, they lost a pair of Hall of Famers.
Veteran Dave Cowens, an eight-time NBA All-Star who spent 10 years with the Celtics, abruptly retired just before the 1980-81 season. Bird admitted he had a hard time with that retirement. Pete Maravich, a five-time All-Star and former scoring champion who spent the last half of the 1979-80 season in Boston, also walked away from the game.
Dave Cowens abruptly retired on the bus before an exhibition game
Dave Cowens was a staple with the Boston Celtics throughout the 1970s. The fourth overall pick in the 1970 NBA Draft, Cowens was named Rookie of the Year after averaging 17.0 points and 15.0 rebounds. He made the first of seven straight All-Star appearances the following year.
An undersized center at 6-foot-9, Cowens claimed MVP honors during the 1972-73 season after putting up 20.5 points and 16.2 rebounds. He won two championships with the Celtics and was inducted into the Naismith Memorial Basketball Hall of Fame in 1991.
During the exhibition season in 1980, Cowens pulled a shocker, announcing his retirement to the team on the bus, according to Bird.
"We were sitting on the bus, waiting to leave for a game with the Chicago Bulls in Evansville," Bird said in his book Drive: The Story of My Life. "After a while, it seemed as if we should have left already, and people were saying, 'Come on, let's go.' Then Dave walked on the bus and asked Coach Fitch to come outside so he could have a word with him.
"We still didn't have a clue. Dave gets on the bus and says, 'I've got to tell you something.' Then he proceeds to make a speech. Dave says, 'I want to wish you luck, but I think it's time for me to retire.'"
Bird said Cowens' announcement 'shook me up'
Bird said the ride to the game was quiet. Players were stunned. Team jokester M.L. Carr, however, remained in character.
"We were stunned," Bird said. "Then M.L. Carr stands up and says, 'Hey, if you're not a part of this team anymore, get off our bus. We've got a game to play.' He was just kidding, maybe just trying to help us absorb the shock a little better."
Bird said Cowens had been acting a little different in practice. He didn't seem his normal self.
"It did seem as if he really wasn't into it," Bird said. "Dave told people he just didn't think he could do it anymore because his ankles were bothering him, but I really didn't buy it then — and I still don't. I think it was all in his head. Dave had made up his mind to get out.
"Dave's leaving really shook me up. You can read about something like that, but when you're actually living it, you just sit there and say, 'Can you believe this?'"
Cowens wasn't the only future Hall of Famer to walk away from the Celtics that year.
"Another player who packed it in during that training camp was Pete Maravich," Bird said. "He had joined us in January of my rookie year. Although he had some good games for us, I never thought he felt comfortable with the team. You could tell he just didn't have enough spark. He was there for that one last hurrah, but you could tell he really wasn't into it either. He never even played an exhibition game."
While Cowens retired, he did have the itch to come back after two years off. He didn't feel he was a good fit in Boston with Bird, McHale, and Parish in place, so he asked for a trade. The Celtics sent him to the Milwaukee Bucks for Quinn Buckner. Cowens played a total of 40 games before retiring for good.