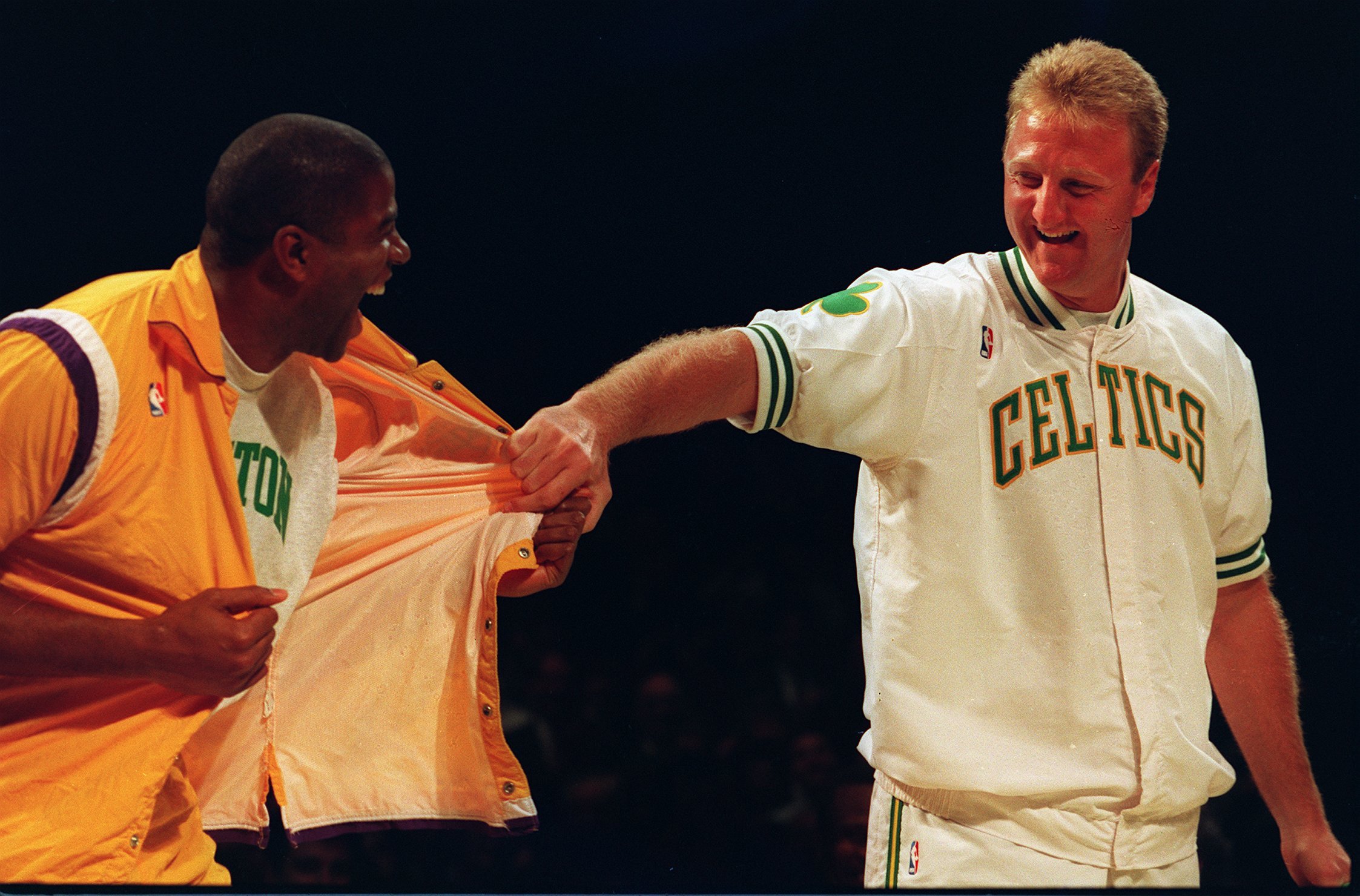 When Larry Bird Began His Coaching Career, He Revealed the 'Obvious' Differences Between Himself and Magic Johnson
The Larry Bird vs. Magic Johnson rivalry was one of the best in all of sports.
Larry Bird and Magic Johnson have been forever linked. The rivalry goes back to 1979, and it continued through their NBA years. Although they are both winners and Hall of Famers, they have some "obvious" differences, according to the Boston Celtics legend. Bird explained those just after he accepted his first NBA head coaching job back in 1997.
Larry Bird and Magic Johnson rejuvenated the NBA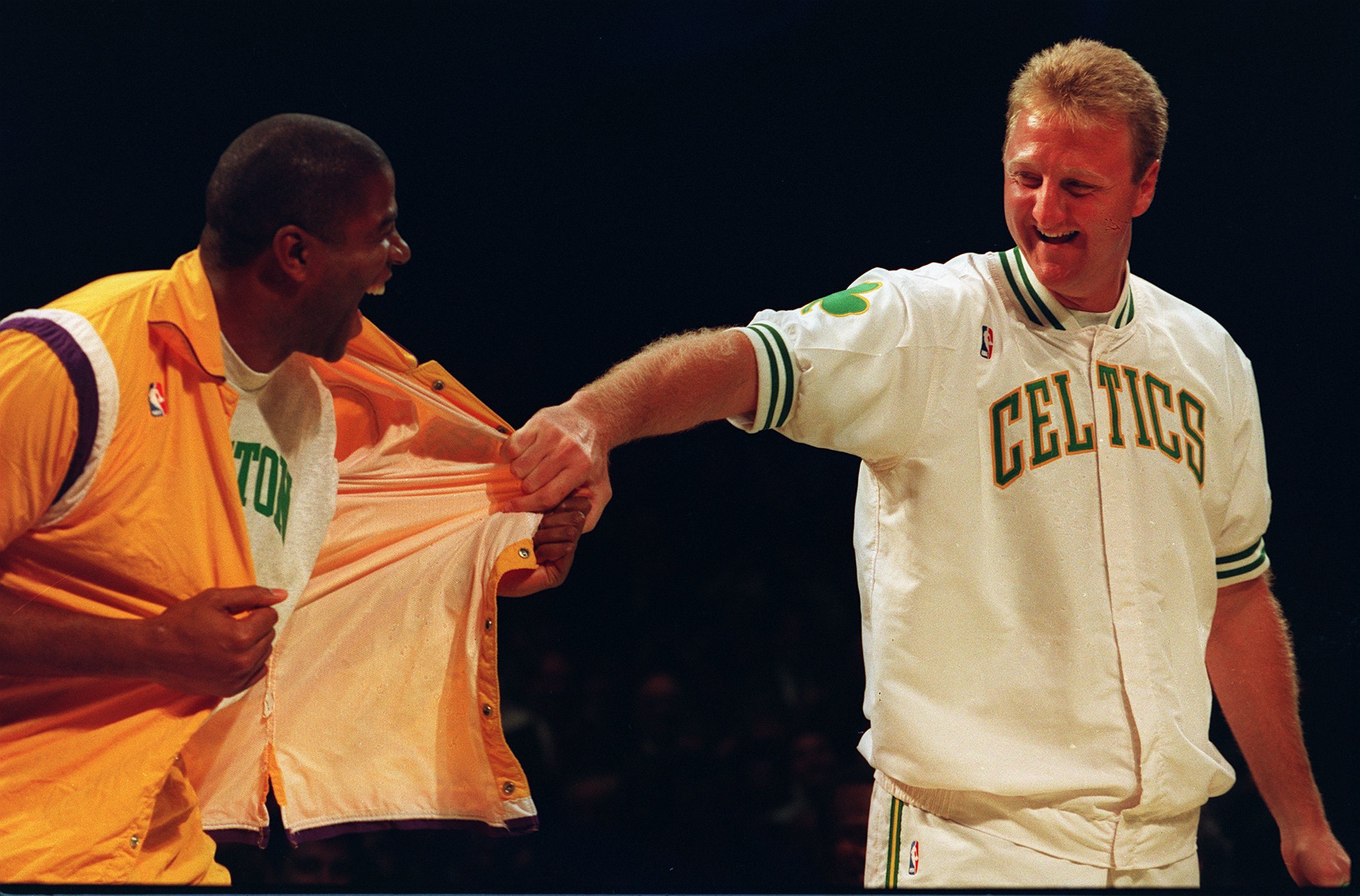 The Bird and Magic rivalry began in college when the two squared off in the NCAA title game in 1979. Their personal rivalry continued into the NBA, and it also helped rekindle one of the best rivalries in all of sports – the Los Angeles Lakers vs. the Boston Celtics.
For 13 years, they battled in the NBA, and their careers were eerily similar. Both played 13 seasons in the NBA. Bird and Magic were named the league's MVP three times each. Both were named NBA All-Stars in 12 seasons. They also combined for eight championships, Magic winning five times and Bird three.
There was mutual respect for each other on and off the court.
"I have always looked up to him because he knows how to win," Bird said, according to Sports Illustrated. "I've always put him a step ahead of me. But we think the same way about basketball."
Larry Bird said there were 'obvious' differences between himself and Magic Johnson
One other similarity between Bird and Magic was they both got into coaching after their NBA playing days were over. The coaching similarity ended there. Bird was successful in his three years. Johnson struggled in his 16 games.
As their careers came to an end, Bird grew somewhat annoyed at the comparisons to Johnson. Even when Bird began his coaching career with the Indiana Pacers in 1997, he was still likened to Magic. Like Bird, Johnson got into coaching, taking over the Lakers during the 1993-94 season. That didn't begin or end well.
Johnson went 5-11 and stepped down after those 16 games. The Lakers won five of the first six games he coached, but then finished the season on a 10-game losing streak. He chose not to return.
"The differences between Magic and me are obvious," Bird told Sports Illustrated in 1997. "When Magic coached, he thought he was the best player on his team. Magic wanted to play. He still does. Magic is also a spur-of-the-moment guy. Something looks good one day, and the next day he's saying, 'What the hell did I get myself into?' I know exactly what I'm getting into."
Bird had a short but successful coaching career with the Pacers
No matter what he did in basketball, Bird was successful. Whether it was playing, coaching, or running a team from the front office, Bird shined. He's the lone person in NBA history to have won Rookie of the Year, Most Valuable Player, NBA Finals MVP, All-Star MVP, Coach of the Year, and Executive of the Year.
He coached for three years, and that was enough for him. Those three years, however, were successful as he compiled a 147-67 record in the regular season. He finished with a pair of 50-win seasons, and went 33-17 in a lockout-shortened year during the 1988-89 season. He resigned after the 1999-00 season.
In his first year as head coach, he guided the Pacers to a 58-24 record, which was the best in franchise history at the time. Indiana took Michael Jordan and the Chicago Bulls to seven games in the Eastern Conference Finals. At the end of the season, Bird was named Coach of the Year.
While Bird and Magic were very similar playing basketball, Bird held the clear edge when it came to coaching.