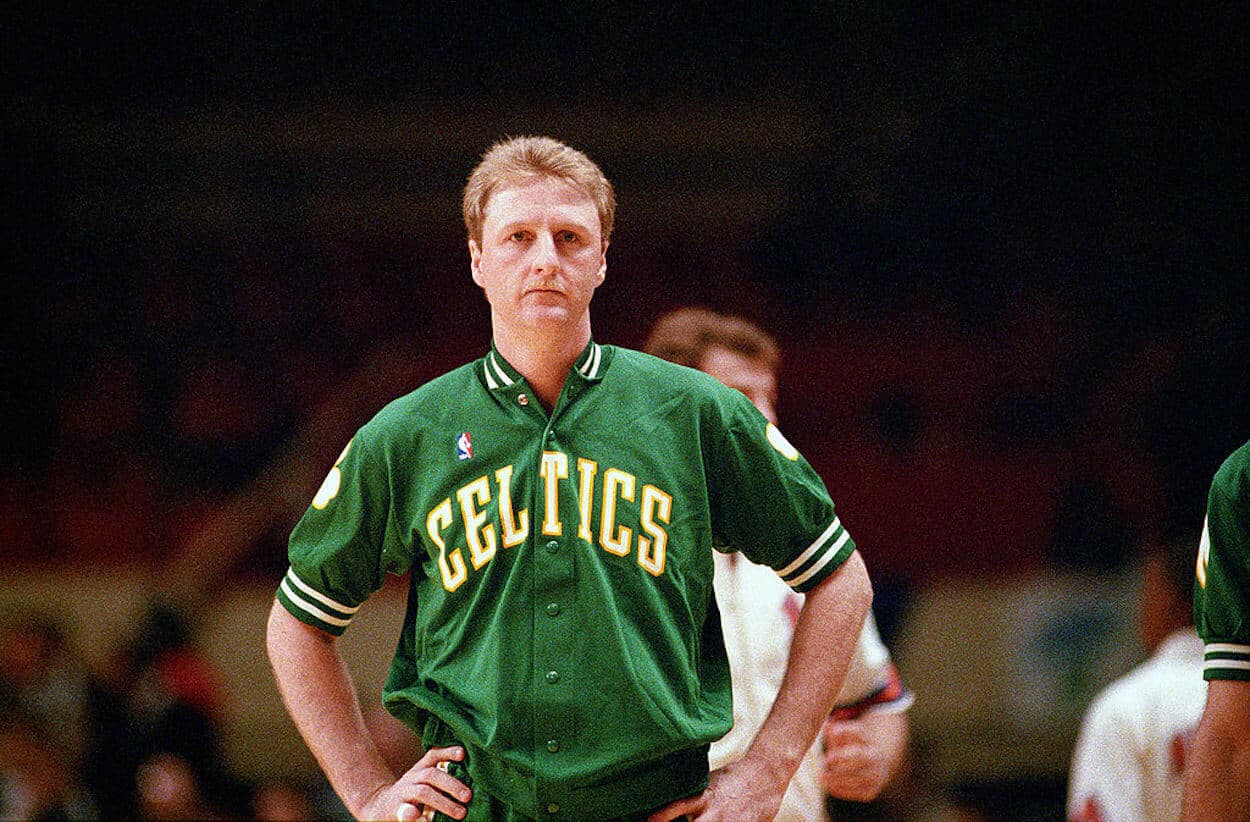 Larry Bird Gave a Young Chuck Person a Warning About Life in the NBA, Then Followed Through
While the two men would go on to have some famous exchanges, Chuck Person's first encounter with Larry Bird came as an NBA rookie.
At the risk of painting with a broad brush, NBA players aren't short on confidence. When your livelihood depends on your ability to deliver under pressure, there's no room for self-doubt. And while he certainly had plenty of talent — it's not like he simply talked a big game — Larry Bird certainly had faith in his own abilities.
Over the years, the famous forward told plenty of defenders how he was going to score and followed through, despite their best efforts to stop him. In 1986, however, Larry Legend created a self-fulfilling prophecy in another way.
When Bird crossed paths with a young Chuck Person, he told the Rifleman that he needed to play hard every night or face the consequences. Shortly thereafter, the Celtics star showed him exactly what could happen in the Association.
Let's hop in the time machine, then check it out.
Larry Bird warned Chuck Person about the risk of NBA embarrassment before going off on the Pacers
Over the years, Chuck Person and Larry Bird developed something of a rivalry. Bird gave the Auburn product an infamous Christmas present in 1990, and the Celtics and Pacers duked it out during the 1991 postseason. Their first engagement, however, came several years before.
"I don't know if Larry remembers, but my first game in the pros was against him in Terre Haute, and he said, 'Young fella, when you come out to play, play hard every night, or you'll get embarrassed – especially by me," the Rifleman told the Indiana Pacers' official website in 2004. "That gave me extra incentive to play hard against Larry."
While that's already a classic Bird story — rather than being purely mean, he always tied things back to his own ability to execute — it didn't end there. Sure enough, Larry Legend circled back to show the rookie exactly what could happen at the professional level if you weren't careful.
"My first regular-season game against Larry, he had something like 40 points, 20 rebounds, and 15 assists, so I told myself I had to come out and play as hard as I possibly could every night," Person remembered.
And while those numbers don't exactly match up with the box score — that understandably tends to happen in these sorts of stories — No. 33 certainly delivered. On November 5, 1986, the forward played 32 minutes against Indiana and dropped 38 points while going 14-for-20 from the floor. He also added 11 rebounds, eight assists, two steals, and a block for good measure. On the opposite side of the ledger, Person shot 5-for-12, scored 12 points, and pulled down eight boards.
And, on the balance of play, the Celtics won 133-102.
Was that an embarrassment? You can decide that for yourself, but it is worth noting the Person came off the bench, so it's not like he was the one specifically tasked with limiting Bird's success. With that being said, though, the rookie still learned a lesson from that experience.
Ultimately, Bird held Person in rather high regard
When you consider that early interaction and the later Christmas gift, it would be easy to assume that Larry Bird didn't care for Chuck Person. In reality, though, that wasn't the case. If anything, the famous forward has gone on the record on multiple occasions and spoke highly of his old opponent.
"The thing about Chuck, no matter if it was the regular season or the playoffs, he came to play," Bird remembered in the same Pacers interview where Person shared his memories. "I think he played harder against me than anybody else, but it was good. In this league, a lot of times the players don't give you any resistance. But when you played against Chuck, you knew you had to play, and you had to play hard – and if you didn't play well, they'd probably beat you."
While that's quite the compliment, you could cynically argue that Larry Legend has to give a PR-friendly response for an official team write-up. Years later, though, he hadn't changed his tune.
"I've always respected Chuck, because when you're playing out there in a game, you know the guys are coming after you, certain guys every time you play them, and he was one of them," No. 33 told Marc J. Spears of Andscape (then The Undefeated) in 2019. "There's certain guys that just didn't give you no resistance, maybe because they were pissed off at teammates or the coach. And as the game went on, you could see they, 'Ah, hell, we can't beat these guys.' But Chuck brought it every time. I always respect him for that."
Beyond that, Bird insisted that, despite their verbal exchanges, there was no ill will.
"Yeah, we got in some verbal things," he added. "And he talked a lot junk before he got to Boston or I came to Indiana. But when it was all said and done, I respected the guy."
When it came to Larry Bird, the cliche generally held true: Game recognized game.