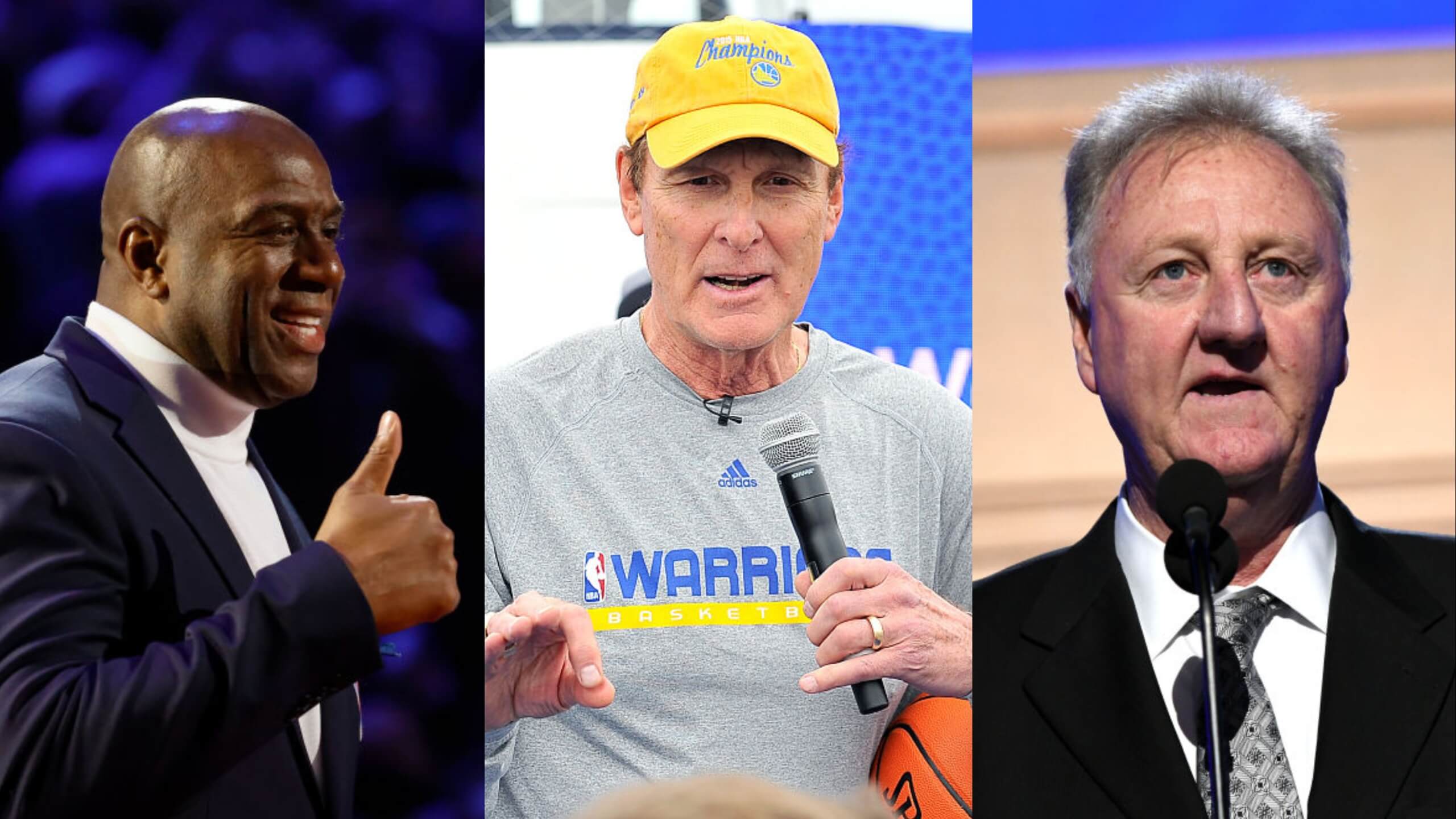 Rick Barry Has No Time For Larry Bird-Magic Johnson Debates: 'There's No Such Thing as a GOAT in a Team Sport'
Over the years, Rick Barry faced off against plenty of basketball legends. That's given him some unique perspective on GOAT debates.
Over the years, we've seen plenty of iconic pairings. Chocolate and peanut butter. Fish and Chips. Bacon and eggs. Looking outside of the food world (that focus wasn't intentional, I swear), the same trend holds true among NBA players. Consider, for example, Larry Bird and Magic Johnson. While the two men were more rivals than true partners, they're an inescapable part of basketball history.
Throughout their respective careers, the two men were juxtaposed against each other. That trend started in college, where Indiana State and Michigan State met for all the marbles, and continued into the Association. Bird, of course, joined the Boston Celtics; fate sent Magic to their famous rival, the Los Angeles Lakers.
While that reality led plenty of basketball fans to make a black-and-white choice between the two stars, Rick Barry isn't falling into that trap. While he could have joined the Celtics at the tail end of his career — we'll get to that shortly — the small forward has no time for choosing between Magic Johnson and Larry Bird.
Rick Barry isn't getting sucked into a debate between Larry Bird and Magic Johnson
Over the years, Rick Barry saw plenty of NBA legends up close and personal. Of those talents, Larry Bird and Magic Johnson were two of the best.
As mentioned above, there was a natural tendency to pit the two stars against each other. They played stylistically different games, faced off in college, and found themselves playing for two of the NBA's great (and rival) franchises. Despite that tendency, though, Barry isn't picking a side.
While speaking to Eric Jay Santos of Inside The Celtics (h/t Sports Illustrated), the New Jersey native remembered how he almost took his talents to Boston at the end of his career. While you might think the possibility of joining the Celtics and backing up Larry Legend might have revealed Barry's preference, that isn't the case.
"I played against Bird and Magic when they were rookies," he explained. "They're both great. They're different positions, so who the hell cares. Everybody tries to compare Bird to Magic. Bird's a three, and Magic's a point guard."
While that's a reasonable take, the sharpshooter pushed things even further by zooming out to the topic of all-time greatness.
This GOAT stuff is the biggest b******t in the world. There's no such thing as a GOAT in a team sport. You need to have conversations about positions, and I wish they would stop comparing players from different eras.

Rick Barry
And there you have it, straight from the man himself.
At the risk of stating the obvious, Barry has a point about Bird and Magic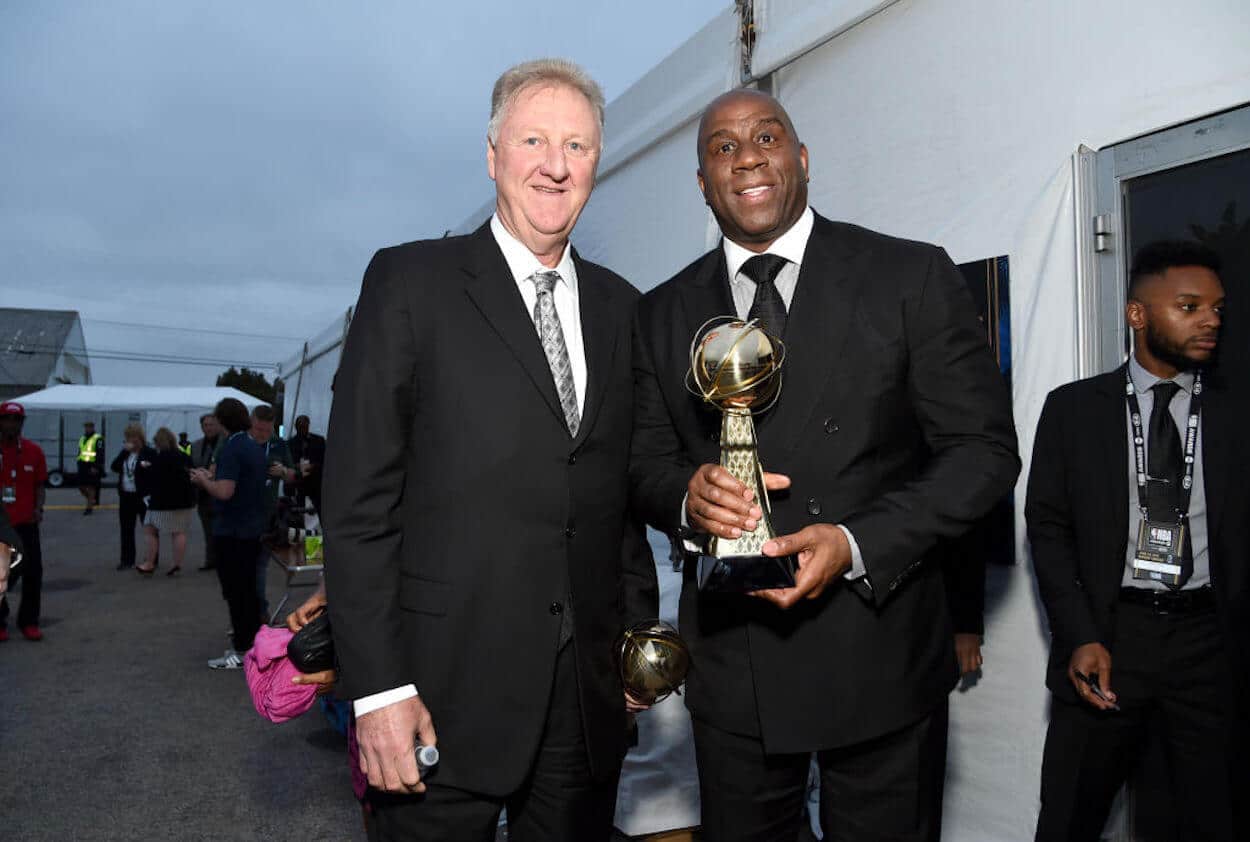 While the way in which he said it might grab your attention, Rick Barry's assertion about Larry Bird and Magic Johnson isn't exactly a hot take. Not only were the two men incredibly different players, but they both excelled at what they did.
As Barry noted, Johnson thrived at point guard, although his size did allow for the occasional cameo in other roles. In the Lakers' up-tempo offense, though, Magic was the conductor. He could score and assist with equal ease, averaging 19.5 points and 11.2 helpers across his career, but the star also pitched in with steals and rebounds. It's also worth remembering that the Michigan State man was ahead of his time; while it might seem normal in today's positionless game, it wasn't exactly ordinary to see a 6-foot-9 man handling the ball and running the offense.
While Bird may have been less athletic than his long-time rival, that didn't prove to be a problem. The forward possessed impeccable fundamentals, a silky shooting stroke, and, perhaps most importantly, supreme confidence in his own skill set. He averaged 24.3 points, 6.3 assists, and 10.0 rebounds per game across his career; it's also tempting to imagine how good he'd be in today's NBA, given that three-point shooting is a key part of every team's offense.
At the risk of connecting Barry's Bird-Magic comments to his GOAT comments, there's something to be said for finding multiple paths to success. Did both stars possess different skill sets? Of course, but they both found incredible success. It would have been a shame to overlook the success of one because you simply preferred the other.
Just because one was quote-unquote greater, that shouldn't invalidate the other's efforts.
And, as Barry rightfully noted, there are plenty of complicating factors. Continuing to use Bird and Johnson as the example, both men played different positions, which affected their statistical contributions. That's especially true for Magic, who had the size to play as a forward; maybe we'd view him differently if he slotted in at small forward and finished his career with more points and fewer assists,
Similarly, teams and teammates also change the equation. Would Larry Legend's stats have looked different if he wasn't playing for one of the NBA's top teams? Probably, and the same can be said for Magic. Playing within the Showtime offense and passing the ball to the likes of Kareem Abdul-Jabbar and James Worthy will help anyone's assist numbers.
Again, none of that is groundbreaking logic; it's largely been said before and will be said again in the future. Hearing Rick Barry lay everything out candidly, however, does provide a good reminder.
GOAT debates can be fun, but make sure to keep things in perspective. If a player is even in the conversation regarding all-time greatness, they're pretty special. Don't let picking a side in an argument blind you to that fact.