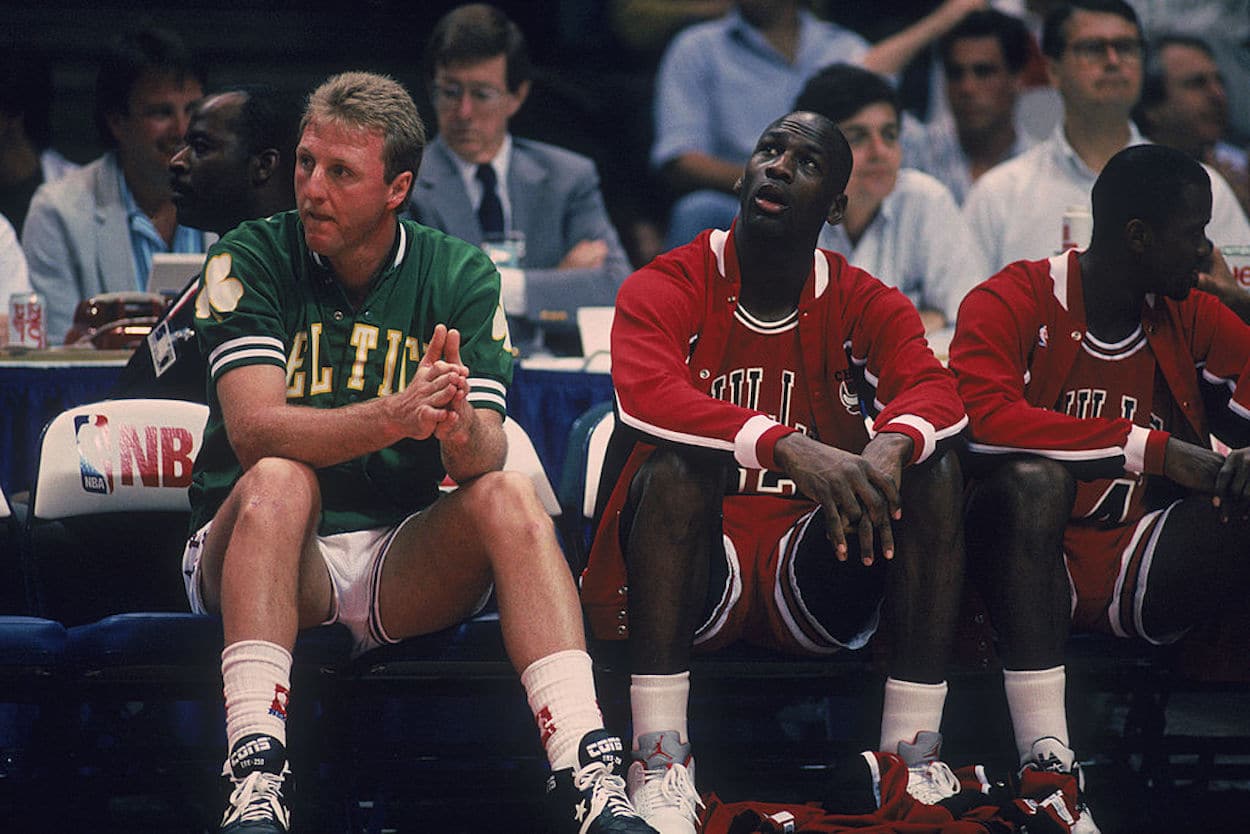 Michael Jordan Once Paid Larry Bird a High Compliment By Saying He Was Slow and Couldn't Jump
Was Larry Bird the fastest and most athletic man around? No, but that doesn't affect his overall greatness. Just ask Michael Jordan.
As we know by now, Michael Jordan was no stranger to trash talk. The living NBA legend needed to win and wasn't afraid to push the envelope to get there. Whether he was calling out a teammate to ensure he could handle the pressure or trying to exert a bit of psychological warfare on an opponent, His Airness wasn't afraid to talk a bit of trash. When it came to talking about Larry Bird, though, things were a bit different.
In 1987, a story ran in the Chicago Tribune discussing Larry Legend's weaknesses. MJ took part and, despite seeming to throw some serious shade Bird's way, paid the forward an incredibly high compliment.
Sound unbelievable? Let's take a walk down memory lane.
Michael Jordan said that Larry Bird's flaws showed his lack of a weakness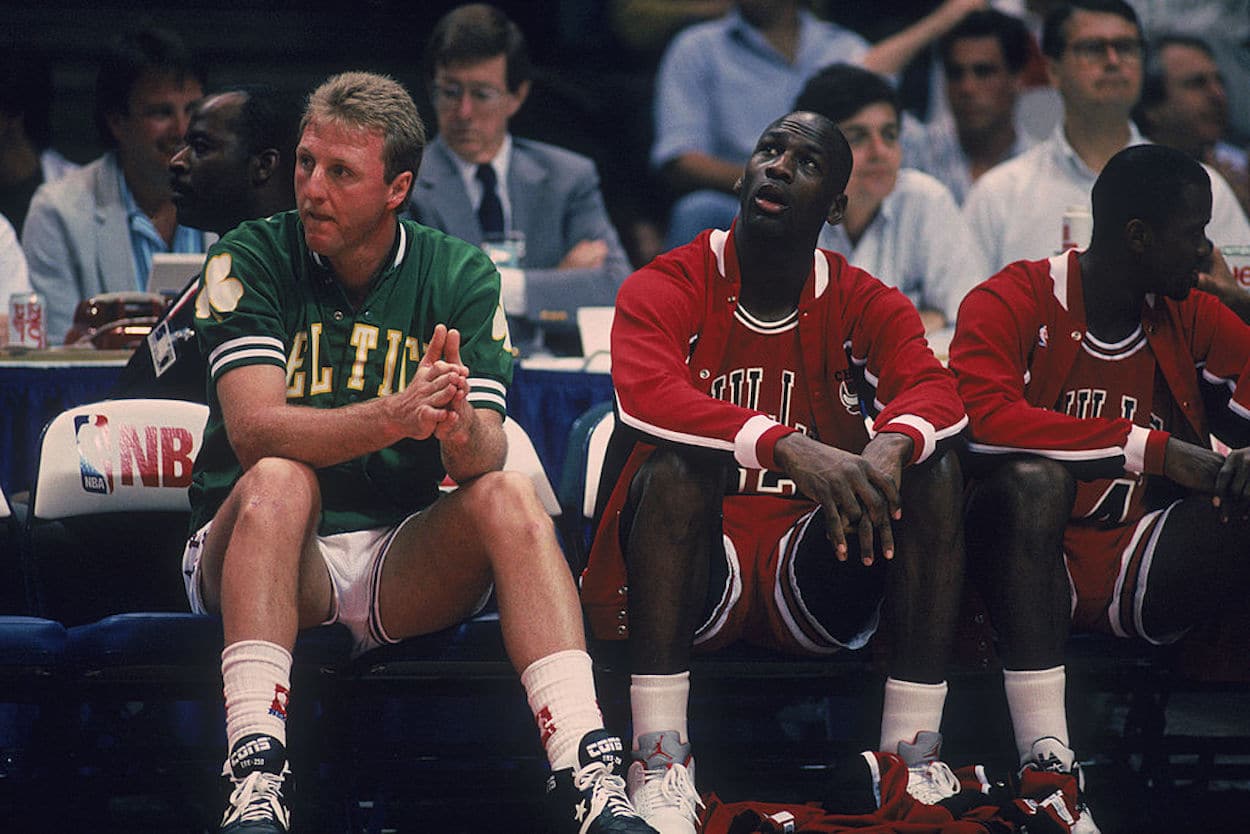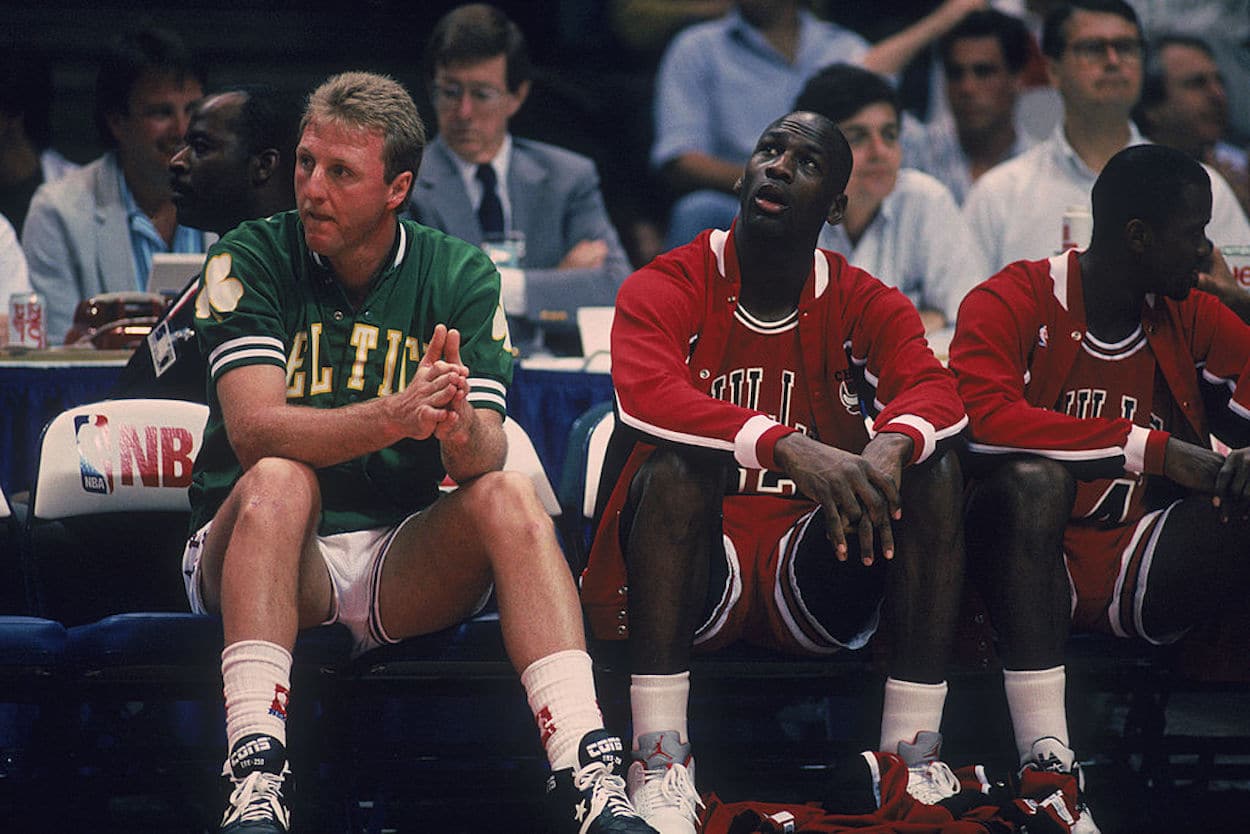 Whether you saw him live or only watched the highlights, just about everyone knows that Larry Bird was a legendary NBA talent. Even the biggest star, however, can still possess some flaws.
In his 1987 Chicago Tribune piece, Mark Newman tried to get to the bottom of that reality, at least from Bird's perspective. The scribe asked around the league, trying to understand where the Boston Celtics star came up short.
The article contained plenty of humorous answers — Derrick Harper, for example, called Bird ugly and criticized his mustache — there were some serious nuggets. Consider the response offered by Michael Jordan.
"He can't jump, and he's not quick," His Airness explained.
Sounds like a bad start, right? Well, thankfully for all parties involved, MJ wasn't trying to engage in trash talk. Instead, he was setting up some high praise.
"But you can't increase your jumping ability or your quickness," Jordan continued. "He makes up for it by using his head, analyzing the opponent. It makes him better than the competition. Consequently, he doesn't have a weakness."
While some would argue that you could increase both your vertical leap and foot speed, wrap your mind around Michael Jordan saying an opponent out-thought the competition to the point that he didn't possess a weakness. That would be high praise from anyone, let alone MJ.
Although Jordan was had yet to fully come into his own in 1987, we know about the fire that burned inside of him. If he was being that unabashedly positive and calling out things, like analyzing the opposition, that he valued, it's safe to assume that Mike was genuinely impressed.
And, at the end of the day, he's probably right about Larry Legend. As much as we may love to watch incredible athletes dominating the competition with their raw physicality, that can only be so impressive. While it is amazing to see someone take off from the foul line for a dunk, everyone in the NBA is an elite athlete.
Bird was never the quickest, tallest, or strongest man on the floor, but it didn't stop him. If anything, that became his superpower. The forward knew exactly what he was and what he could do on the court. Rather than trying to change, he embraced his limitations. Being slow wasn't a problem. It was an invitation to think his way through the game, relying on intuition and experience rather than foot speed.
And while that might be a different, less apparent sort of greatness, it's still something special. If Michael Jordan was impressed, you know that Larry Bird had to be all that.