Michael Jordan Showed a Softer Side While Playing In the Famous 'Jordan Dome'
When you hear the name Michael Jordan, you probably picture an incredibly dominant NBA player capable of crushing any opponent with a mixture of raw talent and brutal trash talk. And while that version of His Airness certainly did exist, he was a multi-faceted man. Take, for example, the version of MJ that Kris Johnson saw on the Hollywood backlot.
While filming Space Jam, Jordan wanted to work his way back into playing shape. Since a simple blacktop court wasn't going to cut it for a living legend, the "Jordan Dome" sprung up at Warner Brothers Studios. There, he played some legendary pick-up games, talked plenty of trash, and left an unforgettable impact on Johnson.
Michael Jordan took Kris Johnson under his wing and even gave him a pair of sneakers
While Kris Johnson might not be a household name these days, there was a time when he was widely known in basketball circles. Not only was he the son of Marques Johnson, but the forward was a member of the 1995 NCAA champion UCLA Bruins.
It was on the back of that collegiate success that the sophomore found himself stepping inside the Jordan Dome.
As you might expect, Johnson was initially star-struck, with he and Charles O'Bannon giggling like children at the sight of His Airness. Once on the hardwood, though, there was no room for soft defense or kid gloves.
"And Michael was not playing any differently than he would play with Scottie Pippen. Michael is very hard on you, and if you don't have the mental fortitude to deal with that, you will break, as a player and as a person," Johnson told Greg Braxton of the LA Times. "It takes a strong person to deal with Mike. He got in my [expletive]. It wasn't, 'Oh, you're Marques' kid. Oh, you're only a sophomore at UCLA.'"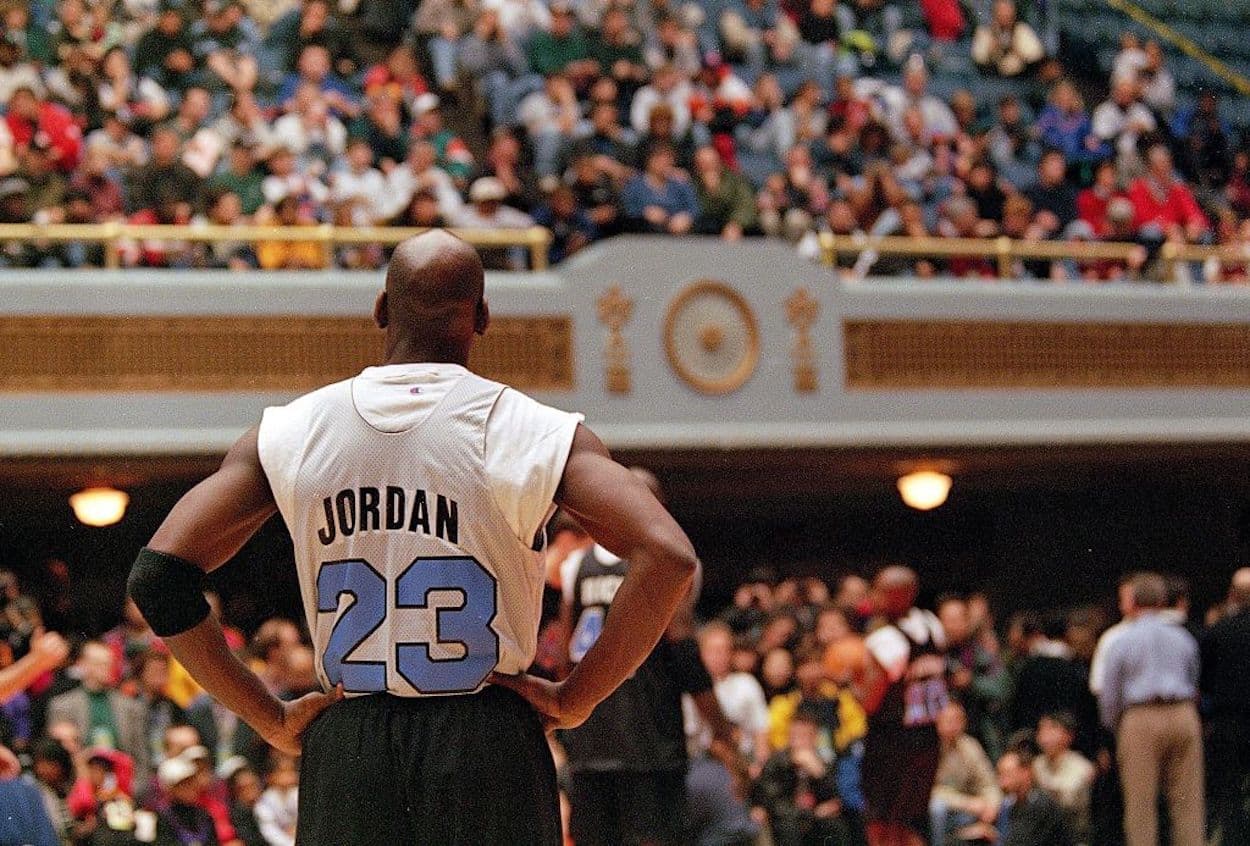 With all of that being said, though, MJ also showed his human side. In addition to helping Johnson improve his game — he was losing weight, and Jordan helped him transition into playing more of a perimeter player — the living legend also gave him a personal memento.
"Once you break the ice with Mike, you realize he's just like you," Johnson recalled. "He loves competition, he loves the game. He even gave me a pair of his patent leather Air Jordans. He gave me them off his feet. He really was uplifting to me, took me under his wing, gave me a lot of confidence not only in basketball but anything I did. And when you touch greatness, you always want to achieve that standard."
And while he didn't make it to the NBA, Johnson did improve across his four years at UCLA and, after graduation, played plenty of professional basketball abroad. Who knows, maybe he wouldn't have found that same success without his moment with Mike.
And, on the Jordan front, it's worth remembering this interaction as part of the star's cannon. While it's easy to look at His Airness as a jerk who talked trash, cheated in order to sate his hunger for victory, and was generally unpleasant to be around, Johnson's story shows the other side of the coin.
Michael Jordan, for all of his skill and larger-than-life exploits, was still a real, multi-dimensional human being.