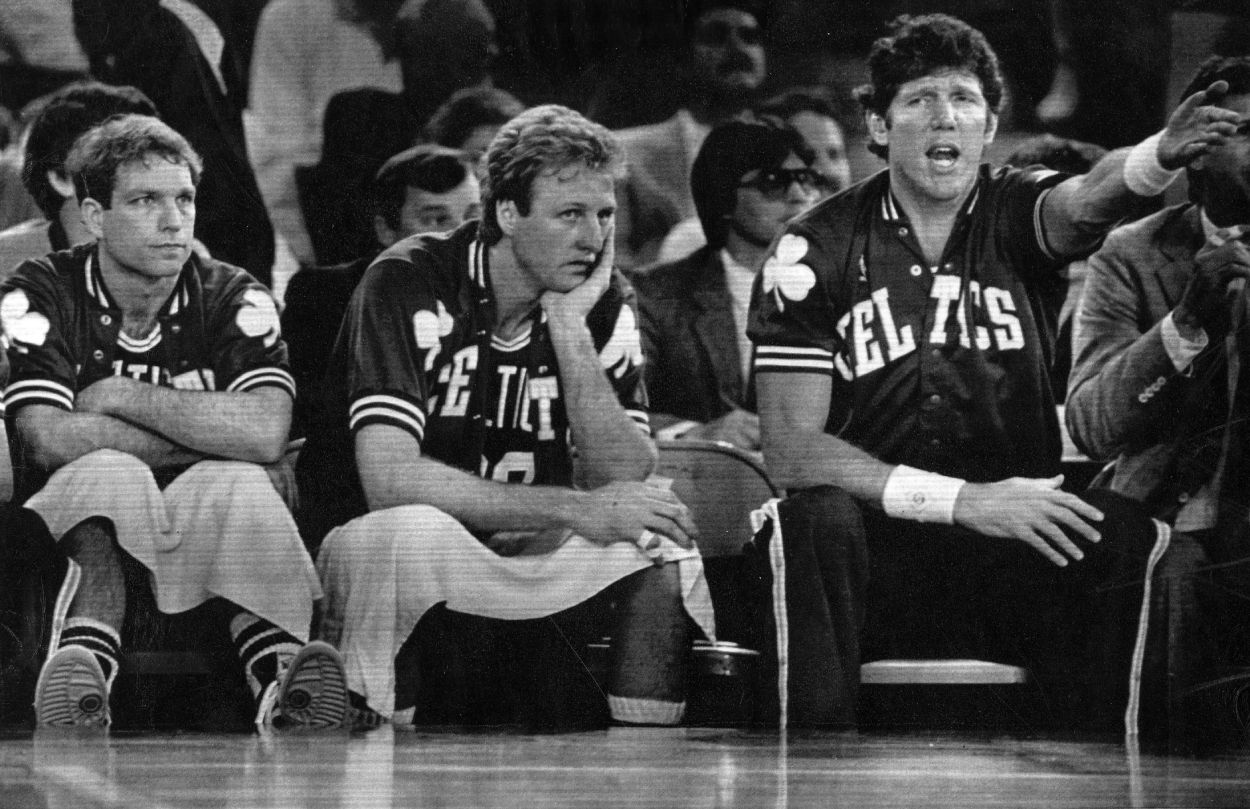 Larry Bird Brought His Teammates to French Lick, and Bill Walton Left With a Souvenir and a Strange Impression of the Town
Larry Bird has said the 1986 team was the best one he played on in Boston.
The 1985-86 Boston Celtics may have been the best team in the Larry Bird era. The team went 67-15 in the regular season and then lost just once in the postseason before reaching the NBA Finals. Boston then knocked off the Houston Rockets in six games for the Celtics' third NBA title in the 1980s.
Bird brought a few of the guys back to his hometown of French Lick, Indiana, for a little celebration. Bill Walton wound up leaving with a souvenir and an odd impression of the small town.
Larry Bird believes his 1985-86 Boston Celtics team would compete with anyone
Bird won NBA titles with the Celtics in 1981, 1984, and 1986. He was two years into his professional career when he won his first title as the Celtics defeated the Houston Rockets. He called the Celtics "lucky" when they knocked off the Los Angeles Lakers in 1984. That 1986 team, however, was the real deal, according to Bird.
During a 2009 interview in which his rival, Magic Johnson, was interviewing the former Celtics star, Bird claimed that '86 team could play with anyone.
"I thought in '84 we got lucky and came back and beat you guys," Bird said. "But '86 I thought was our best team in Boston. I would take that team and challenge anyone."
That team consisted of a Big Three in Bird, Kevin McHale, and Robert Parish. Dennis Johnson and Danny Ainge were backcourt mates. Rick Carlisle and Jerry Sichting were guards off the bench, but one of the key additions to the team was veteran center Bill Walton. Walton came off the bench to spell Parish or McHale. He was another veteran to provide leadership, along with his 7.6 points and 6.8 rebounds per game.
After losing the opener that year, Boston won 17 of the next 18 games and then added winning streaks of 13 and 14 games to finish 67-15.
Larry Bird brought some players home to French Lick to celebrate the 1986 title
French Lick is a small town in Indiana where Bird grew up. According to Sports Illustrated, it wasn't uncommon for the residents of the town to bump into some of the Celtics players. Carlisle was a regular in town. Rick Robey and Chris Ford had made trips. After the '86 title, Walton came into town with former teammate Quinn Buckner for a little celebration.
Walton, a big-city guy who played his college basketball at UCLA, wasn't used to life in a small town. In 1997, he described the trip to Sports Illustrated.
"I'll never forget that trip," said Walton. "The sun was just coming up, and we're sitting in Larry's house. His mom was cooking us breakfast. Then all of a sudden, his buddies pull in, back from a hunting trip. The back of the truck was full of dead deer and empty bottles of Jack Daniel's. That's French Lick in a nutshell."
Before he headed back to the West Coast, Walton made sure he took a little bit of French Lick with him. At Bird's boyhood home, Walton got on a knee, scooped up some dirt from the front yard, and put it in a jar. When he got home to San Diego, he sprinkled it on his backyard court.
Bill Walton made a phone call to the Celtics offering his services
Walton was a key piece to the 1985-86 Celtics puzzle. He had been in the league since 1974. He needed a change and made an all-important phone call himself.
"In the summer of 1985, it finally dawned on me," Walton said in April 2020. "It wasn't happening for me any longer and I had to move on from my current circumstances with the Clippers and get on a much better team."
He called Red Auerbach.
"I was told later on by Red and Larry that they were having a meeting when I got on the phone with Red," Walton said. "When I asked Red if I could please come and be on the Celtics, Red asked me to hold on a moment. While he put his hand over the phone and looked across the desk, Red asked Larry, 'Hey, it's Walton on the phone. He wants to come and be a part of the Celtics. What do you think?'
"Larry said, 'Go get him, Red.'"
Walton was able to get himself a title and a little bit of French Lick in 1986.