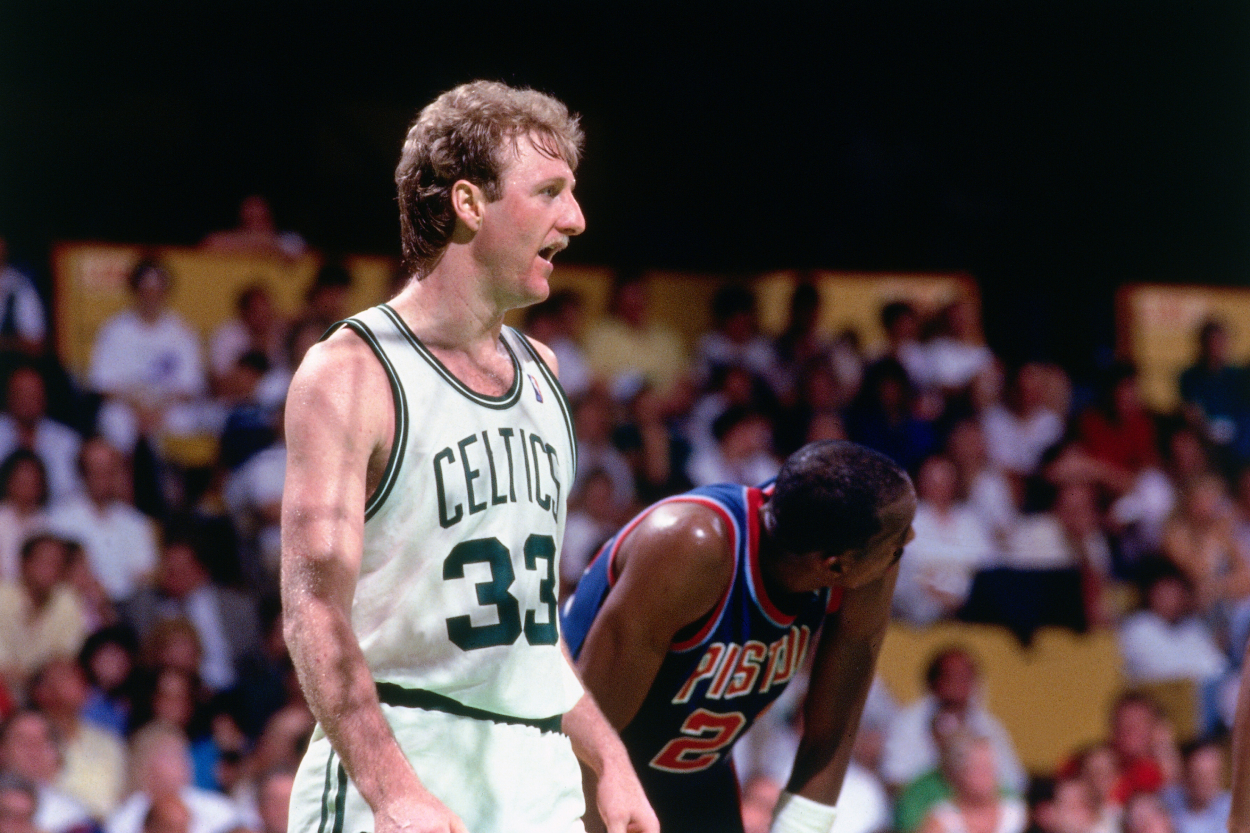 If Not for Larry Bird, the Tampa Bay Buccaneers May Not Have Won Their 1st Super Bowl
If not for Larry Bird, the Tampa Bay Buccaneers may not have won their first Super Bowl.
The Tampa Bay Buccaneers made franchise history during the 2002 NFL season, winning their first Super Bowl. The Bucs were led by quarterback Brad Johnson and a stingy defense that allowed the fewest points in the league. It all may not have gone down as it did if it wasn't for former Boston Celtics legend Larry Bird.
Larry Bird wrote a letter of encouragement to Brad Johnson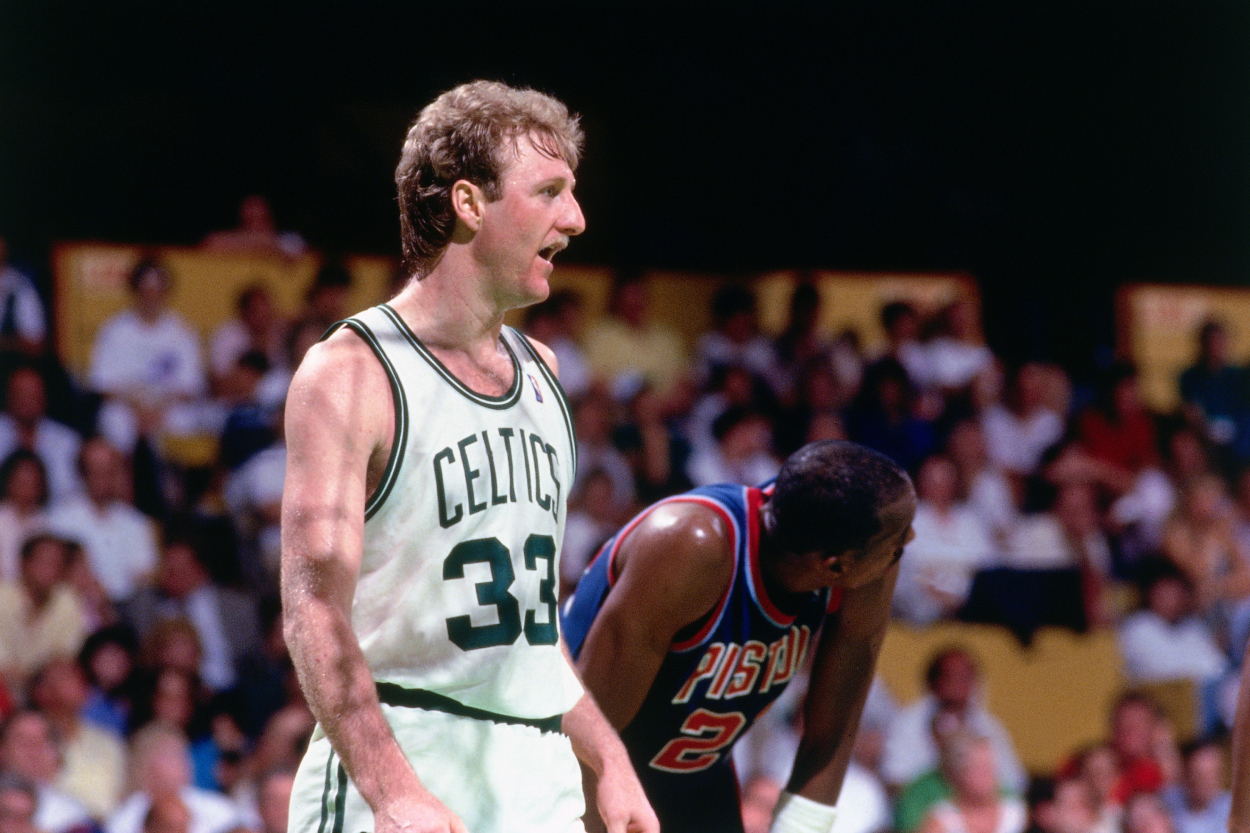 Johnson was a two-sport athlete at Florida State, playing both basketball and football for the Seminoles. Although basketball was his first love, he knew his future was in football. He gave up basketball after two seasons to focus entirely on football. Johnson was battling Casey Weldon for the starting quarterback job. At one point, Johnson was benched.
That's when Bird stepped in.
Bird was Johnson's childhood hero, but he never met him. Johnson gave a little insight into how it all went down.
"So, I got benched at Florida State," Johnson said recently on the Seize the Moment podcast. "I got this friend named T.R. Robinson. He just had a unique way of meeting people. So, he met this guy named Larry Bird. I have no idea how he did. I got this letter from Larry Bird."
The letter offered words of encouragement for Johnson, who stuck with the sport, was drafted by the Minnesota Vikings, and won a Super Bowl as the starting quarterback for the Buccaneers.
Larry Bird helped Brad Johnson stick with football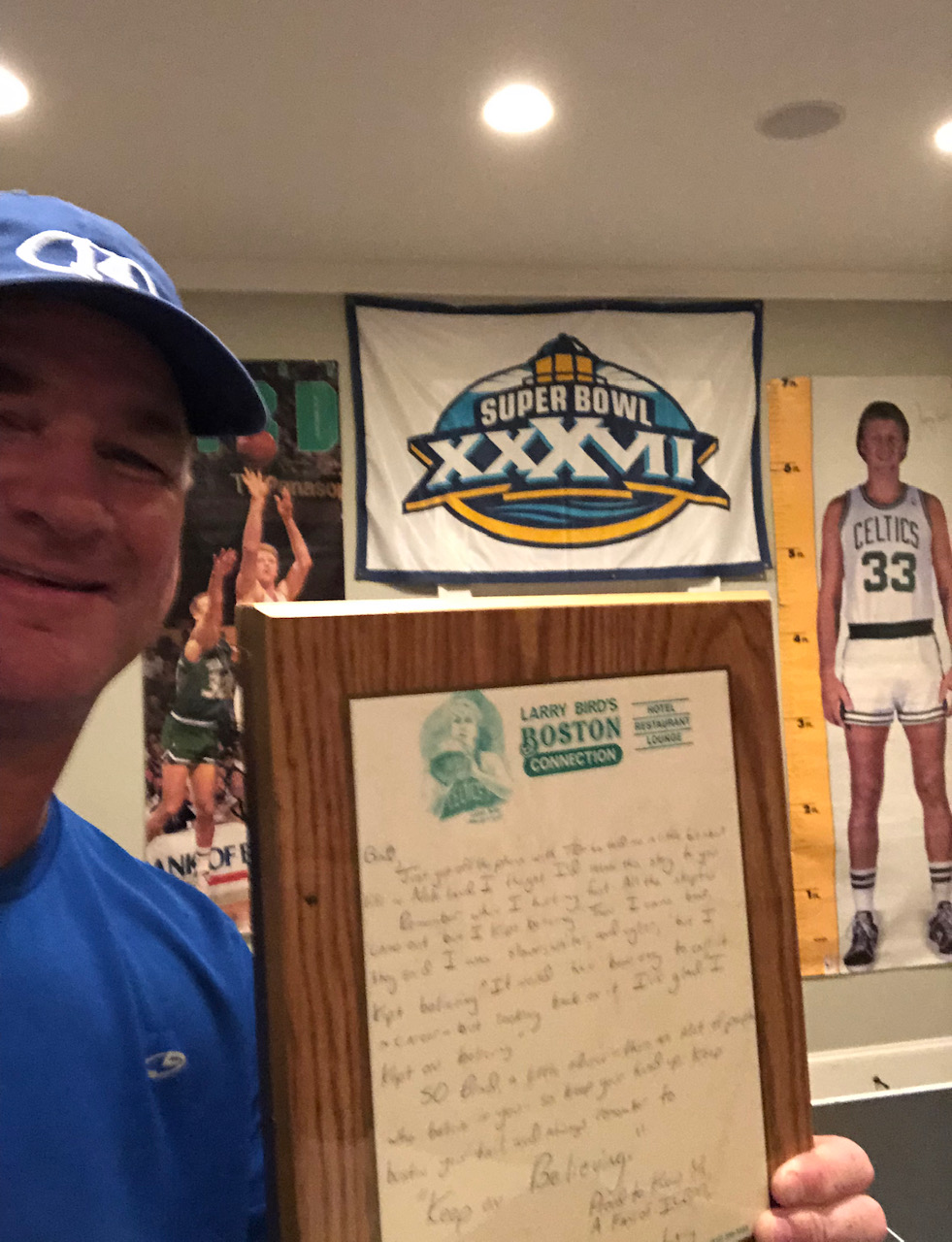 In the letter to Johnson, Bird talked about the time he had to overcome an injury and kept on believing in himself while others weren't. He told Johnson to take the same approach.
"Brad, just got off the phone with T.R," Bird wrote. "He told me a little about life in 'Nole land. I thought I'd relate this story to you. Remember when I hurt my foot? All the skeptics came out, but I kept believing. Then I came back. They said I was slower, whiter, and uglier, but I kept believing. It would have been easy to call it a career, but looking back on it, I'm glad I kept on believing.
So Brad, a little advice. There are a lot of people who believe in you, so keep your head up. Keep bustin' your tail, and always remember to keep on believing."
Johnson has always been a big fan of Bird's. In Johnson's "ping-pong room," he still has posters of Bird he has as a youngster. He's got them proudly displayed along with memorabilia from Johnson's 15-year NFL career.
Johnson listened to Bird and spent 15 years in the NFL, winning a Super Bowl with the Buccaneers
Johnson battled through at Florida State, and the Minnesota Vikings drafted him in the ninth round of the 1992 NFL Draft. He played with the Vikings through 1998 before playing two years in Washington, making his first Pro Bowl in 1999. After two seasons, he hooked on with the Buccaneers and played four years in Tampa.
In his second season there, the team went 12-4, and Johnson guided the Bucs to a victory in Super Bowl 37.
"They upgraded the talent that year, brought in a bunch of free agents, probably somewhere between 15 and 19," Johnson told Sportscasting. "We went 3-1 over four stretches and finished 12-4. About halfway through, we got hot. We just got on a roll."
Johnson made his second trip to the Pro Bowl that season and Tampa Bay earned its first-ever Super Bowl. Without Bird's words of encouragement, it may never have happened.