Brad Johnson Was Cool Winning a Super Bowl and Now Just as Calm Watching Son Max Quarterback LSU
Brad Johnson doesn't get nervous. He guided the Tampa Bay Buccaneers to their first Super Bowl title back in the 2002 season. Now he's the proud father of quarterback Max Johnson, who started two games as a true freshman last year at LSU. The elder Johnson never felt the nerves as his Buccaneers crushed the Oakland Raiders 48-21 in Super Bowl 37, nor does he sweat it out when he watches Max play on Saturdays. Instead of finding those two events nerve-wracking, he's more likely inclined to call them exhausting.
Brad Johnson guided the Buccaneers to a Super Bowl title 10 years after he was drafted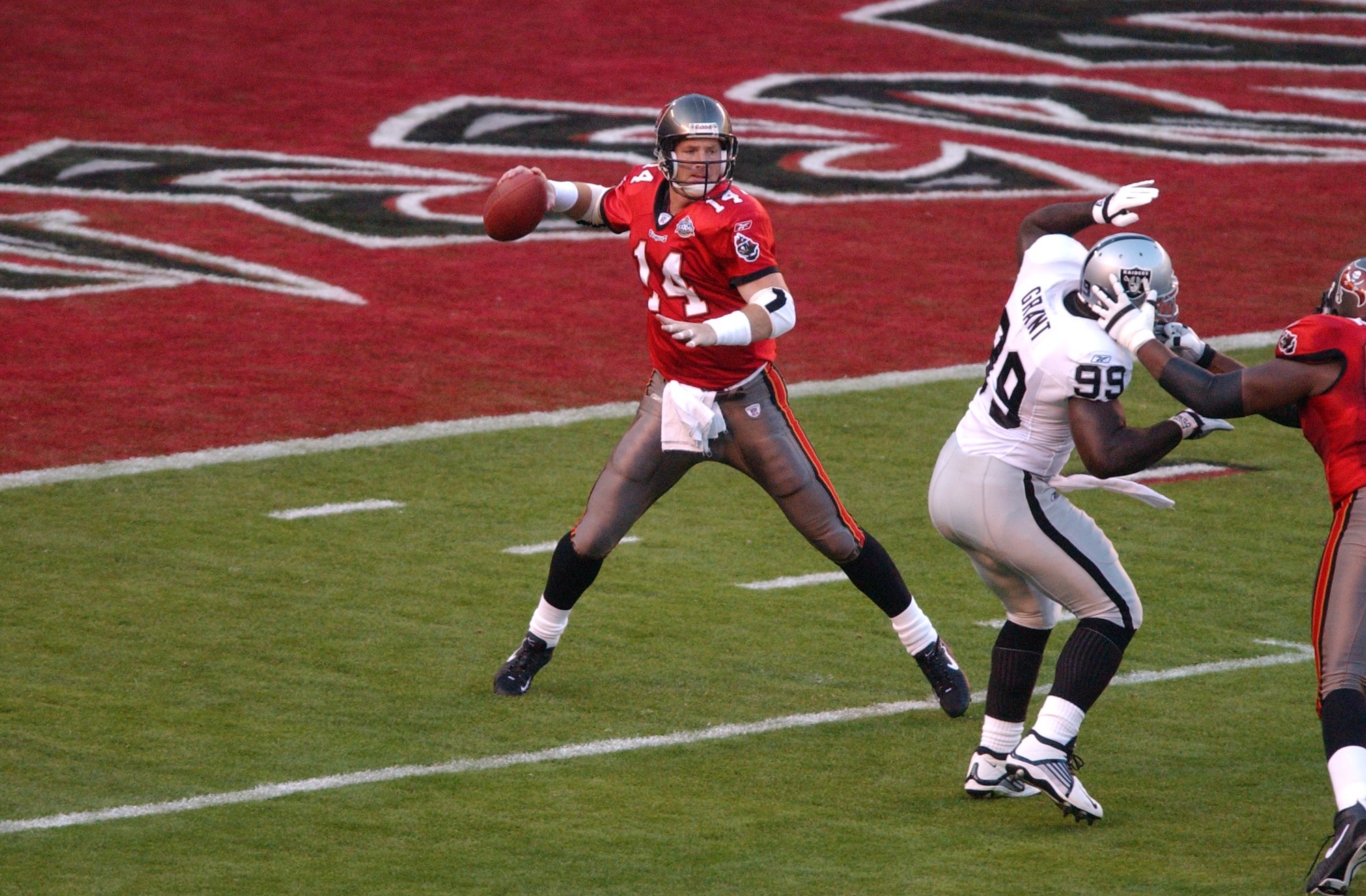 The Minnesota Vikings took a shot with the Florida State quarterback, drafting Johnson in the ninth round of the 1992 NFL Draft. Thirteen quarterbacks were selected before Johnson, who played 15 seasons in the NFL for four different teams. The first two years of his career were spent on the sideline as the third-string quarterback, and he never saw action. He played the next five years with the Vikings, earning the starting job in 1996.
Johnson spent two seasons in Washington, where he went 10-6 his first season, throwing for 4,005 yards and making the first of his two Pro Bowls. After his two-year run in Washington, he hooked on with the Buccaneers. In his second season, the Bucs went all out, loading up their team with free agents, and it paid off.
"They upgraded the talent that year, brought in a bunch of free agents, probably somewhere between 15 and 19," Johnson told Sportscasting. "We went 3-1 over four stretches and finished 12-4. About halfway through, we got hot. We just got on a roll."
Tampa cruised through the playoffs. The Bucs walloped the San Francisco 49ers 31-6 and then took care of the Philadelphia Eagles in the NFC title game, winning 27-10. Johnson threw a pair of touchdown passes, both to Keenan McCardell, in the Super Bowl victory.
Brad Johnson has nerves of steel
After Johnson and the Bucs defeated the Eagles in the NFC Championship Game to earn Tampa's first-ever Super Bowl berth, it was business as usual for Johnson. Was he nervous about playing in Super Bowl 37? "Not really," he told Sportscasting. "We only had one week off in between then, so we stayed in the rhythm of the week. My mindset was it was another game. I was in the flow of the week."
The only difference was he had to run around for reasons he wasn't used to. "I was so busy trying to get tickets to the game," he said.
Fast-forward to this season when Johnson watches from the stands as his son Max play quarterback at LSU. Max is a true freshman and started two games this year. He guided the Tigers to an upset of No. 6 Florida, and then put up 53 points in a 53-48 win over Ole Miss. Brad Johnson, who coaches high school football at Oconee County High School in Georgia, watches closely from the stands.
"I coach high school football and drive all night Friday after the game," Johnson said of making the trek to see Max play. "It's 596 miles from Athens, Georgia, to Baton Rouge. I'll stop twice."
He said Max, a left-hander, is well-prepared for LSU football. Johnson said he plays the game through his son. "You're playing the game as a parent," he said. "OK, it's second-and-10, now what?"
Max's younger brother, Jake, is a tight end. Johnson said Jake is committed to play at LSU next year.
Johnson was all business when he played football
Nothing was handed to Johnson in the NFL, especially as a ninth-round pick. He worked for everything he accomplished. Johnson was all business during the football season, and he thought the entire country was consumed by football.
"I remember when my kids were playing in leagues on the weekend and I'd see a car drive by," Johnson said, "and I'd think, 'why aren't those people home watching football?'"
How would Johnson have handled social media, which didn't exist during his playing days?
"I got my first cell phone when I was 28," he said. "Social media is crazy now. I wouldn't have had it as a player. I just started Twitter a little while back. As a player, there's money to be made from it. My marketing people would've handled it."
Johnson wasn't even aware of Fantasy Football or point spreads when he was playing. He heard people yelling at him about him being on their football team, and he had no clue at first what was going on.
"I thought it was a joke," he said. "Why would people do that? My kids play it. I don't play it, but I get it more now. It brings people closer to the game. Then, I didn't understand it. I didn't understand point spreads either. I took it as an insult when we weren't expected to win."
All stats courtesy of Pro Football Reference.