Larry Bird Bluntly Told Jalen Rose He Screwed Up After Their Pacers Lost to Michael Jordan and the Bulls in the Conference Finals: 'I Was Pissed'
Larry Bird had tremendous success as an NBA player with the Boston Celtics, but what made his legacy even more impressive was what he achieved in a short amount of time as a head coach for the Indiana Pacers.
Bird guided one of the league's best teams in the Pacers for three seasons. He had guys like Reggie Miller, Mark Jackson, Rik Smits, Chris Mullin, and Jalen Rose, and they all played a role in Indiana becoming a force within the Eastern Conference.
However, in his first season as coach, Larry Legend's team fell short of reaching the NBA Finals, losing to Michael Jordan and the Chicago Bulls in the Eastern Conference Finals. And after their disappointing Game 7 loss, Bird did something not many coaches do: He told Rose he screwed up.
Larry Bird guided the Pacers to the 1998 Eastern Conference Finals
The Pacers had been coming off a disappointing season in 1996-97. They missed the playoffs for the first time in seven years and went just 39-43.
The team parted ways with head coach Larry Brown after that campaign and hired Larry Bird to take his place. Bird then transformed Indiana into a title contender.
The Pacers went 58-24 in his first season at the helm and coasted through the first two rounds of the playoffs. They beat the Cleveland Cavaliers 3-1 and the New York Knicks 4-1.
In the Eastern Conference Finals, though, Indiana went up against the "Last Dance" Chicago Bulls. And Michael Jordan's team jumped out to a 2-0 series lead, but Reggie Miller and company won both their home games by two points each to tie it 2-2. The teams then split Games 5 and 6, which forced a Game 7 in Chicago.
Larry Legend admitted he screwed up after losing to Michael Jordan and the Bulls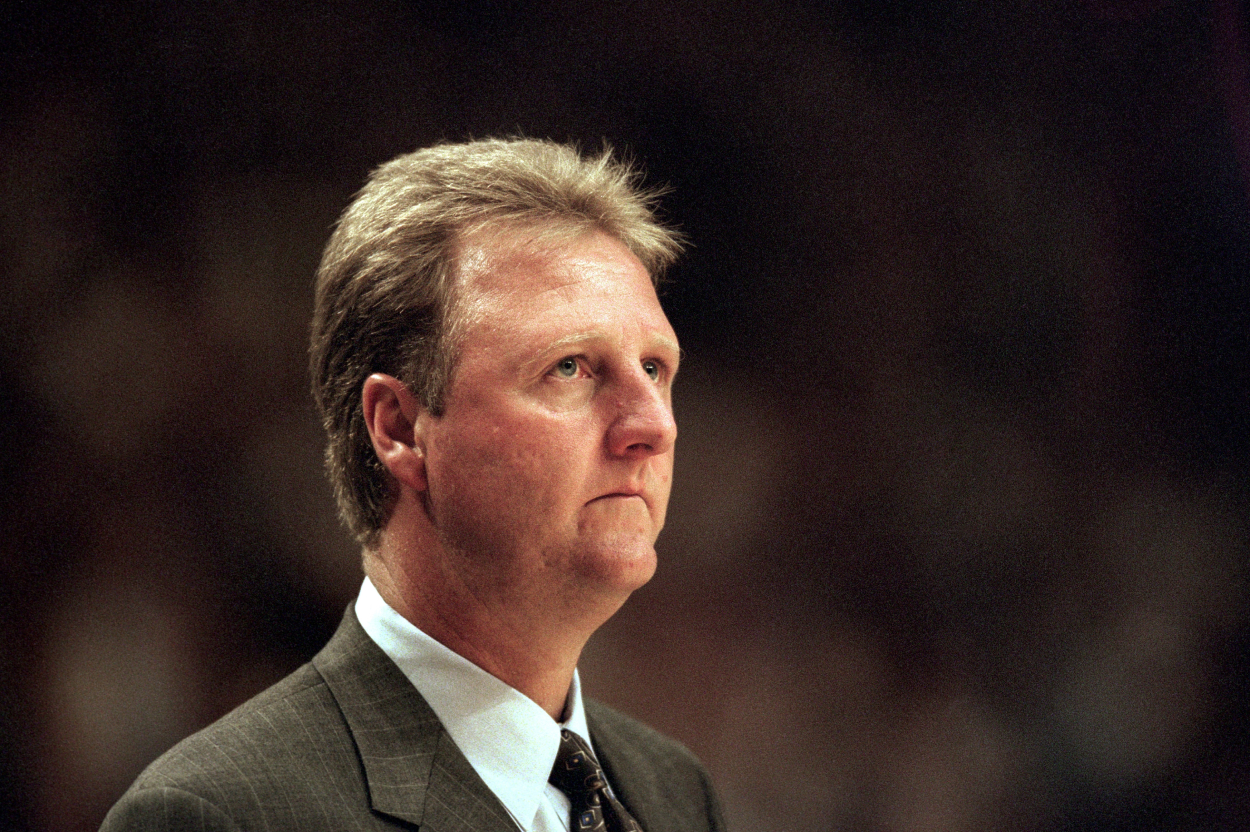 Like most of the games in the series, Game 7 was a competitive one. Indiana led by eight after the first quarter, but Chicago came back and took a 48-45 lead at halftime before later leading 69-65 after three.
It all set the stage for an intense fourth quarter.
Jalen Rose had yet to become the 20-points-per-game scorer he was for the Pacers a few years later, as he averaged 9.4 points that year, but he made two massive jumpers at the start of the fourth quarter to tie the game 69-69.
However, a couple of minutes later, Bird took Rose out of the game.
He never went back in.
"I was pissed," Rose said on the Dec. 9 episode of All The Smoke. "I was mad. … I was like, 'I can't believe this just happened.'"
Jordan and company then closed things out, winning 88-83 to reach their sixth NBA Finals in eight seasons.
After the game, Rose didn't have any media responsibilities since he wasn't a top player yet. So, he said he basically "took a shower pill" and then went to the bus, planning to not talk to any of the coaches.
"I walked up, I was like, 'Damn, Larry already on here,'" he said. "… [I was] like a kid mad at their parents, 'I'm just gonna walk past him and not say nothing.' He was like, 'Jalen.' … He had a beer in his hand. He was like, 'I f***** up. I should've got you back out there.' … He [didn't have to] say that to me. Even if he felt like that, he didn't have to say that to me, and I know it. And I was like, 'I ain't gonna say nothing else about it.' I let it go right then.'" 
Bird might have made a mistake by taking Rose out of the game, but he gained a lot of respect from his player that night. And it later paid off big time for Larry Legend.
Jalen Rose and Larry Bird led the Pacers to the NBA Finals
After making that costly mistake, Larry Bird made it up to Jalen Rose during the next couple of seasons. He gave him a little more playing time in 1998-99, but in 1999-2000, Bird put Rose in the starting lineup. The Michigan product then went from averaging 11.1 points the year before to scoring 18.2 and winning the NBA's Most Improved Player Award.
The Pacers also continued to dominate as a team.
After reaching the conference finals again in 1998-99, Rose helped lead them to the NBA Finals under Bird in 1999-2000. They lost to the Los Angeles Lakers in six games, but it was the only Finals trip in franchise history, which meant a lot to the fan base.
Bird then walked away from his coaching duties after that season.
It may have been short-lived, but Larry Legend's coaching career was pretty remarkable. He went to three conference finals and an NBA Finals, and he gained the respect of many of his players.
All in all, it proved that Bird isn't just a former hooper, but he's someone with an incredible basketball IQ.
Stats courtesy of Basketball Reference