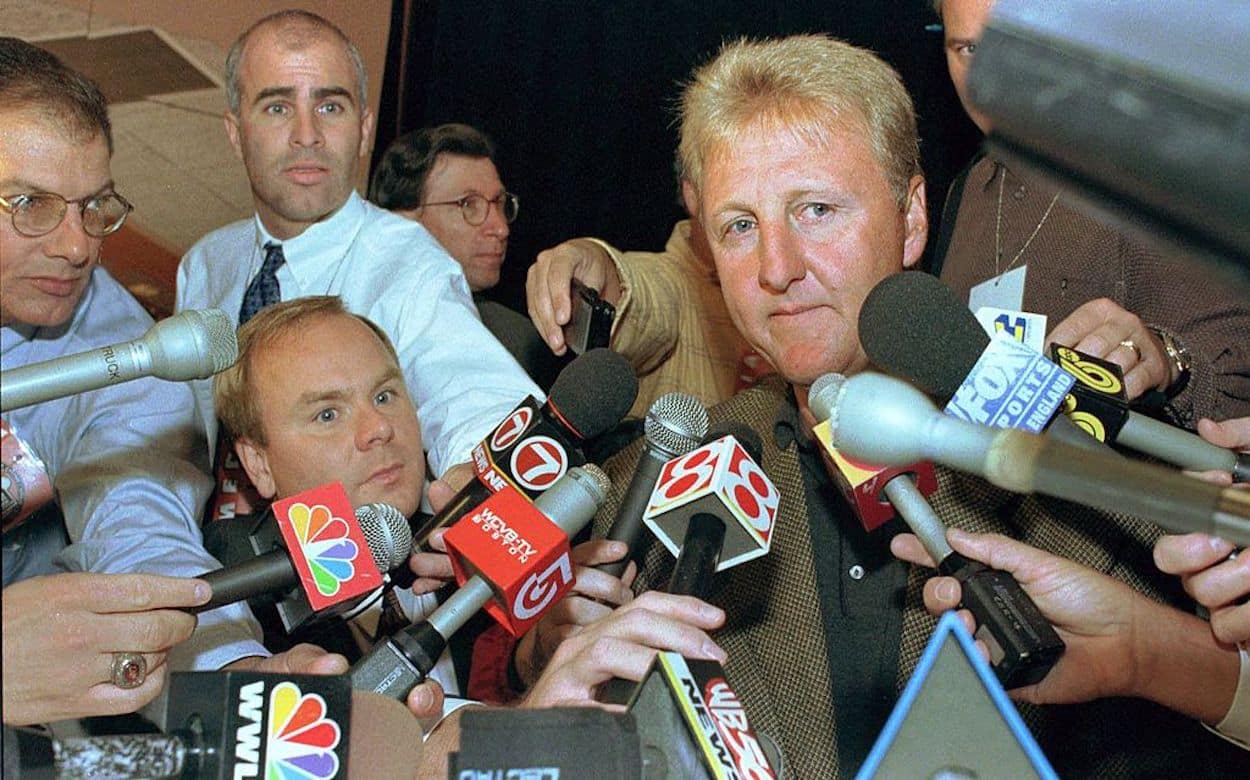 Larry Bird Was Prepared to Upset the Coaching Fraternity During His Early Days With the Pacers, and His Conviction Paid Off
Even as a coach, Larry Bird had supreme confidence in his beliefs and didn't care who disagreed.
While he shone the brightest during his playing career, Larry Bird's skillset wasn't limited to shooting threes and talking trash. The forward also possessed quite a basketball mind, which he showed off during his time coaching the Indiana Pacers.
Larry Legend did a good job on the sidelines and even claimed a Coach of the Year title. Despite that success, though, he still ruffled a few feathers shortly after taking the job. When it came to building out his coaching staff, Bird wasn't one to compromise. He, for better or worse, always did things his own way.
Larry Bird only wanted a small coaching staff, even though it wouldn't sit well with his peers
These days, NBA benches are chock full of coaches, with each member of staff playing their own role in preparing the team. Larry Bird, however, wanted to keep things lean during his time with the Pacers.
When the former forward first met with Donnie Walsh, he explained that he'd want his players to be punctual, keep themselves in good condition, and believe that they could beat Michael Jordan and the Chicago Bulls. Beyond that, Larry Legend also had some ideas about filling out his staff.
"I told him that I would want two assistants: a young guy with ideas, and a veteran who has been around," Bird explained in his 1999 book Bird Watching. "I knew that wasn't going to go over too big with the coaching fraternity, because most teams hired three assistants, and in some cases, four, but I knew what I wanted. I wanted to keep things simple, and for all of us to be focused on the same issues. To me, three coaches was more than enough to run a team that only had twelve guys. Sure enough, after my coaching staff had been announced, there was a lot of grumbling that went on among other coaches. I guess some coaches felt I was setting a bad trend, and they were worried that if our staff succeeded, it might convince other teams to downsize the number of coaches."
Larry Legend, however, was never one to back down from his beliefs.
"I wasn't going to hire three coaches just because that's what someone decided that was what you were supposed to do," he continued. "I wasn't going to waste a lot of time worrying whether I fit in with the other coaches or not."
That wasn't a surprising stance for Bird, and, as usual, it worked out
In isolation, Bird's insistence on having a small coaching staff may seem like a choice. As a first-time coach, you might think the former forward would have wanted to surround himself with as much experience as possible. His choice, however, was pure Larry Legend.
Throughout his career, there were multiple instances of Bird sticking to his guns. In college, for example, he decided that Indiana wasn't the right fit and headed back home. If not for a twist of fate, he could have remained a garbage man. Even when he was a star with the Celtics, the forward wasn't exactly living the high life. He kept wearing the same clothes and, on the whole, kept things simple.
Through that lens, it's not surprising that he'd feel so strongly about the size of his coaching staff. The Hick From French Lick knew exactly what he wanted and had supreme confidence in himself. As usual, that conviction was well placed.
Despite having no coaching experience and a tiny staff, Bird went 52-24 during his first season on the sidelines. His Pacers reached the Eastern Conference Finals, pushing Jordan and his Chicago Bulls to a seventh game. Indiana would return to the Eastern Conference Finals the following year, losing to the Knicks, and ultimately reached the 2000 NBA Finals, falling to the Lakers.
In total, Larry Legend spent three seasons on the Pacers' bench. He compiled a 147-67 record and earned 1998 Coach of the Year honors. When in doubt, it's probably best to trust Bird's basketball judgment.
Stats courtesy of Basketball-Reference.