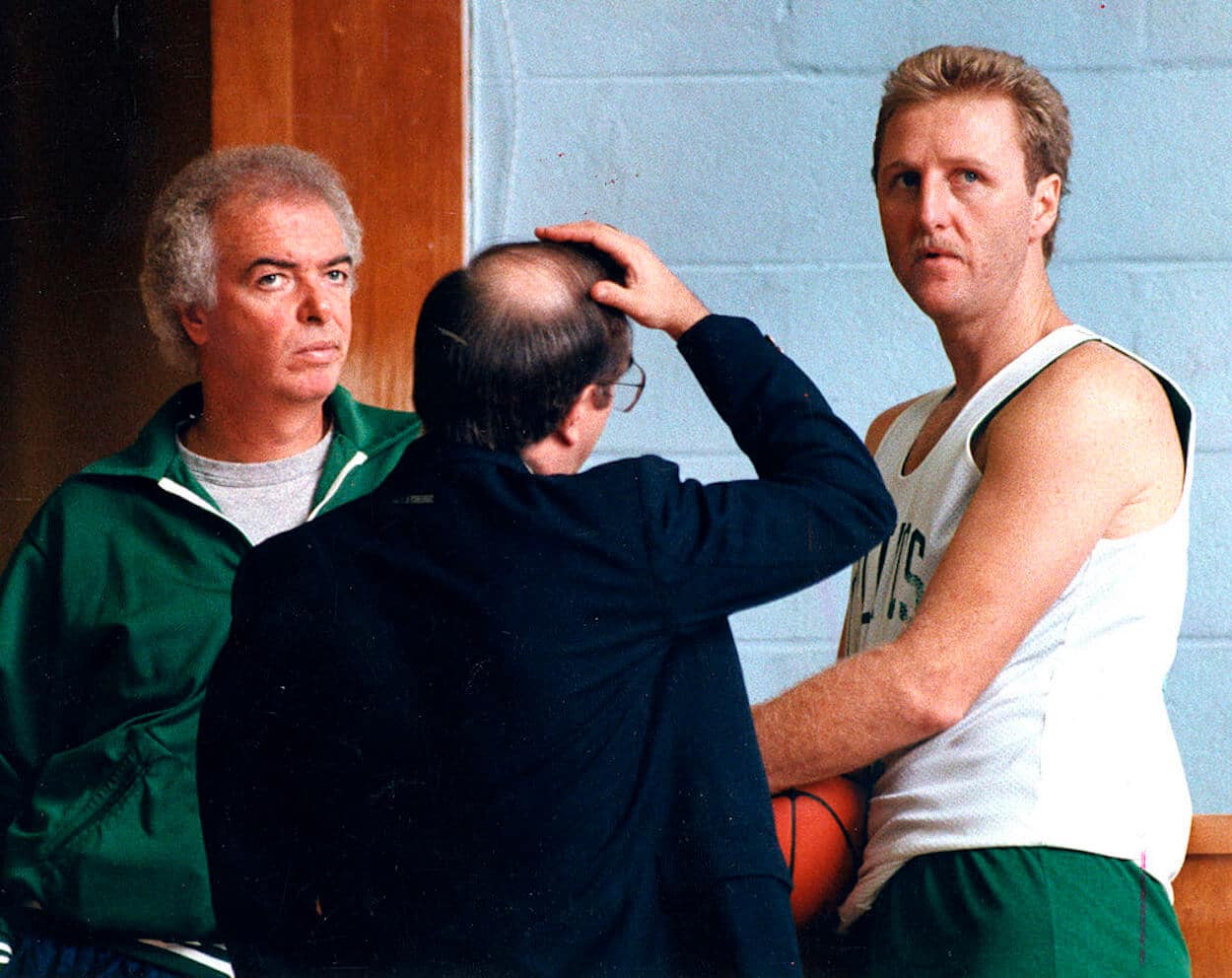 Larry Bird Would 'Terrorize' Teammates in Practice Before Having to Sit Out for the Team's Sake
Playing alongside Larry Bird certainly made things easier on the court, but it did come with some challenges.
During his time on the hardwood, Larry Bird developed a specific reputation. The forward was a talented player and a proven winner, but he could also talk quite a bit of trash. And while he wasn't quite as ruthless as Michael Jordan — No. 33 was more likely to focus on his own ability as opposed to insulting someone else's skill — things could sometimes get a bit heated.
Allow Dee Brown, who spent the start of his NBA career in Boston, to explain.
As the guard remembered, Bird had no problem going after his teammates in practice and pushing things to the point that the Celtics' star had to leave the court. Ultimately, the Celtics' collective good had to come first.
Sound unbelievable? Well, let's travel back to Beantown and check it out.
Dee Brown remembers Larry Bird running his mouth during Celtics practice
While games understandably receive most of the focus, it would be pretty cool to watch an NBA practice. Behind closed doors, you could see a truer depiction of everything, ranging from how coaches work to how the biggest stars interact with their peers.
And while we're not getting a glimpse at Larry Bird taking part in an NBA practice anytime soon, Dee Brown was present during plenty of those private outings. Luckily for us, he shared a memory during an appearance on Showtime with Coop.
"He would terrorize guys in practices," the guard said of Larry Legend. "Like, terrorize guys in practices."
When Michael Cooper asked if Bird was the one doing this, Brown confirmed that he was and provided a bit of additional detail.
Yeah. Like, terrorize, like, to the point, and, to the point where like, "Larry, you gotta sit out right now cause this dude ain't gonna be the same tomorrow. He ain't gonna be the same. We need him for tomorrow, man." He was always on 1,000. I mean, That's what great competitors do. Like, there's no, when you're on the court, it's not like, "OK, this is practice, and this is the game. This is competition. So, you ain't gonna make no reputation off me."

Dee Brown
Would it have been great to know what Bird actually said to those teammates? Of course, but it's certainly believable that he had a few choice words for his preferred target.
Bird, of course, was more than worth the trouble
In sports, it's something of a cliche to say that talent can cover up for plenty of less-than-ideal behavior. That was certainly true during Larry Bird's time with the Boston Celtic.
While Dee Brown's story wasn't that bad — it's not like Larry Legend punched someone in the face — most coaches would probably bristle at the idea of having to pull someone off the practice court because of trash talk. No. 33, however, probably earned a bit of leeway.
Bird, of course, proved to be one of the greatest players in the Celtics' illustrious history. The forward led the club to three NBA titles — as fans know, championships are what establish a player as a true game-changer — earned three MVP crowns, and took home two NBA Finals MVP trophies. Beyond that, the Hick from French Lick also proved to be a capable all-around talent, averaging 24.3 points, 10.0 rebounds, 6.3 assists, and 1.7 steals per outing across his 13-season career.
Add plenty of additional individual honors, like 12 all-star nods, three Three-Point Contest victories, a Rookie of the Year crown, and two seasons in the 50–40–90 club, and you've got the recipe for a legendary career.
When you've got a resume like that, you're more than entitled to talk some trash. Larry Bird certainly did that, not that he needed your permission.