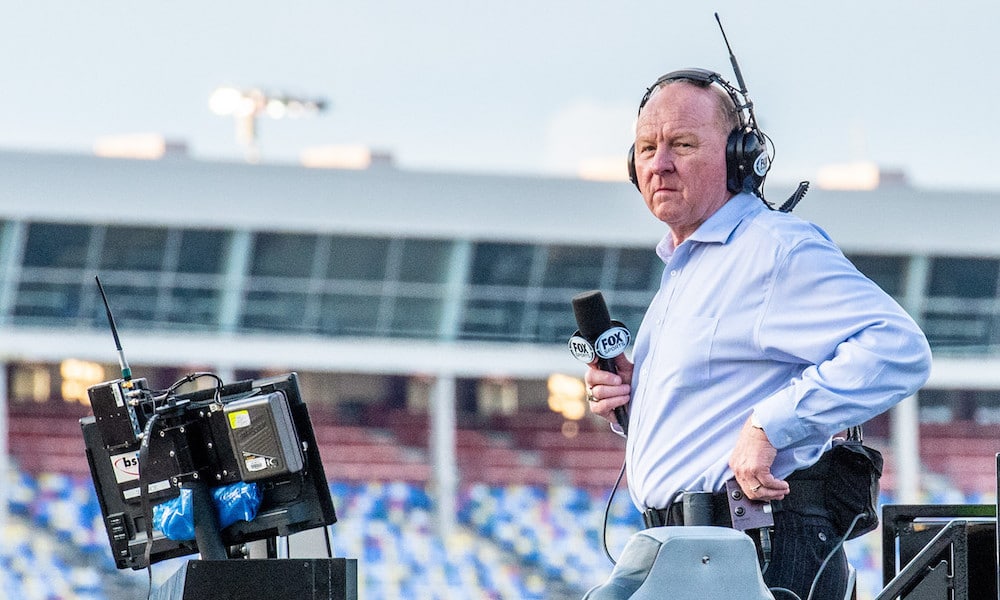 Larry McReynolds Doesn't Sugarcoat What He Thinks About All of the Penalties in 2023
Larry McReynolds didn't sugarcoat his thoughts this week when talking about NASCAR consistently doling out penalties in 2023.
Larry McReynolds is America's Crew Chief for a reason. Each race weekend he uses his years of experience and wealth of knowledge to break down the technical side of racing and explain it to fans in easy-to-understand terms. 
During the week, he does the same thing on SiriusXM NASCAR Radio while also offering his opinion. This week, the Fox personality discussed different topics from the first half of 2023. One subject was NASCAR penalties. And Larry Mac didn't hide how he felt about them.  
Larry McReynolds admits he's tired of penalties
Almost to the halfway point and after the lone off-week of the season, Larry McReynolds visited with veteran reporter Alan Cavanna this week on SiriusXM NASCAR Radio, where the pair touched on numerous topics and whether they viewed them as hot or not. 
After talking about Chase Elliott's lackluster year thus far and the troubles with the Fords, the longtime crew chief switched gears. 
"I went another direction. And it's been so nice between last week and this week not to have to talk about these things: penalties, fines, suspension, appeals, appeal committee, appellant officer," McReynolds admitted. "Now, just so over it. Now, with that said, Alan, I'm not blaming anybody. 
"Teams are pushing the envelope because if you don't push the envelope, you know your neighbor is, and you're going to be called down to the owner's office going, why are we running so bad? What's the deal? We're not pushing the envelope. Well, you know what? Start pushing the envelope. 
"And it's not NASCAR's fault because they're doing exactly what the owners asked them to do. Save us from ourselves. Make parts and pieces that we can't monkey with that we can't screw with. Because anytime we get an open book to be able to do stuff, it's going to cost us a lot of money."
McReynolds addresses massive penalty to Chase Briscoe team
While on the subject of infractions, McReynolds took some time to address the biggest punishment dispensed by NASCAR this year — an L3 penalty to Chase Briscoe's team, which resulted in the docking of driver, owner, and playoff points, and a fine and suspension of crew chief John Klausmeier.
"The only one to me that is just not good was counterfeiting a part that happened over there that 14 team at Stewart-Haas Racing," he said. "Because I said it, if I'm Gene Haas I gotta pay how much money for something we made that we finished 20th with. We didn't win the race. We didn't even get a top 10. We barely finished in the top 20."
Doesn't expect it to slow down in future
As McReynolds said, he doesn't blame the teams or NASCAR for the situation. This is a major culture shift in the sport and both sides are still learning to adjust. The 64-year-old said as much as he enjoyed not hearing about all the infractions during the off-week, he knows it's going to continue for the foreseeable future.  
"As a whole, I'm just ready after Nashville, Chicago, Atlanta, the rest of the year," he said. "And I know it won't be the case, almost guarantee you, that we're not talking about penalties, fines, DQs. We're just talking about good on-track product."
It's going to be an interesting second half in 2023, not necessarily to see what teams are pushing the envelope, but the ones that get caught.
To stay up to date on the latest happenings in NASCAR, including breaking stories you can't find anywhere else, follow Kyle on YouTube and Twitter.