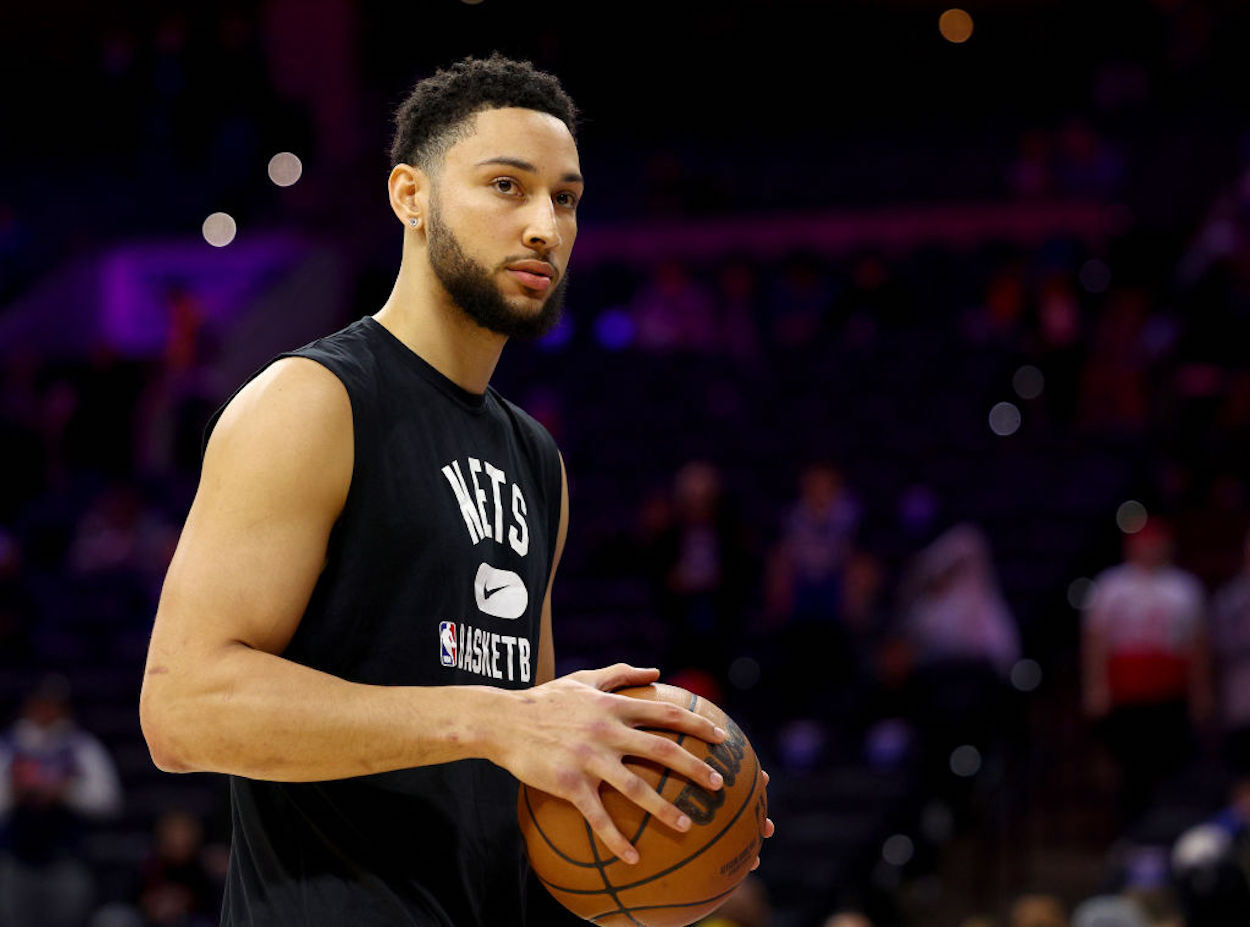 The Latest Ben Simmons Injury Update Has Dangerous Implications for the Brooklyn Nets' Dwindling Championship Chances
While Ben Simmons' back injury might not seem like a big deal in isolation, it could be the final nail in the coffin for the Brooklyn Nets.
As any experienced sports fan can tell you, one unlucky injury can alter the course of a season. Unfortunately for those in Kings Country, the Brooklyn Nets could be experiencing that reality right now. While the club's official line hasn't changed, the clock is ticking on Ben Simmons. The guard still hasn't hit the hardwood, and, based on Steve Nash's latest update, he doesn't seem too close to lacing up his sneakers.
Although that might not seem like much of a problem — if Simmons hasn't played all year, how much of a loss could he really be? — it's still not great news for the Nets. Their championship chances have already wilted away, but this injury update could be the final nail in the coffin.
Ben Simmons still isn't taking part in basketball activities due to his back injury
When the Brooklyn Nets traded for Ben Simmons, the guard hadn't played since the 2021 postseason. In New York, that reality hasn't changed.
Recently, Simmons has been struggling with a back injury. The Nets had reportedly eyed March 18 as a potential date for his return, but that target has come and gone without any progress. If anything, the guard seems to be getting further and further away from playing.
"The physical therapist just works on his rehabilitation," Nash said on Sunday, March 20, according to CBS Sports. "I wasn't on [the table] working on him. They do what they do in a clinical setting and try to improve his condition. … A lot of bio-mechanical work, manual therapy, all sorts of stuff to get him in a position to start to move in the right sequence and fashion."
Without parsing the technicalities of that statement, it seems like the guard simply isn't close to hitting the court. Back issues can be tricky — pain there can completely ruin anyone's mobility, let alone an athlete who's trying to sprint, jump, and bend for 35 minutes — so there isn't much Brooklyn can do besides wait. As Nash (somewhat) said, you have to start from square one and walk before you can run.
Unsurprisingly, the Canadian coach also confirmed that Simmons wasn't taking part in any basketball activities. At this point, there's no official timetable for his return.
It is worth noting, however, that the Nets are still "hopeful that Simmons can return to play in regular-season games prior to a postseason likely to begin in the play-in tournament in mid-April," according to ESPN's Ramona Shelburne and Adrian Wojnarowski. Given that the club concludes the regular season on April 10, though, time is running out.
That's where things get complicated.
Even if Ben Simmons can return, the Nets are playing a dangerous game
In complete fairness to Ben Simmons, the Nets' championship chances have declined due to a variety of factors, including Kyrie Irving's availability and the loss of James Harden. His latest injury update, however, could be the final nail in Brooklyn's coffin.
As it currently stands, Steve Nash's lineup simply isn't good enough to win an NBA title. Kevin Durant is obviously a world-class player, but relying on him to play hero ball every night is a recipe for exhaustion. Irving can win a game single-handedly when he's able to play, but 1.5 stars don't make a team. Guys like Goran Dragic and Seth Curry are capable pros, but if you're relying on them grab the team and drag everyone across the finish line, you're going to be disappointed.
Jumping back to the Simmons injury update, the news seems like a lose-lose proposition. If he remains on the sidelines, the Nets will be without a piece of their rotation; the guard has become a bit of a meme, but, with Durant and Irving running the show, he could serve a role in Brooklyn's lineup by converting a few easy buckets and playing tough defense. If he returns for the playoffs, though, that's not a guaranteed improvement.
Whether the guard returns for the final regular-season contest or makes his debut in the playoffs, it won't be a "plug and play" situation. Simmons hasn't seen NBA action since June 20, 2021, meaning he'll probably have some rust, in addition to a potential lack of confidence. If he makes his debut with limited practice under his belt, the Australian will still have to develop some chemistry with his new teammates. In a must-win situation, every little bit helps, including understanding who will be doing what on the floor. Barring a rapid change of fortune, Simmons won't have that luxury.
While you could argue that the guard doesn't make much of a difference — if anything, Philadelphians might contend that his absence is a plus during the playoffs — it's more about an accumulation of body blows. Whether he's sidelined or playing in less than ideal circumstances, Simmons probably won't be providing much of a boost to an already-weakened team.
Is the duo of Kevin Durant and a part-time Kyrie Irving, combined with some support from Dragic, Curry, and the like talented enough to win a few playoff games? Of course. Claiming an NBA championship, however, is a bridge too far.