The Latest Report on Ben Simmons Paints a Grim Picture of the 76ers' Immediate Future
It seems as if there's another piece of news coming out about the Ben Simmons trade dilemma every hour nowadays. One hour, the Philadelphia 76ers are inching closer to a deal with an interested suitor, and the next, they're trying to package Tobias Harris and his $180 million contract in a potential trade.
Whatever happens to be true and untrue in this whirlwind of rumors, the 76ers have less than a month left to make a move before the NBA trade deadline. And according to the latest report from ESPN's Adrian Wojnarowski, Simmons might not be going anywhere after all.
The 76ers are running out of time to trade Ben Simmons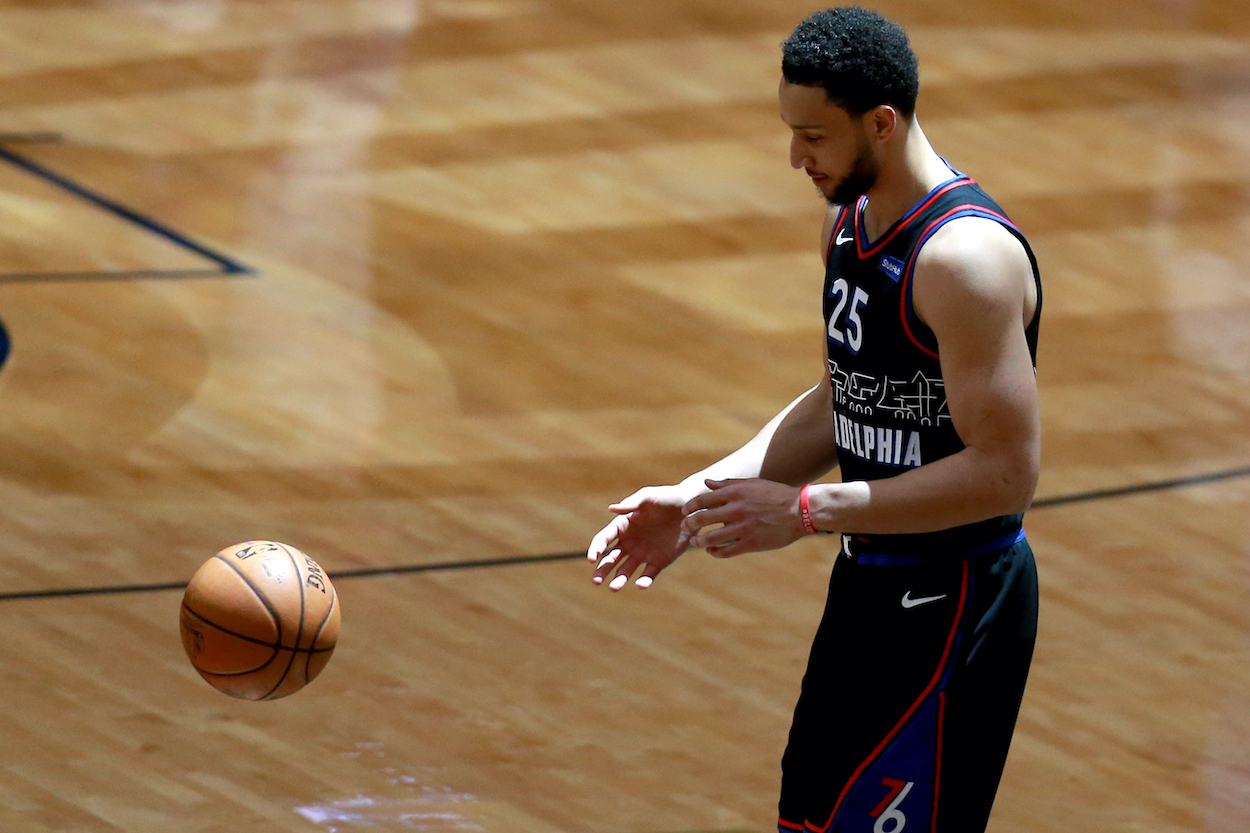 It's been several months since Simmons originally requested a trade from the 76ers, but his wish still hasn't been granted. And with the NBA trade deadline (February 10) quickly approaching, Philadelphia is running out of time to make a move before the team gets stuck with him for the rest of the season.
That would be a major problem for a handful of reasons.
For one, Simmons clearly doesn't intend on suiting up for the 76ers this year, or maybe ever again. He doesn't believe he can win the fans back at this point, and he's only interested in returning to the court if he's given a fresh start with a new franchise.
If that scenario does transpire, Simmons' trade value in the coming offseason would be quite the mystery. Considering teams aren't willing to give up a superstar in return for the point guard right now, why would they become more interested in doing so after the guy spent an entire season on his couch?
It's possible the trade offers Philadelphia will receive in the next month will be the best it's going to get in this never-ending drama.
Adrian Wojnarowski paints a grim picture of the Sixers' future with latest report
76ers fans are understandably tired of hearing about trade rumors and minor updates to the Simmons saga that don't get us any closer to a solution. They simply want him either back on the court or shipped out of town for a decent package by February 10. Allowing him to sit out the entire season, however, is unacceptable.
Well, according to Wojnarowski, that might be the most likely outcome at this point.
Woj appeared on ESPN's "NBA Today" this week and revealed the 76ers are no closer to landing a deal for Simmons than they were months ago.
There is no movement, and listen, we may be in this situation all the way until the draft.

Right now, you look at Philadelphia and the kind of players available to them in a Ben Simmons trade — a Harrison Barnes in Sacramento, Domantas Sabonis, Indiana, and listen, John Collins in Atlanta — that's not going to move the needle at this point for Ben Simmons.

They would, especially positionally with those players, power forwards for Philly, it doesn't make any sense.

Adrian Wojnarowski
Unless Simmons' trade value drastically shifts in the next few weeks, he might be stuck in Philly until the offseason.
Will Philadelphia sell Simmons at a discount?
Sixers president of basketball operations Daryl Morey has been clear on this from the jump: He isn't willing to let go of Simmons unless he can get a top-25 player in return. But based on the trade offers Philadelphia has received in recent weeks, that doesn't seem to be a realistic possibility.
If the 76ers are serious about building a championship contender around Joel Embiid this season, they might just be forced to sell Simmons at a discount before February 10. Players like Barnes, Sabonis, and Collins aren't the superstars Morey is after, but they might just be the best options to finally put an end to this madness.
Like Sportscasting on Facebook. Follow us on Twitter @sportscasting19.