The Latest Report on Justin Fields Will Have Chicago Bears Fans Screaming Into Their Pillows in Frustration
Rookie quarterbacks are already starting for their teams all across the NFL. Trevor Lawrence, Zach Wilson, and Mac Jones all won their starting jobs in the preseason and played fairly well in their debuts last week, but Justin Fields inexplicably remains on the sidelines for the Chicago Bears.
Bears fans have been begging the team to hand the offense over to Fields, but their cries have gone unanswered. After seeing the latest report coming out of Bears camp, Chicagoans will be screaming into their pillows in frustration all over the city.
The Bears refuse to name Justin Fields the starting quarterback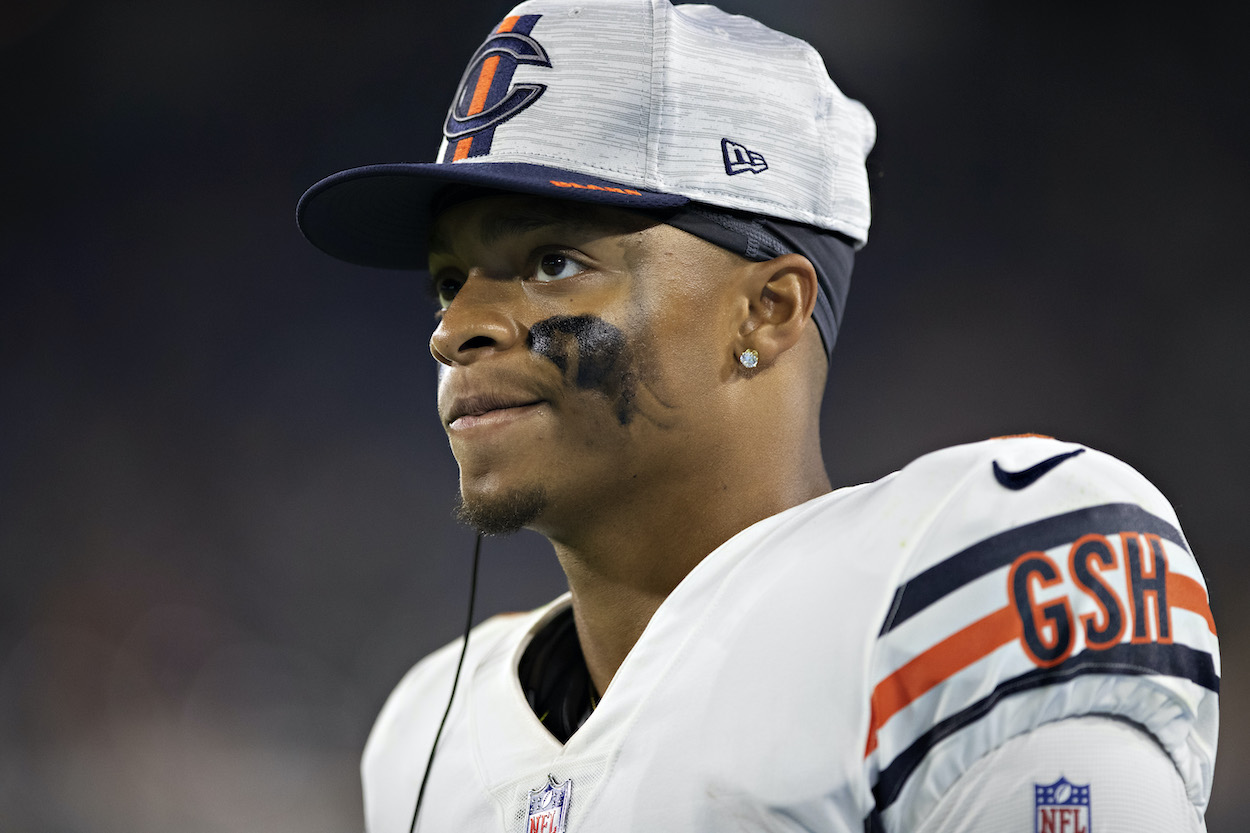 The Bears traded up in the 2021 NFL draft to grab Fields with the No. 11 overall pick. Following the draft, the expectation was that Fields would beat out veteran QB Andy Dalton in the preseason and steal the starting job before Week 1.
Fields did his part by thoroughly outplaying Dalton in the preseason, but head coach Matt Nagy still decided to go with Dalton as the starter entering the season. Against the Los Angeles Rams in Week 1, Dalton threw for just 206 yards and no touchdowns in 38 attempts. Meanwhile, Fields completed both of his two passing attempts and even ran for a score in limited action.
It's clear to everyone outside of the Chicago coaching staff that Fields deserves to take over the job, but the only opinion that matters is Nagy's. Unfortunately for Bears fans, he doesn't agree, so Dalton will remain the starter until he has a change of heart.
The latest report on Justin Fields will infuriate Bears fans
Bears fans are already getting fed up with Nagy and the front office for their refusal to name Fields the starter, but the latest report out of camp will only infuriate them even more.
On Sunday, Ian Rapoport of NFL Media appeared on NFL GameDay and said Fields has looked exceptional at practice every day, and the team couldn't be more impressed with his development.
"Here's what I'm told behind the scenes for these Chicago Bears," Rapoport said. "He is growing every day. There are wow moments, wow throws every single day in practice. He's actually coming along faster than they expected.
"They are essentially head over heels in love with him. They use these packages as growth moments for Fields. No moment is too big, so expect to see more of them."
Interesting. So the Bears are "head over heels in love" with Fields, they're impressed with his growth so far, and he's outplaying the starter in practice on a daily basis. What in the world is holding them back from naming him the starter already? This situation is as befuddling as it gets.
Bears won't reach their full potential until Fields plays
It's truly puzzling why the Bears continue to keep Fields on the sidelines. They gave up valuable draft capital to move up and get their guy, and they still refuse to hand him the keys to the offense.
Nagy wants to wait until he believes Fields is ready to run his own NFL offense, but if he loves what he's seeing in practice, what could possibly be the holdup here?
Dalton is a mediocre starting quarterback at this point in his career, whereas Fields has the potential to become a superstar. But the Bears will never find that out if they don't put him on the field.