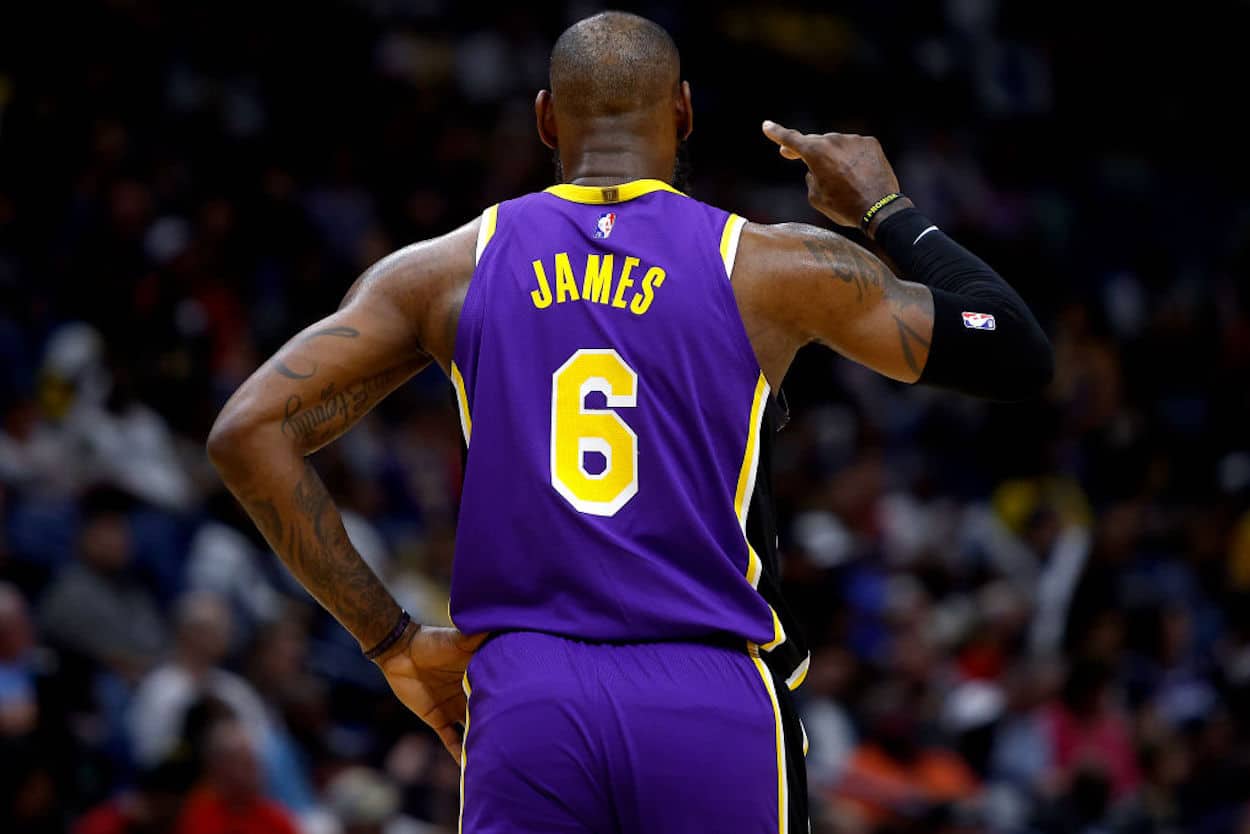 LeBron James Dishes on His Dream 2-on-2 Partner, Playing With Bronny, and More in an Impromptu Twitter Q&A
Twitter isn't the greatest platform, but it does allow for moments of candid interaction. Just consider LeBron James' impromptu Q&A.
While social media can often be a cesspool, there are some theoretical silver linings to Twitter. Although it doesn't always pan out in practice, the platform can allow professional athletes to communicate more directly with their fans. Take, for example, LeBron James on Monday, May 16.
Seemingly out of the blue, the Los Angeles Lakers star invited followers to send in their questions for him to answer. Even though some of the submissions were less-than-ideal, James still did provide some interesting responses about his dream two-on-two partner, playing alongside Bronny, and more.
Here are some of the best questions and answers.
LeBron would pick either Kobe Byrant, Kevin Durant, or Kyrie Irving to face Michael Jordan and Scottie Pippen in two-on-two
There are few things that sports fans love more than a good hypothetical pitting historical greats against one another. With that in mind, SB Nation posed quite the question to LeBron: "If you had to choose one teammate (past or present) in a 2v2 to play against MJ and Scottie Pippen, who are you choosing?"
James, for his part, said he'd roll with either Kobe Bryant, Kevin Durant, or Kyrie Irving. While that's not exactly in the spirit of the question, all three options do make sense.
Kobe, of course, brings his Mamba Mentality and an in-depth knowledge of His Airness' game; that insight could make all the difference in a scrap. Durant is an elite scorer in his own right and would be a good counter for Pip's height and length. Irving, for all of his recent issues, can stuff the box score on any given night and would allow James to move into an off-ball role.
Either way, though, it sounds like it'd be quite the game.
The toughest moment of King James' career was losing to the Mavs in the 2011 NBA Finals
Although he's had a decorated career, LeBron James has suffered through some painful setbacks. The worst of those took place in 2011.
"Losing in the finals to Dallas after playing like [poop emoji]," James explained when asked about the toughest moment of his career and how he responded. "I hit the reset button, went back to the basics, worked on things in my game I needed to get better at so the defense couldn't just sit on 1 thing. Hours & hours & hours everyday in the off season on it. Came back [lock emoji] in!"
If nothing else, King James is at least consistent. In 2020, he said that defeat "burns [him] to this day" and remains in the back of his mind when trying to close out games (h/t Bleacher Report).
Retirement doesn't seem to be on the cards anytime soon
During the 2021-22 NBA season, LeBron James battled through some painful injuries as his Lakers fell flat. Despite that reality and the fact that he'll turn 38 in December, the star doesn't seem ready to hang up his sneakers just yet.
"The way I feel, I can go on for a min to be honest. It's really up to me and my mental staying fresh/sharp," he explained in response to a question about how many years he has left. "I'm still psycho driven!"
While that sentiment isn't surprising, it's still easier said than done. Even if LeBron has the motivation to keep playing, his body will eventually throw in the towel. Either way, though, we should appreciate King James while he's still able to take the court. He's not going to be around forever
King James confirms that he still plans on playing with his son, Bronny
While Bronny James is still a few years away from being eligible to enter the Association, we know that his father hopes to play alongside him one day. During his Twitter Q&A, LeBron affirmed that goal.
"That's the plan," King James wrote. "God willing."
That wasn't the only answer that touched on Bronny, though. LeBron was also asked if his son has been able to beat him in one-on-one yet. While we didn't get a definitive answer, we did learn what happened in their last game.
"The last time we actually played I shattered the backboard on a dunk so we couldn't finish the game," James explained.
LeBron confirms that he's got good taste in video games and dessert
Given his incredible wealth, it's easy to assume that LeBron James appreciates the finer things in life. With that being said, though, we now know he has good taste in both video games and dessert.
When asked if he preferred the Nintendo 64 or the Nintendo GameCube, James picked the former. He also said that he'd choose cake over pie if given the choice.
Those were clearly the two most important answers of the entire session.
Like Sportscasting on Facebook. Follow us on Twitter @sportscasting19 and subscribe to our YouTube channel.