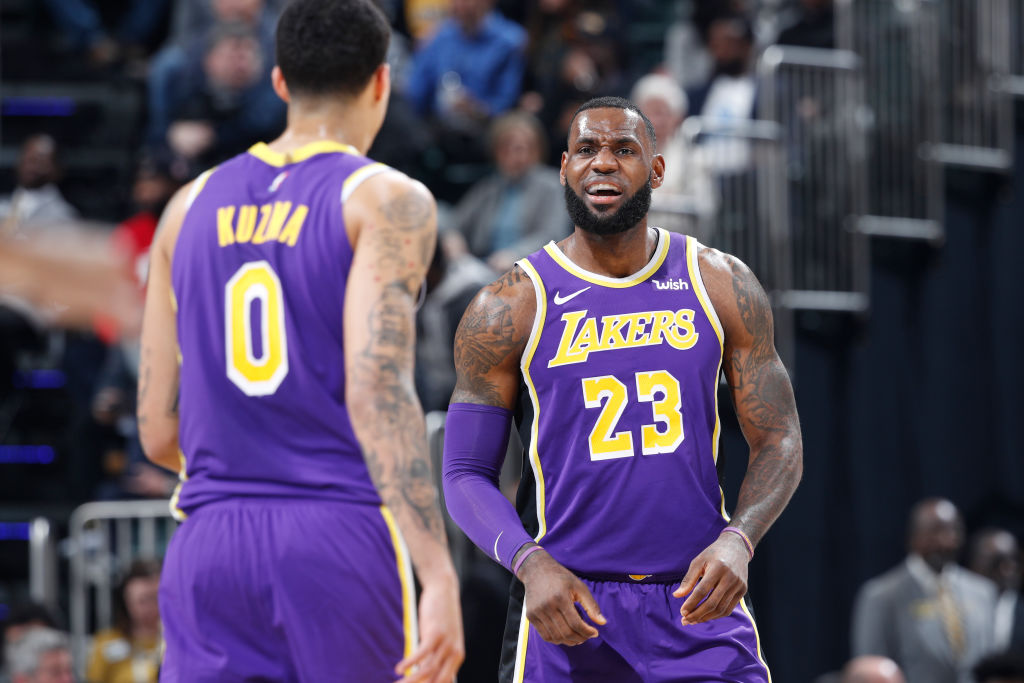 LeBron James Doesn't Care What Kyle Kuzma's Trainer Thinks About His Work Ethic
After the Lakers' Christmas Day game, Kyle Kuzma's trainer called out LeBron James. LeBron, however, isn't worried about social media haters.
When you're the biggest name in professional sports, you're bound to get plenty of criticism. While LeBron James is used to feeling the heat from opponents, fans, and television pundits, some comments are a bit different. One of those came after the Lakers' Christmas Day game when teammate Kyle Kuzma's personal trainer called out King James on Instagram.
With the NBA season underway, LeBron James is focused on more important things. Unsurprisingly, he recently told reporters that he couldn't care less what a stranger says online, even if that stranger works with one of his teammates.
LeBron's strong season with the Lakers
Although he's been dominating the basketball court since high school, LeBron James is still one of the top players in today's NBA. Unsurprisingly, his Los Angeles Lakers are sitting at the top of the Western Conference standings.
While LeBron's offensive numbers might be slightly down, he's still playing an elite all-around game. The veteran forward is currently averaging 25.1 points, 10.8 assists, and 7.5 rebounds per night; those numbers would be impressive for anyone, let alone a 35-year-old with over 1,200 NBA games under his belt.
This season, the duo of James and Anthony Davis has proved to be almost unstoppable on both ends of the floor. The one team that the Lakers have had issues with, however, is the Los Angeles Clippers.
Kyle Kuzma's trainer takes to Instagram
On Christmas Day, the Lakers and Clippers faced off for Los Angeles supremacy. When the dust cleared, the Clippers came out on top, thanks in large part to Kawhi Leonard.
While Leonard is simply a dominant player, one person took the game as a sign of LeBron's decline. "Watching Kawhi highlights from yesterday," Klint Parks wrote on Instagram. "NOBODY wants to speak on how sharp his skill set is compared to Lebrons. It's clear who's really in the LAB and who isn't. Let me hear the excuses I'm on vacation I got nothing but time." He also accused James of "dodging smoke" in his match-up with Leonard. While those comments wouldn't ordinarily cause a stir, Parks isn't an ordinary fan; he works as a trainer for Lakers' guard Kyle Kuzma.
Kuzma then seemed to support Parks' sentiments by tweeting, "Call a spade a spade." The guard has since deleted the post and explained that he hadn't seen the Instagram comments at the time.
LeBron James doesn't care about haters on social media
Since Christmas Day, Kyle Kuzma has cleared the air with LeBron James. While the guard simply explained that he can't control what another person says on social media, King James wasn't worried about a couple of Instagram stories.
"I really don't care for someone's trainer or whatever the case may be," James explained, according to Tiana Ganguli of the LA Times. "Everyone can have their own opinion. And any time someone wants to get some notoriety they can throw my name in and people are going to pick it up. That's why you're asking me about it because my name was in it."
"I've never met the guy, I don't know the guy, I could care less about the guy," he continued. "Whatever the case may be. I wish him the best."
While LeBron isn't a kid anymore, he's still an elite NBA player. Right now, he's more focused on winning another title than listening to a trainer talk smack on Instagram.