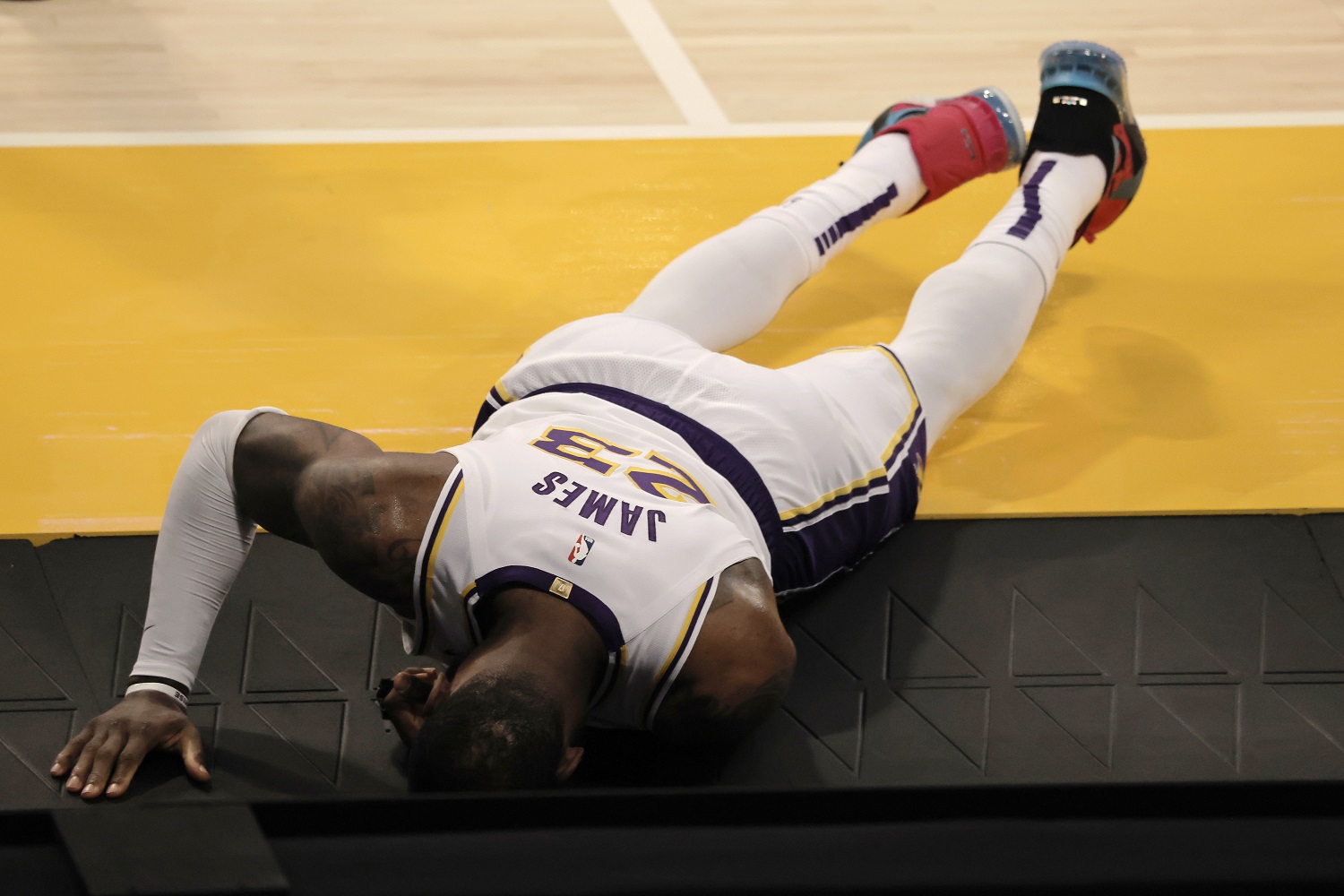 LeBron James' Injury Is Overblown, so Skip Bayless and Colin Cowherd Rightfully Called Him Out
Skip Bayless and Colin Cowherd of Fox Sports went after LeBron James and the narrative that the LA Lakers star is playing on one leg.
Give credit where credit due: When he retires from the Los Angeles Lakers in a couple of seasons, LeBron James will go into the books as one of the two greatest players in league history. LeBron James and Michael Jordan, or MJ and LBJ. You pick the order.
But what James is doing at the moment is not the second coming of Willis Reed in Game 7 vs. the 1970 Lakers. Yes, he's playing through an injury. But anyone who squeezed 72 regular-season games into 20 weeks brings aches to the postseason. The first couple of rounds of the NBA playoffs will be more tedious than usual if the talking heads keep feeding us the he's-playing-on-one-leg narrative after each Lakers game.
Thankfully, Skip Bayless and Colin Cowherd say what others won't.
LeBron James missed more than a third of the season
There is never a good time to suffer an injury, and the timing of James' high ankle sprain meant that he missed 26 of the Lakers' final 30 regular-season games. The Lakers were 28-14 when he went out, and they finished 42-30, losing out of one of the six automatic berths in the Western Conference playoffs in a three-team tiebreaker.
The injury occurred in a March 20 game in Atlanta. Hawks forward Solomon Hill fell against James' right leg as he scrambled for a loose ball. The four-time NBA MVP screamed in pain as he dropped to the floor. An exam determined that the injury was a high ankle sprain, and X-rays did not turn up any bone damage.
James did return for the final two regular-season games and was instrumental in beating the Golden State Warriors to grab the No. 7 seed in the conference quarterfinals.
Bayless works in a solid shot
Fox Sports daytime host Bayless was quick to push back when ESPN's Marc J. Spears all but suggested that James must have just rolled out of his hospital bed to beat Golden State.
"The King's high ankle sprain has taken far more out of him than what anybody expected," Spears wrote. "The player has aggravated the injury on multiple occasions and seems to almost not use his right leg as much anymore."
Bayless, who seldom says anything positive about James, suggested that Spears set the table in case the Lakers make an early exit from the playoffs.
"LeBron reportedly is playing 'on one leg' right now," Bayless tweeted. "Translation: The excuse has been planted. If the Lakers win, LeBron will be all-time heroic for 'playing with such pain.' If he loses, well, he was 'hurt.' Instead of clutch, LeBron is now crutch."
Cowherd tells LeBron to suck it up
Bayless took it easy. Cowherd hit James harder on his Fox Sports show, even as after acknowledging that the injury is real.
"I don't believe he's playing on one leg," Cowherd said. "LeBron's very good, and he's fine. This is a little drama. By the way, Joel Embiid wakes up hurt. Kawhi missed 20 games. KD, Harden, Bradley Beal. Younger guys are hurt. Tom Brady played this season with a bad knee, but Brady didn't talk about it during the season, although he admitted a few days ago, 'Yeah, I had to get surgery,' and Tom plays a sport in which people tackle you."
Cowherd then referenced Patrick Mahomes playing the Super Bowl with a foot injury that required surgery afterward and Drew Brees playing NFL games with cracked ribs and a partially collapsed lung.
"Michael wasn't a hundred percent when he came back from baseball," he added. "That's the reality. This is a tough league. It is travel. It is cardio. It is run. These are big bodies. But I don't want to hear about LeBron playing on one leg."
The only way Bayless or Cowherd could have been better would have been by pointing out that fans hear far less about the Achilles issues that Lakers teammate Anthony Davis battles.
Like Sportscasting on Facebook. Follow us on Twitter @sportscasting19.