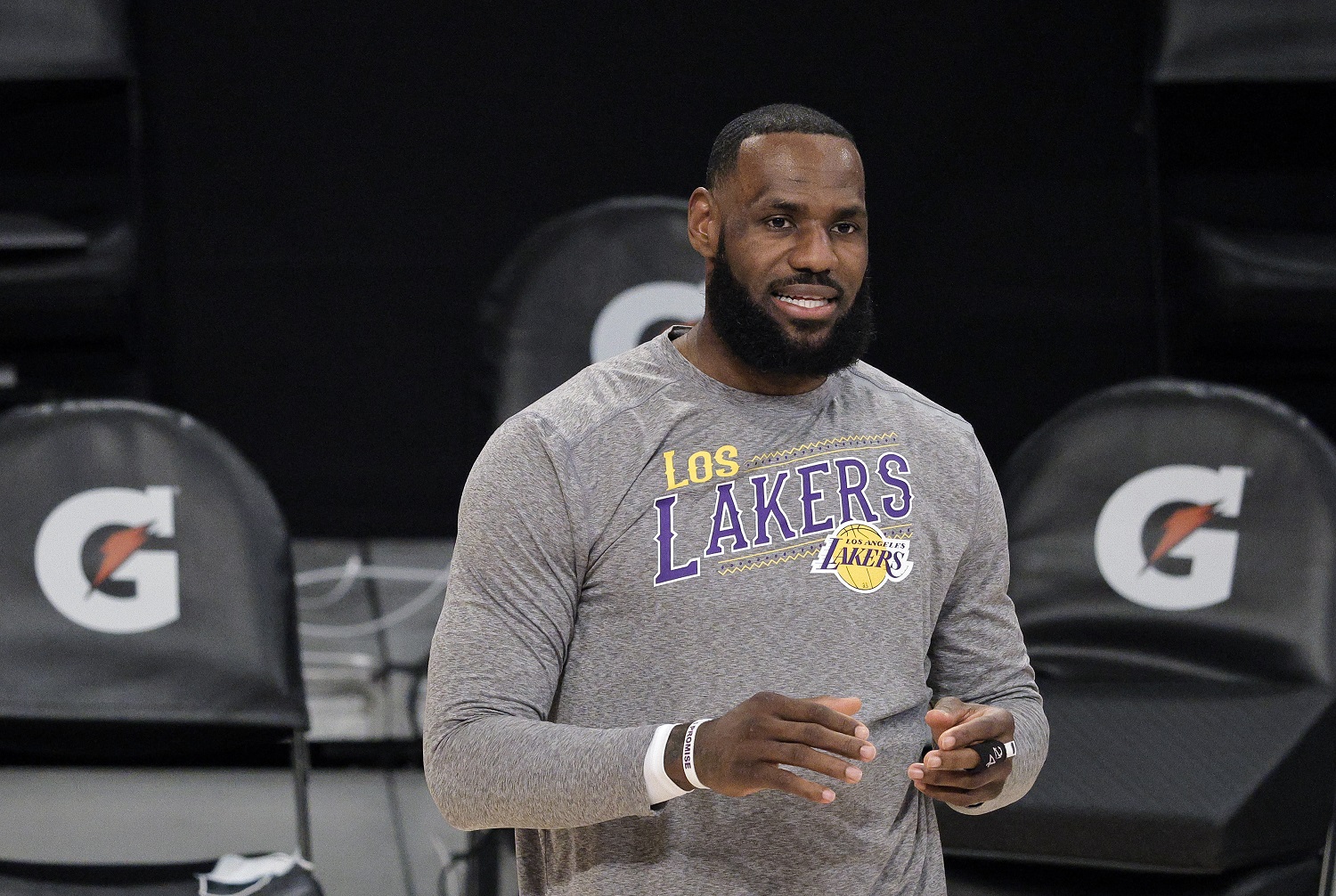 LeBron James Makes $307,000 Doing Stuff on Instagram That Fans Do for Free
Los Angeles Lakers star LeBron James, who has already earned nearly $1 billion in his career, makes more than any other American athlete when it comes to pitching goods and services on Instagram.
"Follow the money" is an expression that reporters learn in journalism school. Where there's money, there's usually a story worth telling. LeBron James has lots of money, and the Los Angeles Lakers star rakes in even more by telling advertisers' stories to the people who follow him on Instagram.
The future Hall of Famer lives up to his King James nickname on the court, and he also rules over almost all athletes when it comes to dominating social media as a paid endorser.
LeBron James' stats aren't complete without noting almost $1 billion in earnings
LeBron James is at least a couple of seasons away from retiring as an NBA player, but he has already racked up a massive net worth on the strength of over $330 million in basketball salaries and close to double that in endorsements and investments. James is expected to make $95.4 million this year, and Forbes reports that will push him over $1 billion in his career.
Michael Jordan surpassed $1 billion at some point after his retirement. Tiger Woods, Floyd Mayweather, Cristiano Ronaldo, and Lionel Messi are the only athletes before James to reach the milestone while still competing.
Aside from his Los Angeles Lakers salary and Nike shoe contract, James endorses Pepsi – he just left Coca-Cola after an 18-year affiliation – Beats, and AT&T to name but a few. He was also an early investor in the Blaze Pizza chain that is expected to announce an IPO in a year or two, richly rewarding stakeholders.
LeBron James makes $307,000 when he posts on Instagram
Instagram has become a lucrative source of pocket change for the world's most popular and successful athletes, with past and present soccer stars leading the list. According to HopperHQ.com, Cristiano Ronaldo is the undisputed champion when it comes to earnings per paid posting on the social media platform. At $889,000, he trails only by wrestler-turned-actor Dwayne "The Rock" Johnson ($1,015,000) and reality TV figure Kylie Jenner ($986,000).
Returning to the athletes list, soccer players Neymar ($704,000) and Lionel Messi ($695,000) earn more than half a million per post, followed by David Beckham ($339,000) and LeBron James ($307,000).
Who are the kings of some other sports?
Mixed martial arts: UFC star Conor McGregor, $170,000.
Boxing: Floyd Mayweather, $108,800.
Football: Odell Beckham Jr., $58,699.
Tennis: Serena Williams, $57,300.
Ronaldo (224.8 million) and Messi (155.6 million) are the undisputed leaders when it comes to worldwide followers. James is tops among American athletes at 66.7 million.
How do Instagram's sponsored posts work?
If posting to Instagram sounds like an easy way to make money since you're already one of the platform's 1 billion monthly users anyway, guess again. Pictures of the kids giving the dog a bath are cute, but they don't make money.
Sponsored posts are published by celebrities and other so-called "influencers" with a sizable number of followers. Instagram developed a policy to create a level of transparency and satisfy the Federal Trade Commission while letting influencers cash in on their popularity.
The sponsored posts carry a "paid partnership" label beneath the name of the account owner. That activates a mechanism that supplies data to the advertiser about how many people see and interact with the posting.
As for the cost, that's something worked out between the advertiser and influencers like LeBron James. According to Ad Espresso, some influencers accept money upfront while others accept free products related to the ad pitch.
Like Sportscasting on Facebook. Follow us on Twitter @sportscasting19.