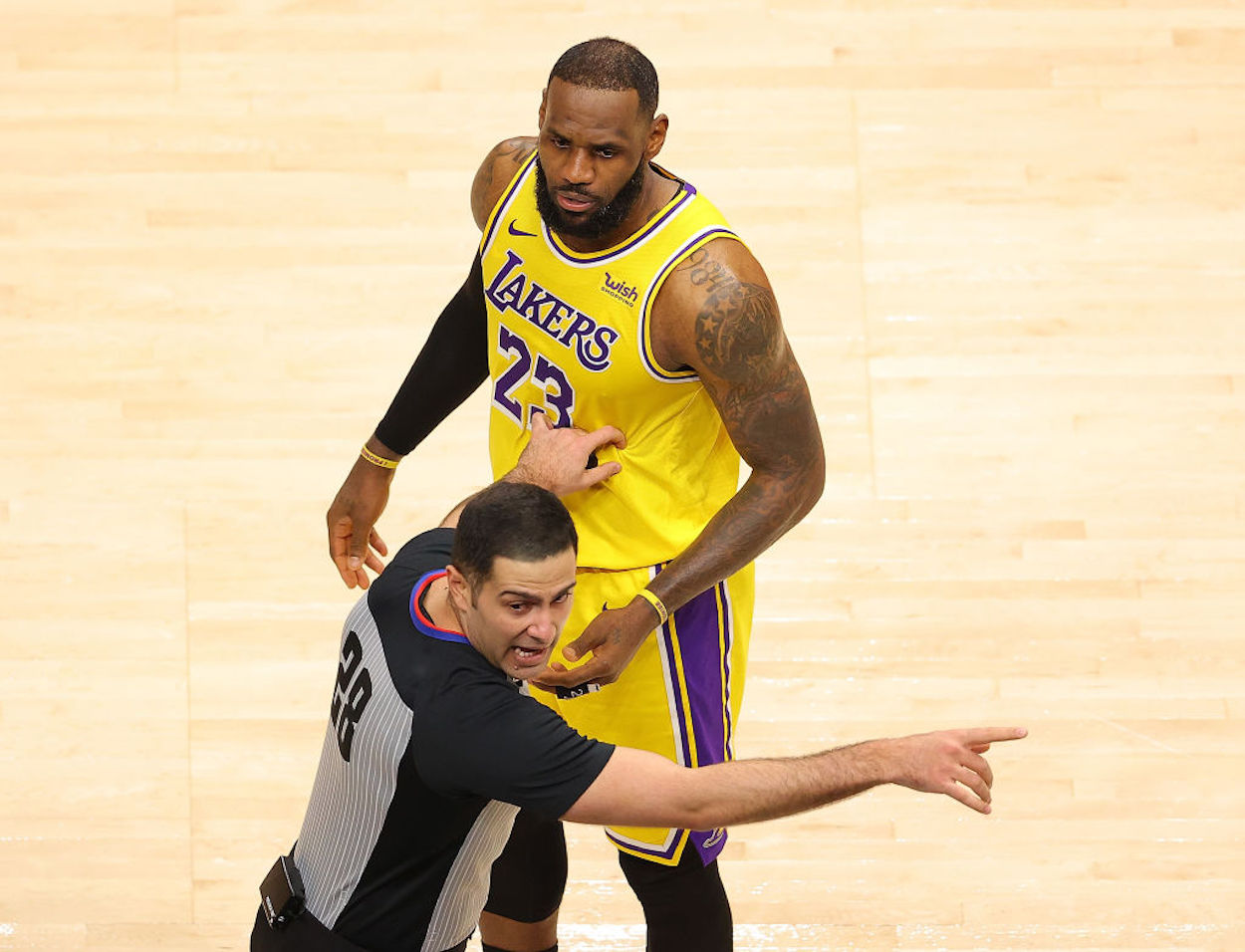 LeBron James Refuses to Let 'Courtside Karen' Ruin His Love for NBA Fans
LeBron James got into it with a couple sitting courtside at the Lakers-Hawks game, but the spat didn't change his love for NBA fans.
LeBron James and the Los Angeles Lakers rolled into Atlanta Monday and handed the Hawks a 107-99 loss, but that was hardly the biggest storyline of the night. During the fourth quarter, James got into a verbal spat with a small group of fans sitting courtside for the game. A woman, who was later dubbed 'Courtside Karen' by James himself, hurled profanities at the Lakers superstar and later accused him of calling her and her husband a b—-.
Despite the dust-up, James said those are the types of interactions he missed when fans weren't allowed inside NBA arenas.
Four fans ejected after verbal spat with LeBron James
NBA arenas are slowly allowing more fans to attend games and even sit courtside as long as they're wearing masks. The Hawks are one of the teams around the league to recently allow ticketed fans into their home arena, and apparently, they couldn't wait to get a piece of LeBron James.
In the fourth quarter of the Lakers-Hawks game on Monday night, James started jawing with a few fans sitting courtside. Juliana Carlos and Chris Carlos, as they were later identified, got into a shouting match with James as referees stepped in to break up the altercation.
In a video later released on social media, Juliana Carlos can be heard saying, "Shut the f— up. Don't talk to my husband like that," at James while standing courtside. After the dust-up, four fans were ejected from the game and escorted out of the arena.
Carlos sent a parting shot to James by flipping him the middle finger on her way off the court.
'Courtside Karen' is born
After the game, Juliana Carlos took to social media to tell her side of the story. In a profanity-laced, selfie-style video posted to her Instagram page, Carlos claimed James called her and her husband a b—-, and she was just sticking up for her man.
"So, I'm minding my own business, and Chris has been a Hawks fan forever. He's been watching the games for 10 years. Whatever, he has this issue with LeBron. I don't have an issue with LeBron. I don't give a f— about LeBron," Carlos says in the video. "Anyway, I'm minding my own business, drinking my [beverage], having fun. All of the sudden, LeBron says something to my husband, and I see this and I stand up. And I go, 'Don't f—ing talk to my husband.' And he looks at me and he goes, 'Sit the f— down, b—-.' And I go, 'Don't f—ing call me a b—-. You sit the f— down. Get the f— out of here. Don't f—ing talk to my husband like that.'"
James must've caught wind of the video in the locker room after the game, so he decided to have a little more fun trolling his newest hater.
"Courtside Karen was MAD MAD!!" James wrote in a tweet with seven laughing emojis on the end. James' tweet went viral so quickly that 'Courtside Karen' was trending on Twitter by the end of the night.
LeBron James says he missed that interaction with fans
Most NBA players don't want to deal with crazy fans getting involved in the game from their courtside seats, but James didn't mind it at all. In fact, he said he missed those types of interactions with the fans.
"At the end of the day, I'm happy fans are back in the building," James told reporters after the game. "I missed that interaction. I need that interaction. We as players need that interaction. I don't think it was warranted to be kicked out. There was a back and forth between two grown men and we said our piece. He said his piece, I said my piece, and then someone else jumped into it and said their piece. I don't think they should have been kicked out."
There's a lesson for the fans at home: Don't heckle LeBron James from the sidelines. It only makes him stronger.