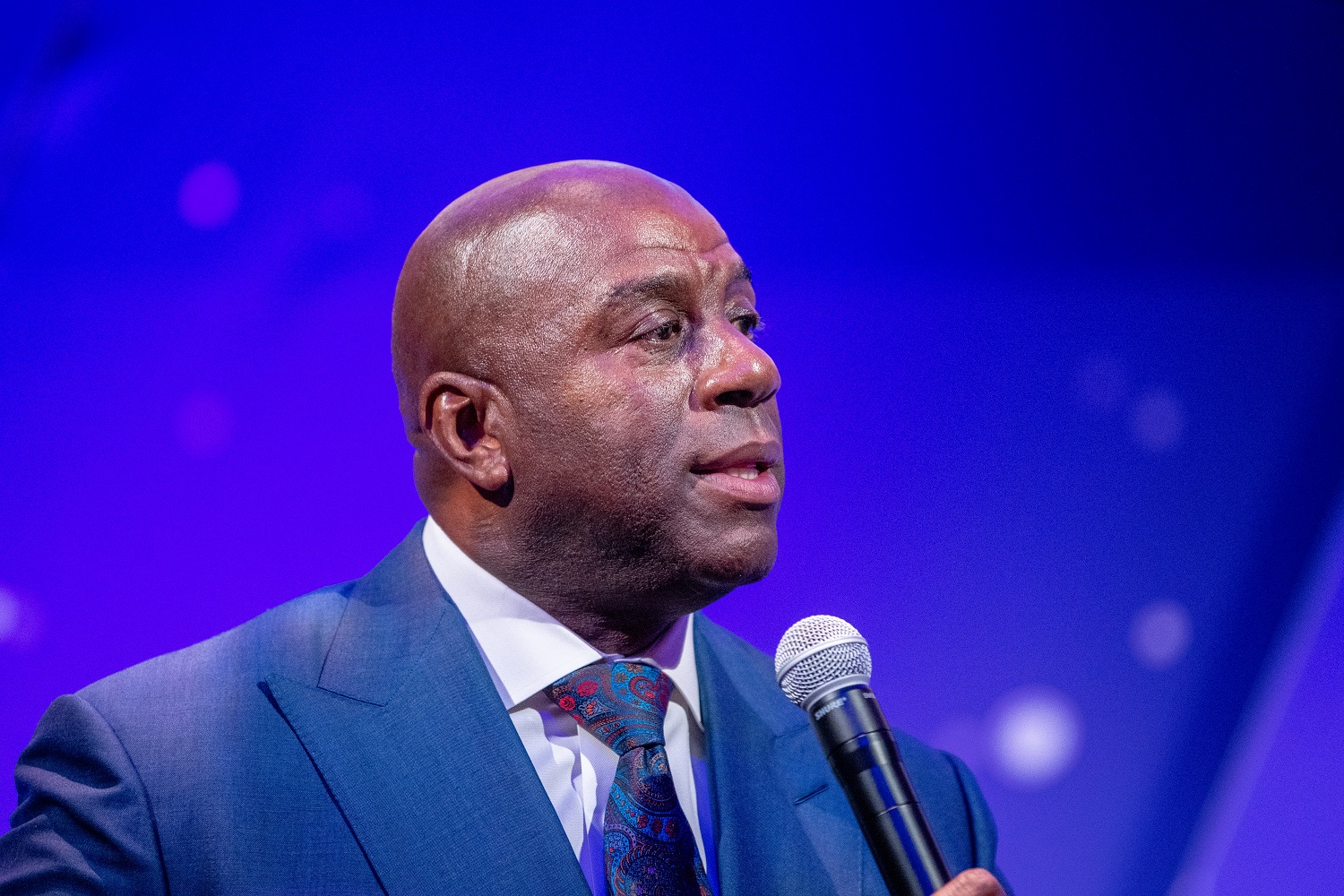 Magic Johnson Just Lavished Praise on 2 Players He Dumped
Magic Johnson made a series of decisions as a Los Angeles Lakers executive that freed up money for key signings, but he also cast off considerable talent.
Retired Los Angeles Lakers legend Magic Johnson knows talent when he sees it. After all, he played alongside the likes of Kareem Abdul-Jabbar and against Larry Bird as an NBA star from 1979-96.
But Johnson also worked for a time in the Lakers' front office, where he dumped salaries as part of a strategy that ultimately cleared some of the cap space necessary to land LeBron James and Anthony Davis. In the course of doing so, Johnson swept a lot of talent out the door.
Magic Johnson praises a pair of former Los Angeles Lakers
Magic Johnson may no longer be part of an NBA front office, but the Naismith Memorial Basketball Hall of Fame member didn't stop paying attention to the sport after abruptly resigning as president of basketball operations for the Los Angeles Lakers on the final day of the 2018-19 regular season.
On Friday, Johnson tweeted praise for a pair of seventh-year pros who began their careers with the Lakers.
"I'm so happy for two young former Lakers, NY Knicks' Julius Randle and Utah Jazz guard Jordan Clarkson," he wrote. "Julius Randle will be an All Star this season with his play and Jordan Clarkson is on pace to win the Sixth Man of the Year award."
Randle is in his second season with the New York Knicks. He is averaging 22.2 points and 11.1 rebounds while playing more than 36 minutes a game in the current season. The 6-foot-8 forward is also averaging 6.0 assists, by far his career best.
Clarkson is in his first full season with the Utah Jazz. The 6-foot-4 guard is averaging 17.9 points in just 25.5 minutes a game while posting the best shooting percentage of his career.
Magic Johnson let Julius Randle and Jordan Clarkson leave
Magic Johnson joined the Los Angeles Lakers' front office as president of basketball operations in February 2017. The team struggled to a 26-56 finish with 30-year-old Lou Williams coming off the bench to average a team-high 18.6 points. Second-year point guard D'Angelo Russell averaged 15.6 points and appeared to be a part of their future.
After the season, however, Johnson traded Russell for Kyle Kuzma and Brook Lopez. Kuzma remains a useful piece of the franchise, but Russell is one of the best point guards in the NBA – at about eight times what the Lakers are paying Kuzma.
It's a familiar theme in the way Johnson moved pieces around to clear space under the salary cap for future acquisitions, including LeBron James. There was much more involved, including the trade for Anthony Davis after Johnson had quit. But two years of sacrificing talent for cap space was a factor in the Lakers winning the 2020 NBA title.
Julius Randle came to the Lakers as the seventh overall pick in the 2014 NBA draft. The Washington Wizards drafted Jordan Clarkson in the second round and traded him to the Lakers in a cash deal the next day.
Clarkson was making $12.5 million in his third season, when he was traded with Larry Nance Jr. to the Cleveland Cavaliers for Isaiah Thomas and Channing Frye.  Thomas and Frye were allowed to leave as free agents after the season. Randle averaged 16.1 points and 8.0 rebounds in his fourth season, but he was making $4.15 million in his contract year and was looking for double that amount or more, so the Lakers let him walk.
There were some other dubious deals
The Jordan Clarkson trade did land the Lakers an extra first-round draft pick that they used on center Moritz Wagner. His Lakers career lasted 43 games before he was added to the package that allowed LA to trade for Anthony Davis in a multi-team deal.
Other decisions didn't have that sort of upside.
The trade to acquire Kyle Kuzma also brought the Lakers Brook Lopez and his $22.6 million expiring contract, which was desirable to team president Magic Johnson. The problem with letting Lopez go for nothing after one season is that he has averaged 12.1 points and 4.8 rebounds with the Milwaukee Bucks since for a total of about $28 million over three years.
Another low-post player, Thomas Bryant, came from the Utah Jazz in a draft-and-trade in 2017. Johnson released him in June 2018, and Bryant has been blossoming with the Washington Wizards since. Bryant, who is expected to miss the remainder of the season with a knee injury, is averaging 11.8 points and 6.6 rebounds through 128 games for Washington.
Johnson's last trade before quitting sent Ivica Zubac and Michael Beasley to the Los Angeles Clippers for Mike Muscala, who would play 17 games for the Lakers before opting for free agency. Beasley was a non-entity for the Clippers, but Zubac has been giving the Clippers a solid 18 minutes a night.
All stats courtesy of Basketball Reference.