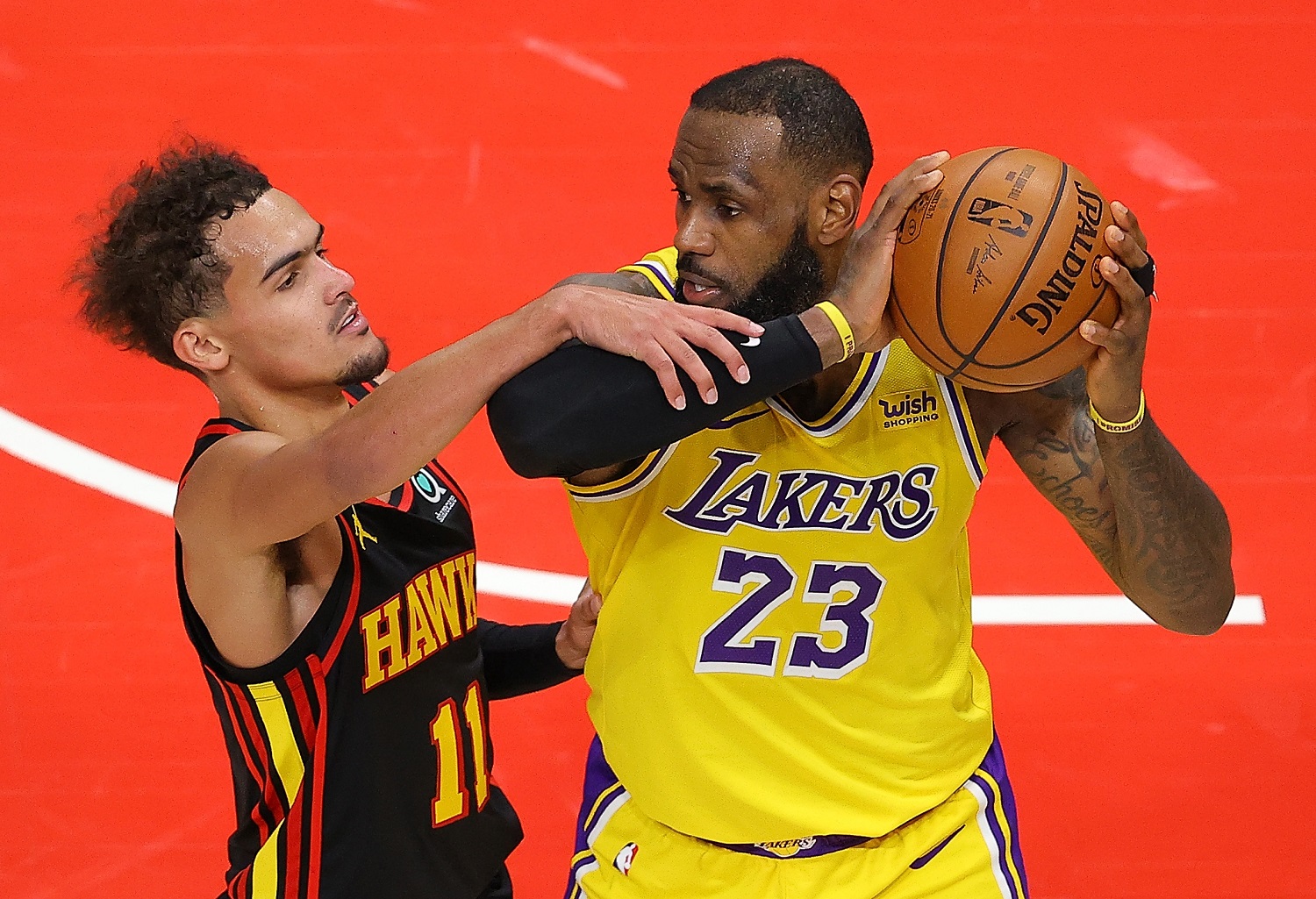 The NBA Is Keeping LeBron James From Reaching an Impressive Milestone
The way that the NBA is dealing with the COVID-19 pandemic will keep Los Angeles Lakers star LeBron James from reaching a financial milestone this year.
He has taken three teams to NBA championships, made 16 consecutive All-Star teams, captured a pair of gold medals in the Olympics, and scored more than 42,000 points in the regular season and playoffs. The list of what LeBron James hasn't accomplished in his basketball career is shorter than Curt Schilling's thank you notes to Baseball Hall of Fame voters.
LeBron James is approaching the triple-comma club
His pro basketball career, which began by making the leap directly from high school to the NBA, has been very lucrative for future Naismith Memorial Basketball Hall of Fame inductee LeBron James. The Los Angeles Lakers star began his career with the Cleveland Cavaliers in 2003 with a salary of $4,018,920. The first year of his second NBA contract paid him $13,041,250, and the numbers have soared from there.
According to Forbes, James' combined earnings from basketball, endorsements, and his ever-expanding business empire will make him the highest-earning NBA player for the seventh straight year despite the fact that he's collected the No. 1 salary only once in that span.
More significantly, James is on schedule to join the so-called triple-comma club in 2021 by crossing $1 billion in lifetime earnings. The phrase comes from the number of commas required to separate all those zeroes in a 10-digit fortune. He will become the fifth athlete to reach that level, joining iconic American stars Tiger Woods and Floyd Mayweather plus international soccer legends Cristiano Ronaldo and Lionel Messi.
LeBron James makes more off the court than on it
According to the magazine's website, Stephen Curry of the Golden State Warriors is No. 2 on the list of earnings by basketball players. Curry's endorsements slightly exceed his salary ($34.4 million) for a total of $74.4 million.
The interesting aspect of the $95.4 million that LeBron James is pulling down this year, according to Forbes, is that only one-third of it is coming from the Los Angeles Lakers as they seek back-to-back NBA championships. The rest is a testament to his popularity and his business acumen.
James is expected to make $64 million from endorsements and his business dealings with those partners. He has long been part of the Nike stable of big-name athletes, but he also lends his name to an assortment of other major retailers that includes GMC, Beats, AT&T, and Wal-Mart.
James ended a long-term arrangement with McDonald's to sign with Blaze Pizza, where he was an early investor and franchisee. The value of his stake there will explode if Blaze moves ahead with an anticipated IPO next year. It has been reported recently that James is ending a relationship with Coca-Cola that began in 2003 to endorse Pepsi products and potentially make them the beverage options in the pizza chain.
The Lakers star falls just short of a financial milestone
LeBron James was scheduled to make more than $39.2 million from the Lakers this season to bring his career earnings from basketball to a little more than $349 million. However, a snag has arisen, and it will keep James from reaching another impressive milestone.
With most teams not allowing fans to attend home games and others limited to far below capacity during the pandemic, the NBA is missing out on about 40% of its normal revenue. To maintain the 50-50 split in revenue that owners have worked out with the union in the collective bargaining agreement, owners have placed 20% of player salaries in escrow.
Even with vaccines in the pipeline, attendance is unlikely to come close to traditional levels, and players will recover very little of the escrowed money.
In James' case, his salary from the Los Angeles Lakers drops to about $31.4 million. Had that not happened, he would have been a lock to joining Floyd Mayweather and Tiger Woods as the only active American athletes to bank $100 million in a year.
Like Sportscasting on Facebook. Follow us on Twitter @sportscasting19.