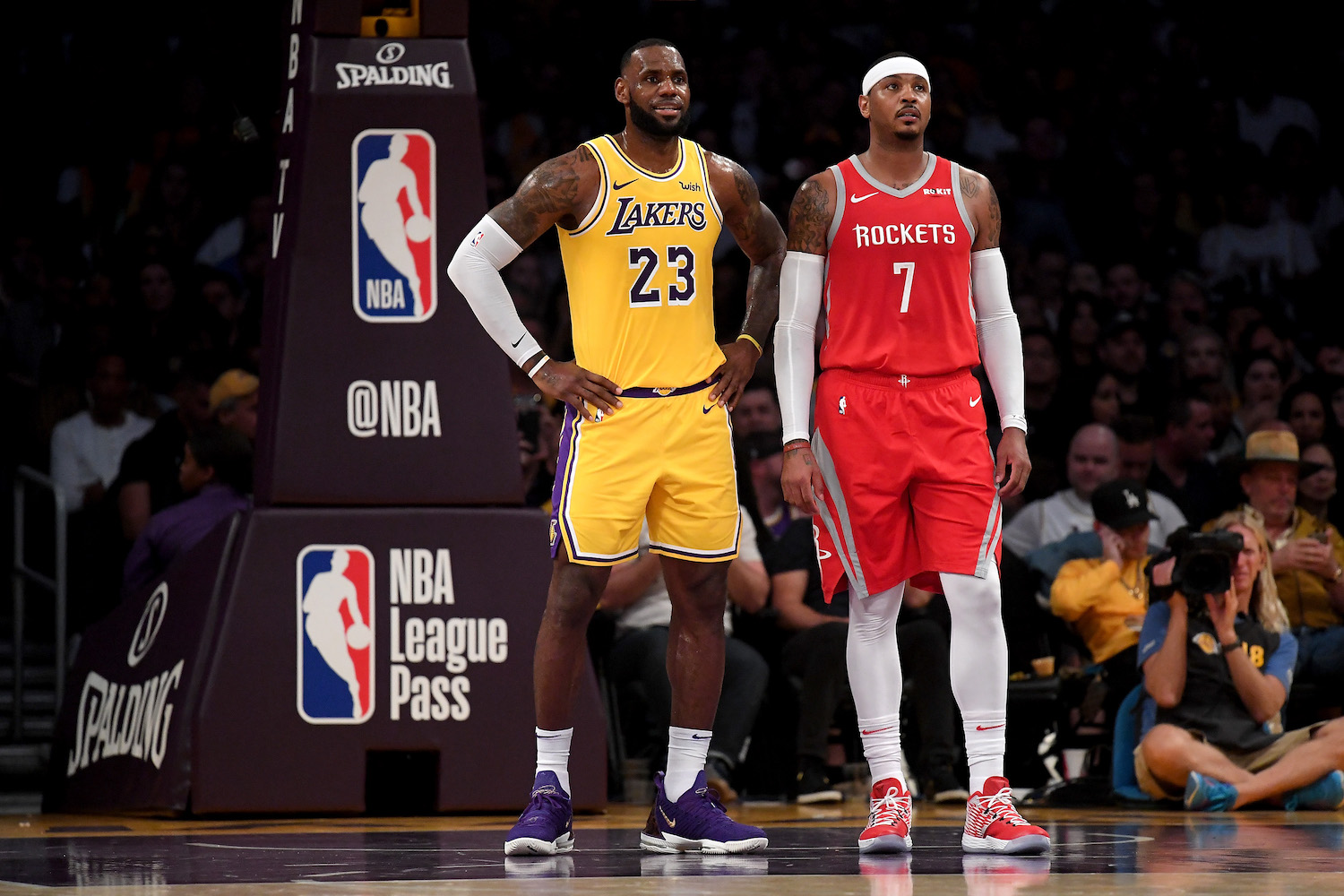 LeBron James vs. Carmelo Anthony: Head-to-Head for 17 NBA Seasons
LeBron James and Carmelo Anthony go way back to their days in high school. In all their years in the NBA, what are their head-to-head numbers?
LeBron James and Carmelo Anthony have one of the most unique relationships in sports as their careers have run parallel to each other for almost two decades. The two were taken No. 1 and No. 3 in the 2003 NBA draft and have competed against each other since. Prior to that, the pair battled against each other in high school.
With such a long history together, the two NBA stars have played more than three dozen games against each other. Interestingly, the LA Lakers vs. Portland Trail Blazers series is just the second-ever postseason meeting between the pair. In their 17 years in the NBA together, what are their head-to-head numbers?
LeBron James and Carmelo Anthony meet for the first time
Before LeBron James and Carmelo Anthony were household names, the two were high school superstars. The pair met for the first time in 2002 when James and his team from St. Vincent-St. Mary High School (Akron, Ohio) met up with Anthony's Oak Hill Academy (Mouth of Wilson, Virginia) in a high school showcase game.
In front of 11,000 at Sovereign Bank Arena in Trenton, N.J., James, who is a year younger than Anthony, finished the night scoring 36 points on 12-of-27 shooting. Anthony scored 34 points on 14-of-25 from the floor, but more importantly, his team earned the victory, 72-66.
It was the start of a working relationship and friendship that has endured for more than 18 years.  
Their relationship goes beyond the court
LeBron James, Carmelo Anthony, along with Dwyane Wade and Chris Paul and their families went on vacation several years ago to the Bahamas. Everyone jumped into the water and swam to a nearby grotto. When everyone decided to swim back, Anthony stayed behind to look at the barracudas.
Anthony revealed on an Instagram live session with Wade how, at one point, the current started taking him away from the vessel and into open ocean waters. James recognized his friend was drifting away and jumped back into the water. He made his way to Anthony, grabbed him, and returned him to the boat.
"He was bringing me back with one arm," Anthony said. "He's swimming with one arm, and he's carrying me with the other arm. … Yo, Bron, I appreciate that. You saved my life that day. Them little flippers wasn't working for me."
LeBron James and Carmelo Anthony numbers in head-to-head meetings
In their long history together, including trips to the Bahamas, LeBron James has always had the upper hand. Heading into tonight's first-round matchup, the two have faced each other 40 times, including five postseason games. James' teams have a 25-15 record, including their only postseason meeting, a 4-1 series win with the Miami Heat over Anthony's New York Knicks in the 2012 playoffs.
Individually, James, not surprisingly, has the better points per game average at 26. Anthony isn't far behind at 22.5 points per contest. James' highest point total in a single game is 43, while Anthony's best is just one point behind at 42. 
When it comes to rebounding, James has averaged 6.9 per game while Anthony has pulled down 6.6. Of their 40 meetings, both have bested the other 17 times while they've had the same number of rebounds in six contests. 
All of those numbers will change over the course of the next week or so as the two meet in the opening round of the playoffs. As has been the case in the past, James will likely come out on top on all of the numbers. But, in the end, those numbers pale in comparison to a single friendship that began almost 20 years ago and will likely last for many years to come.
Stats courtesy of Land of Basketball.