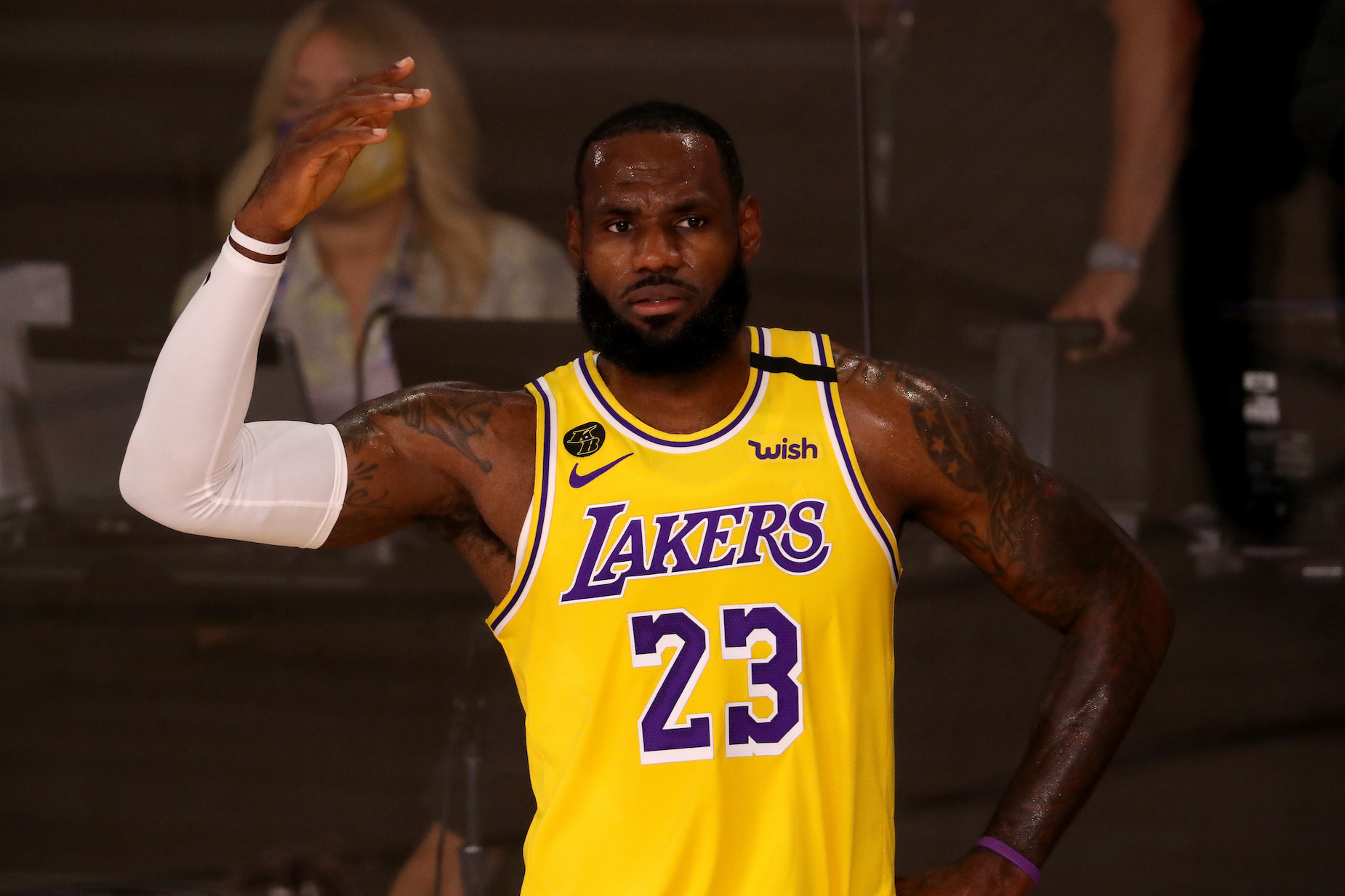 LeBron James' Tough Childhood Taught Him a Life-Changing Financial Lesson
During LeBron James' tough childhood, he learned an important financial lesson. Even today, the Lakers star follows that old advice.
When you look at LeBron James now, it's hard to imagine him as anything other than a massive star. In reality, though, things weren't always easy for King James. In fact, things were pretty tough for LeBron during his youth.
While the LA Lakers star is in a much different situation now, he hasn't forgotten the lessons he learned as a child. In fact, one of those principles has helped make LeBron James as wealthy as he is today.
LeBron James overcame a difficult childhood to become an NBA star
If you're a long-time sports fan, you've probably seen some Cinderella stories in your day. LeBron James' rise to global stardom, however, sounds like something out of a Hollywood movie.
As Lawrence Donegan explained in a 2003 Guardian story, LeBron's mother, Gloria 'Glo' James, gave birth to him when she was 16-years old. Shortly after, the boy's father, "a casual boyfriend with an extensive criminal record," left the pair on their own.
LeBron and Gloria found themselves bouncing between homes; regardless of their residence, though, things weren't ideal. "I saw drugs, guns, killings; it was crazy," the future NBA star explained. One man, however, would make all the difference.
 Frank Walker, James' football coach, learned of the boy's situation and offered to let LeBron move in with his family. "My life changed. I had shelter and food," King James said. "I'll never forget what the Walkers did for me, especially Frank. He doesn't get the recognition he deserves because he's real quiet, but he was the first one to give me a basketball and the first one to show a real interest."
Going on to become rich and famous
As we all know, Frank Walker's decision to expose LeBron to basketball changed the course of sports history. James has gone on to become incredibly successful, both on and off the court.
From a sporting perspective, King James burst onto the national scene in high school and never looked back. While The Decision probably wasn't the best idea, LeBron has more than made up for that misstep; he's claimed three NBA championships, four MVP titles, and is still going strong at age 35.
That success has unsurprisingly brought James some enormous financial rewards. While the star has made almost $307 million in NBA salary, LeBron also has plenty of endorsement deals and some shrewd investments, helping him build an estimated $480 million net worth.
LeBron James hasn't forgotten an important financial lesson from childhood
It goes without saying that LeBron James is in a much better financial position now than he was as a child. That doesn't mean he's forgotten what he learned in Akron, Ohio, though.
"My uncles always taught me — they taught me how to have a savings account," LeBron James told Maverick Carter UNINTERRUPTED, as shared by Yahoo! Finance. "They'd give me a dollar and they'd be like, 'Listen, nephew, go spend 35 cents of it and keep the other 65.' Or, if they gave me two dollars, they'd be like, 'Go ahead and spend a dollar of it, but stash the other dollar."
While James is working with millions of dollars rather than a few cents these days, he still follows that advice. "I'm always in my head about stashing and keeping my money sacred," he continued, "because I didn't know when my uncle was going to give me another dollar here and another 50 cents here."
Perhaps that explains why LeBron James doesn't pay for roaming data or commercial-free Pandora.