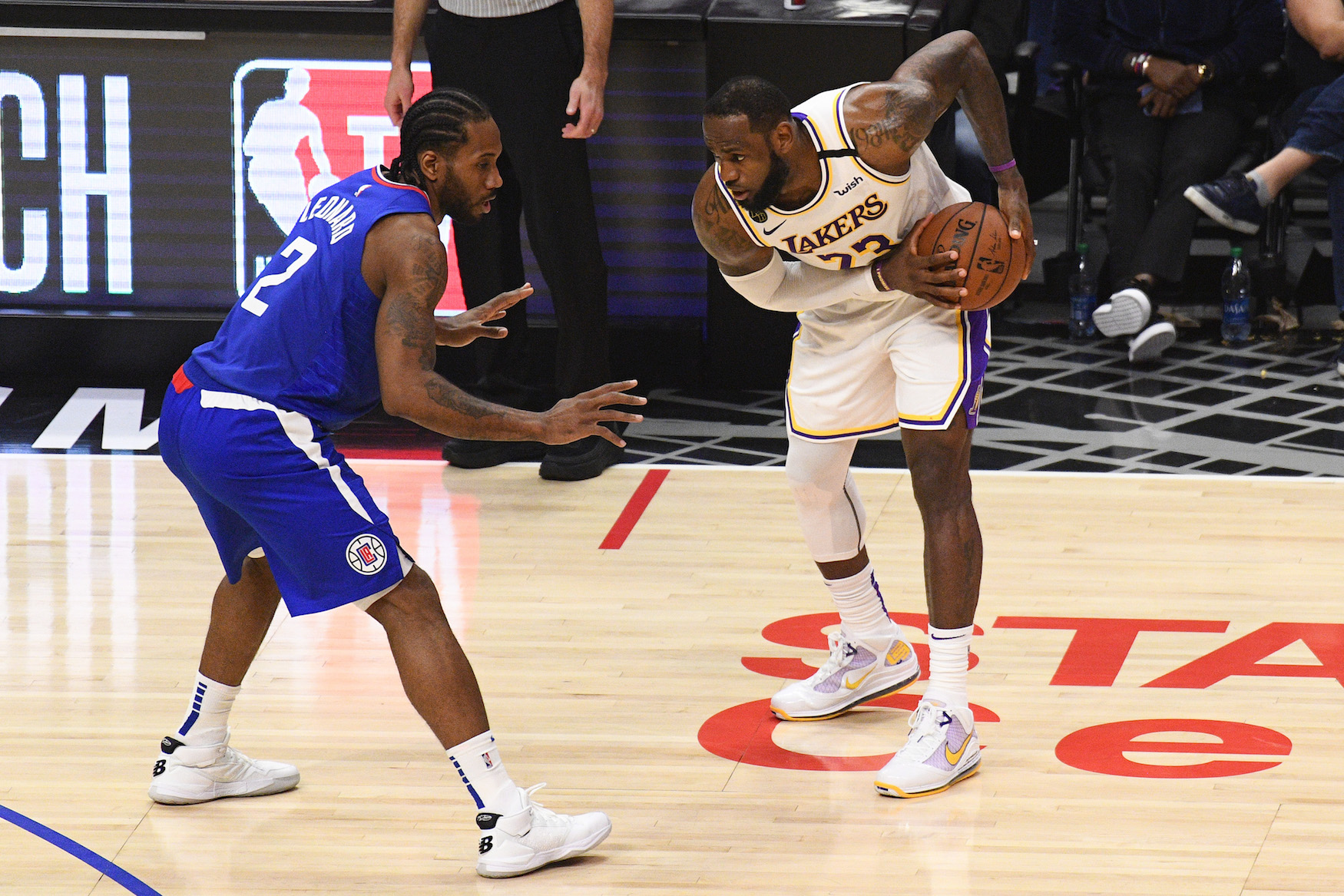 LeBron James' $480 Million Net Worth Dominates Kawhi Leonard in the Financial Battle for Los Angeles
While LeBron James and Kawhi Leonard are pretty evenly matched on the court, King James' massive net worth dominates the financial competition.
In the world of sports, nothing gets the blood pumping like a good rivalry. While the battle for Los Angeles between the Lakers and the Clippers has been a bit one-sided, things are more equal these days. When you have LeBron James and Anthony Davis facing off against Kawhi Leonard and Paul George, you know you're in for a good time.
While LeBron James and Kawhi Leonard are pretty evenly matched on the hardwood, things are a bit less competitive in the financial space. When it comes to monetary might, King James is still the main man in Hollywood.
LeBron James is still a star with the Los Angeles Lakers
When a player is in his 17th NBA season, it would be understandable if his production declined. LeBron James, however, is still going strong and leading the Los Angeles Lakers into the playoffs.
James, of course, burst onto the national scene in high school before jumping straight to the pros. He cut his teeth with the Cleveland Cavaliers, infamously left town in 'The Decision,' and won two titles in Miami. LeBron then returned to Cleveland and lifted another Larry O'Brien Trophy before heading to Los Angeles.
While King James' first season in Hollywood was a bit disappointing, things have been much different in 2019-20. Thanks to the arrival of Anthony Davis, the Lakers have dominated the competition and climbed to the top of the Western Conference. Although LeBron is scoring a little less than he used to, he's still making a major impact; through the 60 games of the season, he averaged 25.7 points, a career-high 10.6 assists, and 7.9 rebounds per outing.
Kawhi Leonard has gone from a role player to a legitimate talent
Ever since his high school days, LeBron James was a major star. Kawhi Leonard, however, took a longer road to the top.
Leonard played his college ball at San Diego State, where he posted solid numbers; after two seasons on campus, he entered into the 2011 NBA draft. While scouts weren't quite sure exactly what to make of the forward—he had all the physical tools, Kawhi didn't seem like a dominant scorer—the San Antonio Spurs apparently liked what they saw.
Although Leonard started out as a role player, providing defense and rebounding, he improved with each passing season. The forward claimed NBA Finals MVP honors 2014; while he became more of an offensive threat, Kawhi still earned Defensive Player of the Year honors in 2015 and 2016.
In July 2018, the Spurs traded Leonard to the Toronto Raptors; tasked with being the main man, the forward took his game to the next level. After averaging 26.6 points and 7.3 assists per game en route to an NBA title, he chose to enter free agency and head home to Los Angeles.
Kawhi Leonard might be a star, but he can't compete with LeBron James' net worth
Thanks to his rise to prominence, Kawhi Leonard secured a sizable contract with the Los Angeles Clippers. His finances, however, can't touch LeBron James.
According to Spotrac's data, Leonard signed a three-year, $103 million deal with the Clippers; as of this season, he's earned approximately $117 million for his career. CelebrityNetworth also pegs his overall fortune at $35 million.
Kawhi's numbers are nothing to sneeze at, but he's not even in the same zip code as LeBron. Although their current contracts aren't that different—James is in the second season of a four-year, $153 million deal—Spotrac estimates his career earnings at almost $307 million. King James also has a massive, $480 million net worth, thanks to his Nike deal and some smart investments.
On the court, LeBron James and Kawhi Leonard are two of basketball's biggest stars. In the financial battle for Los Angeles, though, LeBron's massive net worth makes him the clear winner.
Stats courtesy of Basketball-Reference