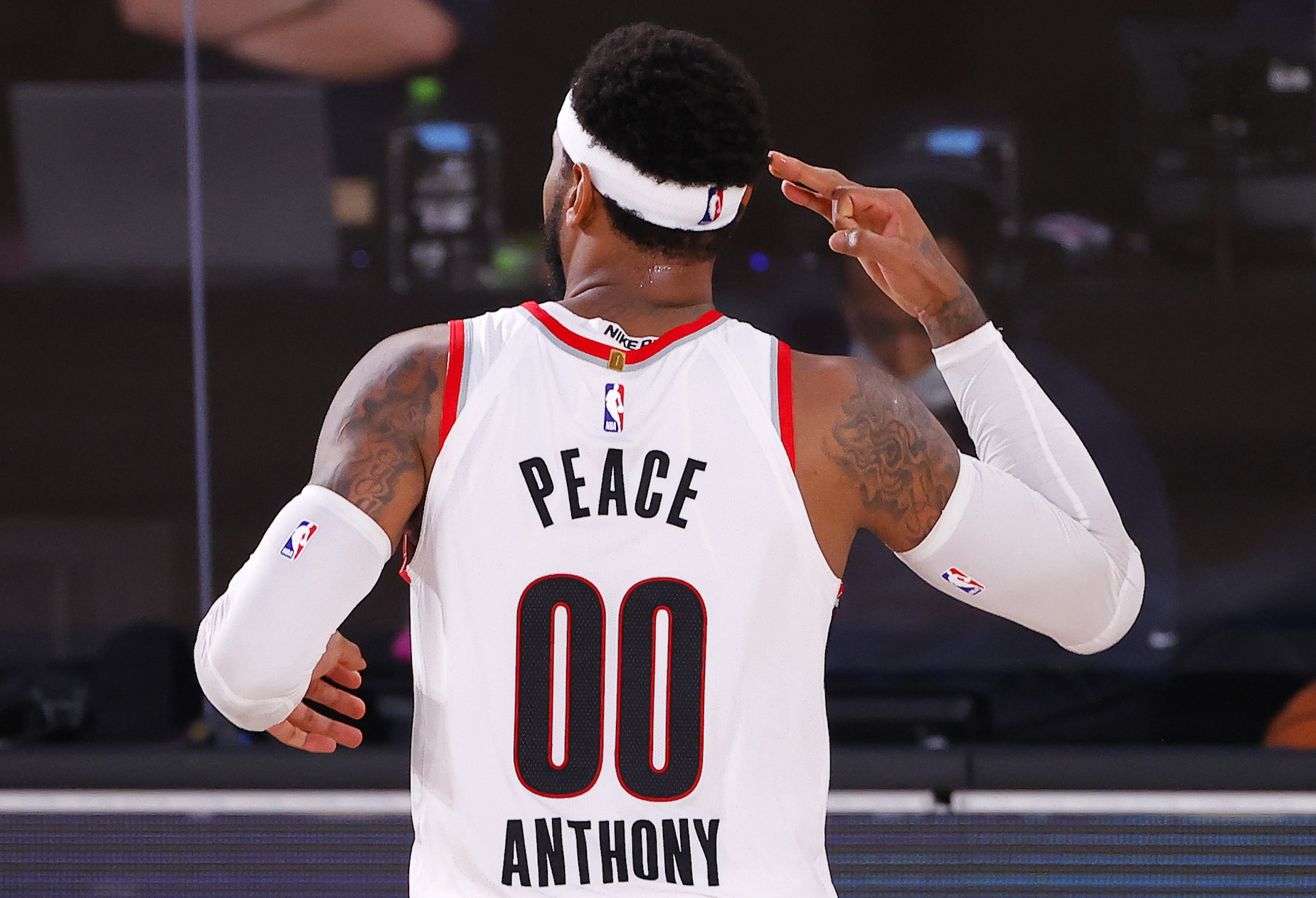 Carmelo Anthony Has Made Almost $250 Million in the NBA but He's Not Above Clipping Coupons
While Carmelo Anthony has built up quite a fortune playing professional basketball, he's not above clipping coupons at the grocery store.
While LeBron James gets most of the hype, the 2003 NBA draft wasn't short on talent. That June, a young Carmelo Anthony joined the Denver Nuggets; although there have been plenty of twists and turns since then, the small forward grew into a legitimate NBA star. He also earned plenty of money along the way, piling up almost $250 million in salary along the way.
Despite those impressive earnings, though, Carmelo Anthony is still happy to save a few bucks at the grocery store. In fact, the veteran forward isn't above clipping a few coupons when he gets to the cash register.
Carmelo Anthony's legendary NBA career
In recent years, Carmelo Anthony's stock has fallen a bit. That reality, however, shouldn't overshadow the forward's individual success over the course of his career.
After bursting onto the scene at Syracuse, Anthony entered the 2003 NBA draft. The floundering Denver Nuggets snagged him with the third-overall pick; that move immediately paid dividends. The forward averaged 21 points per game as a rookie, leading his new team into the postseason.
While Carmelo grew into a legitimate star, he eventually grew tired of life in Denver, and, in February 2011, he joined the New York Knicks. Things initially looked promising—Anthony provided the star power Knicks fans had missed and the forward formed a dangerous one-two punch with Amar'e Stoudemire—the relationship eventually went south.
After clashing with Phil Jackson, Anthony was traded to the Oklahoma City Thunder; he played out the season before being dealt to the Atlanta Hawks, who bought the forward out. Carmelo then signed a veteran minimum contract with the Houston Rockets, but only appeared in 10 games.
Anthony has found somewhat of a new lease on life with the Portland Trailblazers, but his recent decline shouldn't overshadow what he's done in the NBA. The forward has played 1,120 games during his time in the association; during that time, he's averaged 23.6 points, 6.5 rebounds, and 2.9 assists per outing.
Earning more than $200 million in salary and building a massive net worth
When you spend almost two decades in the NBA, you're bound to earn some serious cash. Carmelo Anthony wasn't simply filling out a roster, though; he was a legitimate star capable of commanding a big salary.
According to Spotrac's financial data, Carmelo has earned $248,940,171 during his time in the association. As you'd assume, most of that money came when the scorer was still in his prime; he took home $75 million from the Denver Nuggets and an additional $125 million from the New York Knicks.
Like most star athletes, however, Anthony's earning power isn't limited to his salary. Over the years, the Jordan Brand has released several editions of Carmelo's signature sneaker; he's also invested in some New York City restaurants and purchased a soccer team. All of that has combined to help the forward build up a $160 million fortune, according to CelebrityNetWorth.
Even Carmelo Anthony isn't above clipping coupons
Thanks to his successful basketball career, Carmelo Anthony has built up quite the fortune. That financial reality, however, doesn't stop the forward from trying to save a few bucks when he can.
"I go to the supermarket, make sure I get the newspaper and tear the coupons out; save a dollar or two," Anthony said according to a 2011 CBS 4 story about how celebrities save money. "I've got the paper open with coupons, ripping them, I'm human too."
If you're a basketball fan, you're probably used to seeing Carmelo Anthony performing incredible feats of athleticism on the court. At the grocery store, though, he's just like everyone else.
Stats courtesy of Basketball-Reference