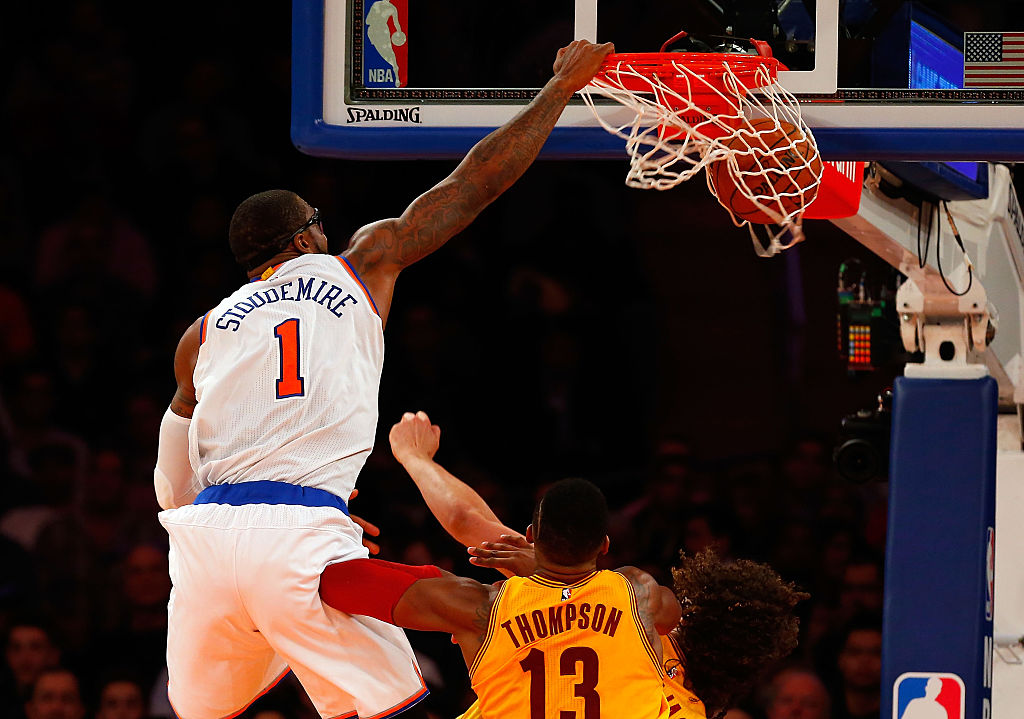 Amar'e Stoudemire Made So Much Money in the NBA That He Bought Part of a Basketball Team
Amar'e Stoudemire made more than $160 million in the NBA. Now, he owns part of an Israeli professional basketball team.
Even in retirement, plenty of professional athletes remain connected to their sport. Some, like Cris Collinsworth and Booger McFarland, head into the broadcast booth; others, like Tim Ducan, stay on the bench as a coach. Amar'e Stoudemire, however, took a third option: ownership.
While the veteran forward left the NBA 2016, he hasn't left the hardwood behind. Not only is Stat still playing abroad, but he used some of his NBA earnings to buy a stake in a basketball team.
Amar'e Stoudemire's NBA career
Growing up, Amar'e Stoudemire bounced between schools with troubling regularity. While constant transfers cost his some time on the basketball court, he wouldn't be deterred; as a senior, he made the McDonald's All-American team and became the top recruit in the nation. He briefly committed to the University of Memphis but withdrew to enter the 2002 NBA draft.
The Phoenix Suns selected Stoudemire with the ninth overall pick and he immediately made an impact. The forward averaged 13.5 points and 8.8 rebounds per game during his first professional campaign, earning Rookie of the Year honors; while knee problems would cost him the most of the 2005-2006 season, Stat developed into a star.
After eight seasons in the desert, Amar'e Stoudemire hit free agency and joined the New York Knicks. At first, the move seemed to be a success; after seemingly endless years of mediocrity, Stat and Carmelo Anthony gave the Knicks some legitimate star power. Eventually, though, injuries took their toll, and Stoudemire was relegated to the bench and, eventually, bought out.
The big man briefly joined the Dallas Mavericks before playing a final NBA campaign with the Miami Heat. He spent 14 seasons in the association, averaging 18.9 points and 7.8 rebounds per game.
Playing more basketball abroad
Although Amar'e Stoudemire retired from the NBA in July 2016, he wasn't done playing basketball. If anything, his international odyssey was just beginning.
In August, Stoudemire headed to Israel and joined Hapoel Jerusalem in the Israeli Basketball Premier League. In a little more than a calendar year with the club, he helped them win a league cup and the league title before retiring again.
Despite that retirement, Stat still didn't stop playing. He joined the Big3 basketball league and considered an NBA comeback; when the latter didn't pan out, he returned to Israel and spent another season with Hapoel Jerusalem. He played a handful of games in China during the fall of 2019 before heading back to Israel for a third spell, this time with Maccabi Tel Aviv, in January 2020.
Amar'e Stoudemire owns a share of Hapoel Jerusalem
During his time in the NBA, Amar'e Stoudemire earned roughly $160 million in salary and built up a net worth of approximately $75 million. That wealth allowed him to become a basketball owner before he had even retired.
In 2013, the forward teamed up with Ori Allon and other investors to purchase 90 percent of Hapoel Jerusalem; Stat himself reportedly owns about five percent of the franchise. After calling it a career in North America, Stoudemire double-dipped and hit the floor with his employees.
Recently, however, his ownership has caused somewhat of an issue. When Stoudemire returned to Israel in 2020, he didn't rejoin Hapoel Jerusalem; instead, he signed up with Maccabi Tel Aviv, their historic rival, which caused some fans to brand him a traitor.