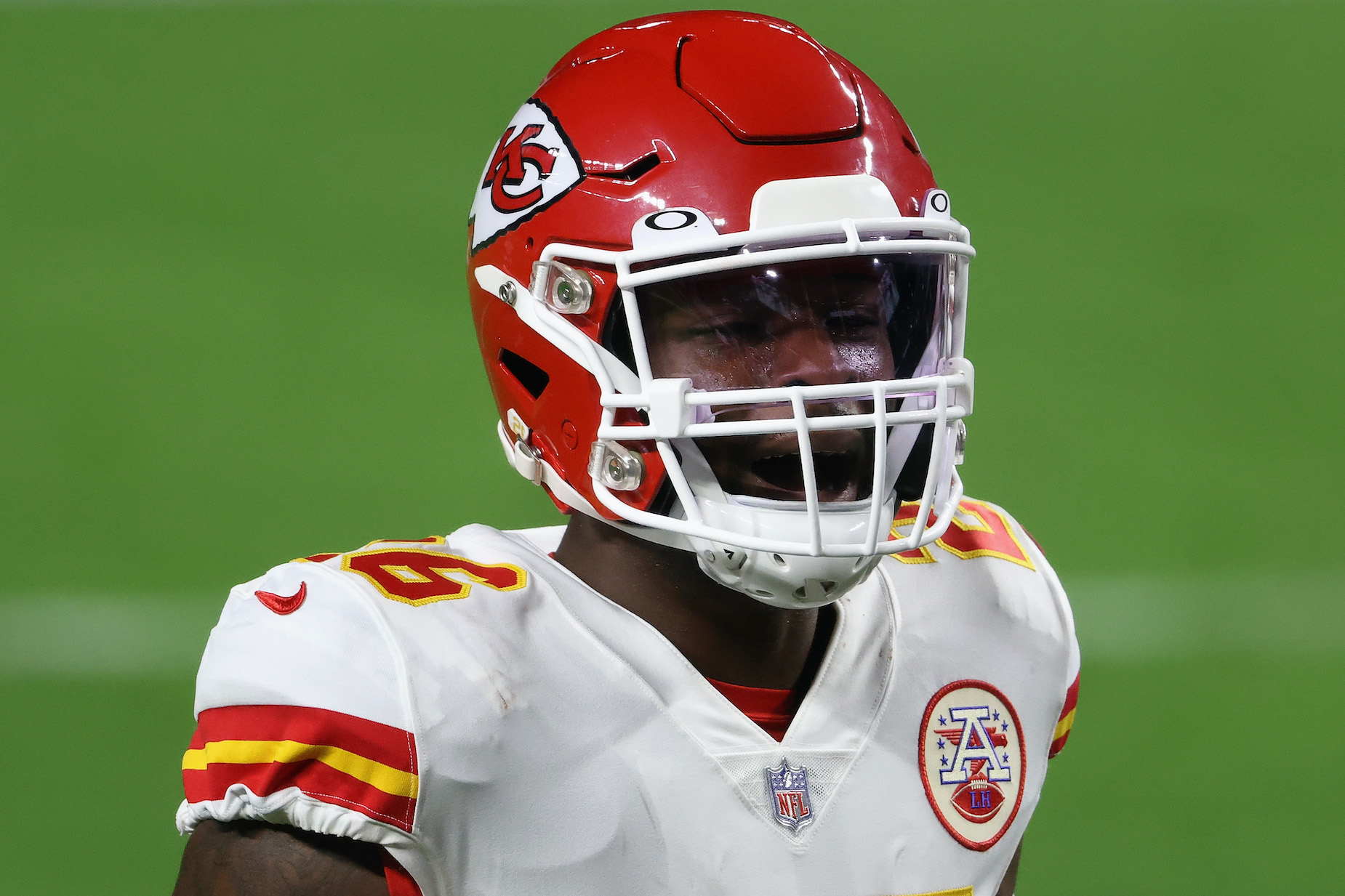 Le'Veon Bell Tried to Clarify His Comments About Andy Reid but Only Raised a New Question About Their Relationship
In the world of pro football, Andy Reid has a pretty good reputation. While fans can sometimes take issue with his clock management, the current Kansas City Chiefs coach doesn't have too many haters. Le'Veon Bell, however, may now be one of them. Recently, the veteran running back made headlines by saying that he'd rather …
In the world of pro football, Andy Reid has a pretty good reputation. While fans can sometimes take issue with his clock management, the current Kansas City Chiefs coach doesn't have too many haters. Le'Veon Bell, however, may now be one of them.
Recently, the veteran running back made headlines by saying that he'd rather retire than ever play for Big Red again. While he's since tried to clarify his feelings, that clarification has only raised a new question about his relationship with Reid.
Le'Veon Bell had a disappointing stint in Kansas City and won't play for Andy Reid ever again
While Patrick Mahomes usually steals most of the headlines, the Chiefs' offense is stacked with plenty of weapons. During the 2020 campaign, Bell was supposed to be one of them. In reality, though, the running back never found his footing in Missouri.
In case you need a refresher, Bell began the season with the New York Jets. The running back clashed with head coach Adam Gase and, with Gang Green's brass unable to find a trade partner, eventually found himself cut from the team. The veteran then joined the Chiefs, theoretically providing some support for Clyde Edwards-Helaire.
While that move made sense on paper, it never truly worked in reality. Bell only posted 63 carries during the remainder of the regular season. His workload completely dried up during the postseason, as he only appeared in one playoff game and had a grand total of two touches.
Bell has since hit free agency, and it's safe to assume he won't be returning to Kansas City in the fall. In a recent Instagram comment, he told the world that he'd "retire first" before ever playing for Reid again.
Le'Veon Bell tried to clarify his comments but only raised a new question
As you might imagine, Bell sharing that revelation in a random Instagram comment kicked off quite the media frenzy. In the blink of an eye, his feelings were plastered everywhere, from the (metaphorical) front page of NFL Twitter to ESPN's bottom line. On Sunday, June 13, the running back took to his own social media account in an attempt to clarify his statement.
"I said what I said & I don't regret at all what I said," Bell wrote in the first message of a string of tweets. "For those who have a PERSONAL PROBLEM with me because of what I SAID, that's fine…you have your right! just understand I ALSO have MY RIGHT for how I feel about MY PERSONAL problem with dude because of what HE SAID to me."
The running back also explained that he "loved" his time in Kansas City and admitted that he probably shouldn't have shared his feelings on social media. "I'm just giving you a small version from my point of view on why I said what I said," he added.
That clarification, however, didn't exactly make things clearer. If anything, it raised one major question.
If Bell's side of the story is to be believed, his feelings about Reid stem from something the coach said. Given that no one outside of the Chiefs' locker room knows exactly what happened, that comment is a major missing piece of the puzzle. Did Big Red cross the line, whether he did so intentionally or not? Did Bell take offense to a blunt, albeit professional, comment about his attitude or role in the offense?
At this point, it's still a mystery.
Andy Reid has a pretty great reputation around the NFL
Reid's reputation around the league also adds to the mystery around Bell's comments. While previous good behavior doesn't rule out the possibility of a future offense, the Chiefs' coach does have a sterling reputation.
Ahead of the Chiefs' appearance in Super Bowl 54, Adam Teicher put together an ESPN story explaining "why everyone loves" Reid. While there were plenty of anecdotes from players, the piece hit a few common themes: the coach is trustworthy, has fun, and treats those he works with like human beings.
"You don't feel like you're playing for Andy Reid," former lineman Jeff Allen explained in a comment that summed up most of the sentiments. "You feel like you're playing with him."
Again, that reputation doesn't mean that Reid couldn't have crossed a potential line with Bell. It does, however, add some extra ambiguity to the situation, given the running back's insistence that something the coach said soured their relationship.
At this point, it's impossible for anyone outside of a select few to know what actually happened between Reid and Bell. In the era of social media, podcasts, and tell-all books, though, drama usually doesn't say under wraps forever.
Stats courtesy of Pro-Football-Reference