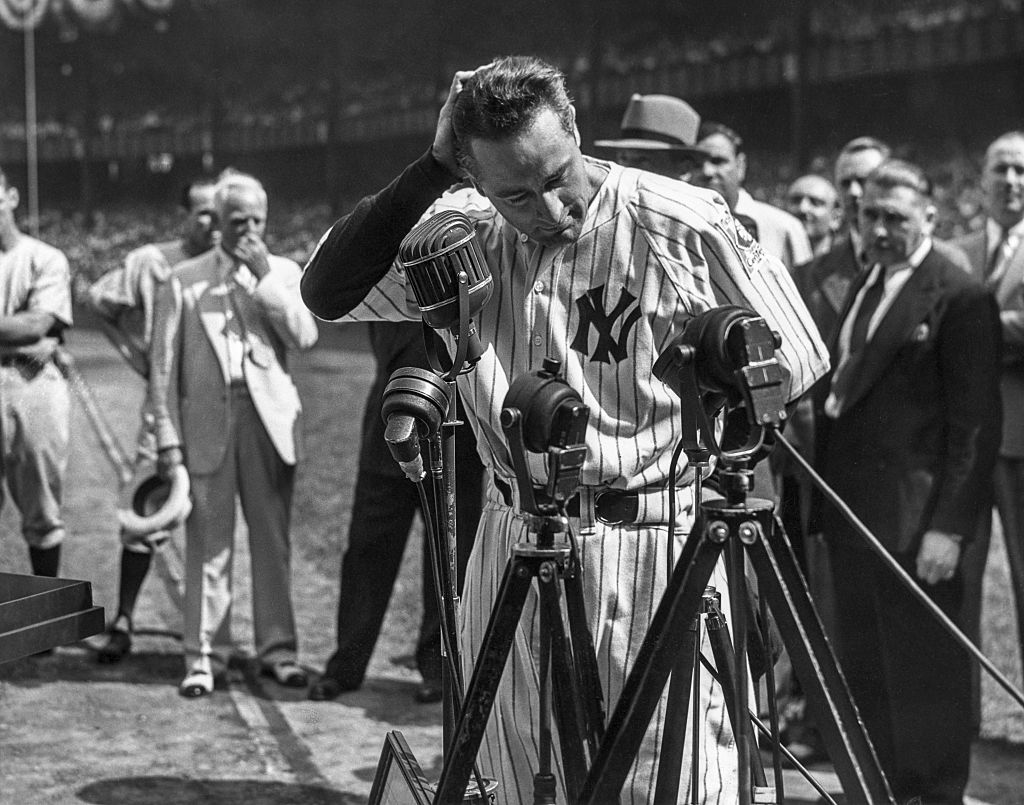 Lou Gehrig's Tragic Death Came After a Brutal Battle With ALS
During his career, Lou Gehrig became a New York Yankees legend. ALS, however, ended his baseball career and the Iron Horse tragically died soon after.
Baseball, more so than other sports, values its history. That reality means that today's fans are well acquainted with the likes of Lou Gehrig. More than 80 years after the Iron Horse last suited up for the New York Yankees, his offensive exploits and durability are still the stuff of legends.
Lou Gehrig's life and career, however, ended in tragic circumstances. Plagued by the disease that now bears his name, the Yankees star was forced to retire shortly before his tragic death.
Lou Gehrig's legendary New York Yankees career
In order to stand out with the New York Yankees, you have to do something special. Lou Gehrig, however, cleared that lofty bar with incredible ease.
After making a name for himself as a prolific hitter during his time at Columbia University, Gehrig joined the Yankees in 1923. The first baseman barely played during his first two seasons in the Bronx but began to play more regularly in 1925; he batted .295 with 20 home runs and 68 RBIs during that campaign.
The Iron Horse kept improving, however, and exploded in 1927. The first baseman hit .373 with 218 hits, 47 home runs, and 173 RBIs; while Babe Ruth stole most of the headline, Gehrig claimed the AL MVP title. While that season still stands out as one of the finest offensive performances in the history of baseball, Gehrig wasn't done.
The first baseman kept hitting for both power and average and, perhaps more impressively, simply didn't miss a game. He took the field for 2,164 games in his career with 2,130 coming in one unbroken streak; he also retired with a .340 batting average, 2,721 hits, 493 home runs, and 1,995 RBIs.
An infamous diagnosis and an iconic speech
For all of Lou Gehrig's success, though, the first baseman was still human. That reality became all too apparent in 1939.
During 1938, Gehrig's production fell off a cliff; during 1939 spring training, things got even worse. The prolific first baseman lacked his signature power at the plate. He also battled constant fatigue and began to lose coordination. He played eight regular-season games before removing himself from the lineup.
Gehrig, of course, was diagnosed with amyotrophic lateral sclerosis (ALS), which became known as Lou Gehrig's Disease. The Yankees honored their stricken star on the Fourth of July, retiring his number and presenting him with numerous gifts. Gehrig then gave his famous speech, telling the capacity crowd that, despite his "bad break," he considered himself "the luckiest man on the face of the earth."
Lou Gehrig tragically died two years later
While Lou Gehrig left public life shortly after that Fourth of July tribute. Baseball, however, didn't forget the Iron Horse.
In December 1939, the Baseball Writers' Association held a special meeting to elect Gehrig into the Baseball Hall of Fame. Roughly a year and a half after that vote, the Iron Horse tragically secured to ALS. He died on June 2, 1941, at 37 years old.
Understandably, the baseball world was shaken to its collective core. "In every ballpark, flags drooped at half-mast. In New York's Polo Grounds, Brooklyn's Ebbets Field and Detroit's Briggs Stadium—where New York ball clubs were playing—tier upon tier the fans stood bareheaded for a minute of silent tribute," Time Magazine recorded. "In baseball's Hall of Fame at Cooperstown, N.Y., mourners filed past a black-draped plaque."
Even today, Lou Gehrig's legacy survives; virtually every baseball fan knows about the Iron Horse, his famous durability, and how he tragically died after losing a battle with his own body.
Stats courtesy of Baseball-Reference