Luc Longley Admits He Didn't Like Michael Jordan: 'I Thought MJ Was Difficult and Unnecessarily Harsh'
If you hadn't heard, the Michael Jordan documentary series The Last Dance left out Luc Longley. The series, released in 2020, included many personalities from the 1996–98 Chicago Bulls title teams. But Longley, the 7-foot-2 Australian center, wasn't one of them.
Luc Longley: One Giant Leap debuted in late July 2021 on Australian television, with part two aired on Aug. 7, 2021. There were interviews with Jordan, Scottie Pippen, Phil Jackson, and others associated with The Last Dance-era Bulls, but the focus was on Longley, the native Aussie.
Luc Longley made history in his first NBA game
It was historical when the Minnesota Timberwolves used the seventh overall pick in the 1991 NBA Draft to take Luc Longley. While Australian players are all over today's NBA, Longley was the first Aussie to play in the league. Drafted by an expansion team playing its third season, he experienced a whole lot of losing over the first two-plus seasons of his career.
During Longley's rookie year, Minnesota was 15–67 and improved (technically accurate) to 19–63 in his second season. In 1994, the Wolves packaged Longley with a second-round pick and sent him to the Bulls for Stacey King at the trade deadline.
While Longley wasn't a star in Chicago, the Bulls won the trade in a landslide, even without Serbian center Dragan Tarlać's one forgettable season in 2000–01.
Longley hit it off with the Bulls' resident superstar, Scottie Pippen. Michael Jordan retired before the season. Longley got his first taste of the playoffs in 1994, but late in the next campaign, the atmosphere changed dramatically.
The return of Michael Jordan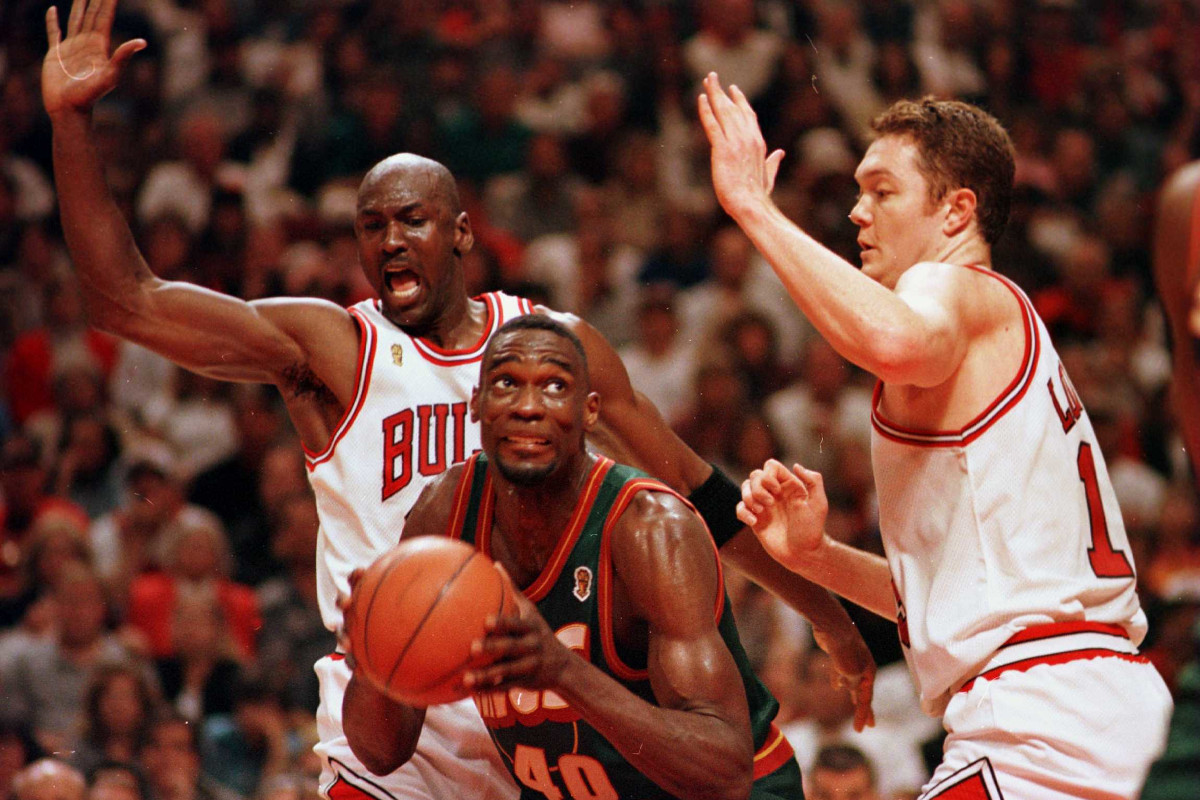 In 1994–95, Luc Longley came off the bench behind veteran Will Perdue. In March 1995, Michael Jordan came back from his 18-month retirement. Immediately, Jordan reassumed control of the locker room, the practice floor, games, and everyone's wardrobe choices (OK, maybe not that last one).
But the environment was markedly different, and Longley had to adjust. He talked about that on the Australian Broadcasting Corporation's documentary.
"We had to figure out how to be together, and that wasn't his priority; it was mine. I'm deeply thankful to MJ for showing me how to be a better basketballer. For compensating for my weaknesses with his brilliance."

Luc Longley
Jordan shared a story about Longley during the documentary that didn't paint the big man in a great light. But Longley dropped a revelation of his own about their relationship.
"You don't have to love a bloke to be on his team, to care about him, to play basketball together. I didn't love MJ, and I thought MJ was difficult and unnecessarily harsh on his teammates and probably on himself. I just didn't enjoy being around him that much, and that was cool. It was cool to MJ; it was cool with me.

"At the end of the day, we found a way to respect each other on the court and to co-exist, and that was cool."

Luc Longley
Jordan was an all-time great. Longley wasn't, but the NBA's first Australian player carved out a 10-year career and won three rings.
Luc Longley wasn't a star right away in the U.S.
While he had a big body and lots of potential, Luc Longley was not ready for prime time when he arrived at the University of New Mexico in 1987. A reserve as a freshman, Longley started for his final three seasons, averaging 18.8 points and 9.3 rebounds per game over his last two years.
During Longley's senior year, the Lobos made the NCAA Tournament for the first time in more than a decade. That ended a lengthy recovery period for the New Mexico program rocked by a scandal in the late 1970s.
Longley played 10 NBA seasons with four teams. Besides the Timberwolves and Bulls, he played for the Phoenix Suns and New York Knicks before retiring in September 2001. Chicago flipped him to the Suns in a sign-and-trade that brought them three players and the draft pick that got them Ron Artest (later known as Metta World Peace and Metta Sandiford-Artest).
Later, Longley went to the Knicks in the massive four-team, 12-player trade that sent Patrick Ewing to the Seattle SuperSonics.
On the last of Chicago's title teams, he averaged 11.4 points and 5.9 rebounds a game, both career highs. For his career, he put up 7.2 points and 4.9 boards a night. And while he may not have liked Michael Jordan personally, Luc Longley appreciates being part of the last run of Michael Jordan, the champion.
Statistics courtesy of Basketball Reference and SRCBB.