Michael Jordan Reportedly Regrets Leaving Luc Longley out of 'The Last Dance': 'That's Probably What I Would Have Changed'
During the early days of the COVID-19 pandemic, The Last Dance provided an invaluable lifeline for sports fans. With virtually every league around the world suspended, there was no better time to reminisce about the exploits of Michael Jordan, Scottie Pippen, and the Chicago Bulls. Luc Longley, however, didn't exactly enjoy the series.
While the big man won three titles alongside His Airness, he barely appeared in The Last Dance. That proved to be a bit awkward for the Longley and, according to a report out of Australia, Jordan now regrets that directorial choice.
'The Last Dance' proved to be a popular, if slightly flawed, series
Even though it's been quite a while since Michael Jordan last set foot on the NBA hardwood, His Airness still looms large in popular culture. Based on that reality, it's surprising that The Last Dance proved to be a smash hit.
As noted above, the series first hit the air in April 2020, which perfectly captured a sports-starved audience. That was born out in the ratings. According to Variety, The Last Dance set an ESPN documentary record, averaging 5.6 million viewers. Each weekend, basketball fans around the country tuned in, ready to take a stroll down memory lane and get an inside look at arguably the greatest athlete to ever don a pair of sneakers.
That numerical success doesn't mean the series was perfect, though. Documentarian Ken Burns criticized the fact that Jordan and his production company were involved in the project, saying, "That's not the way you do good journalism … and it's certainly not the way you do good history." Scottie Pippen also took issue with his portrayal in The Last Dance and even said that he brought his complaints to MJ himself.
Michael Jordan reportedly regrets leaving Luc Longley out of 'The Last Dance'
While Scottie Pippen wasn't pleased with his portrayal in The Last Dance, he still appeared in the series. Despite being a member of three championship-winning Bulls squads, Luc Longley didn't get a single interview. In fact, he only appeared in the background of archival NBA footage.
"Sitting there on the couch and watching episode after episode where I wasn't in it — yeah, I was bummed about that," Longley told Greg Hassall and Caitlin Shea of the Australian Broadcasting Company (ABC). The big man initially refused to speak to the media about the series and even changed his phone number to avoid inquiring phone calls.
According to the story, director Jason Hehir said that Longley's exclusion came down to logistics; it would have been pricy to dispatch a film crew to Australia simply to interview one player. For his part, though, Jordan wishes that things would have played out differently.
Michael Jordan, who is indisputably the focus of the series, told Australian Story he regrets that Longley was left out. "I can understand why Australia would say, 'Well, why wouldn't we include Luc?' And we probably should have. And if I look back and could change anything, that's probably what I would have changed."

Greg Hassall and Caitlin Shea, ABC
Coming from His Airness, that's as close to an apology we're likely to get.
Luc Longley wasn't a star, but basketball fans will remember his contributions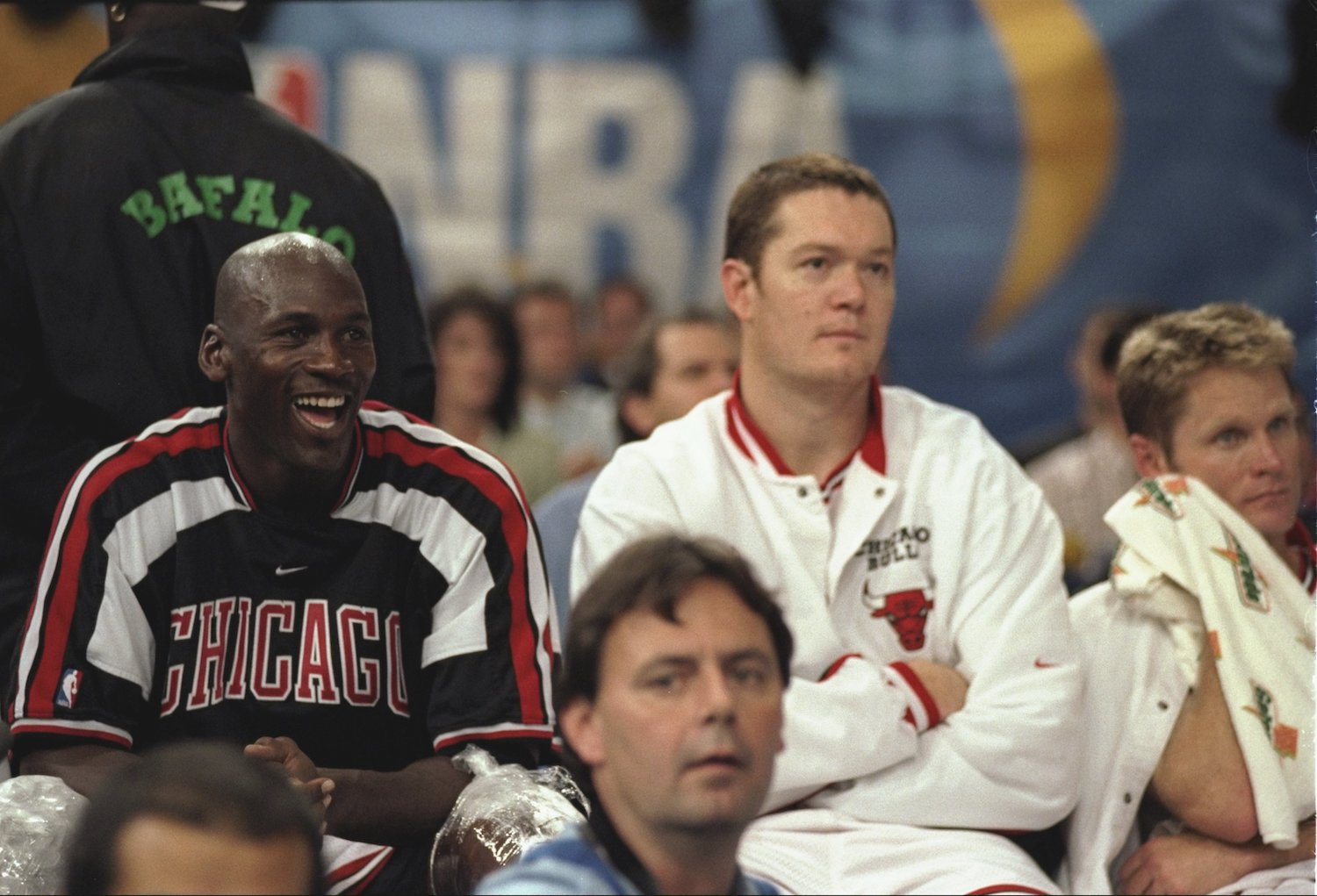 On a personal level, it's easy to see how being excluded from The Last Dance could sting; it's like being excluded from a reunion, albeit with the whole world watching. On the whole, though, Luc Longley's place in basketball history is safe, with or without a documentary.
Although the big man never stuffed the stat sheet — he only averaged 8.9 points, 5.3 rebounds, and 2.1 assists per outing — Longely played a valuable role in the Bulls' second three-peat. He proved to be a perfect fit within the Bulls' triangle offense, capable of knocking down an open jumper or picking the perfect pass to dissect the defense. He was also an expert at setting screens, which helped Jordan get open on more than one occasion.
Again, it's completely understandable that the big man was stung by his lack of screen time in The Last Dance. With that being said, though, his exclusion was somewhat fitting. Longley was never one to steal the spotlight; he simply went about his business and played an unheralded role in the Chicago Bulls' success.
Basketball fans, not to mention Michael Jordan, will remember that even without a documentary.
Stats courtesy of Basketball-Reference