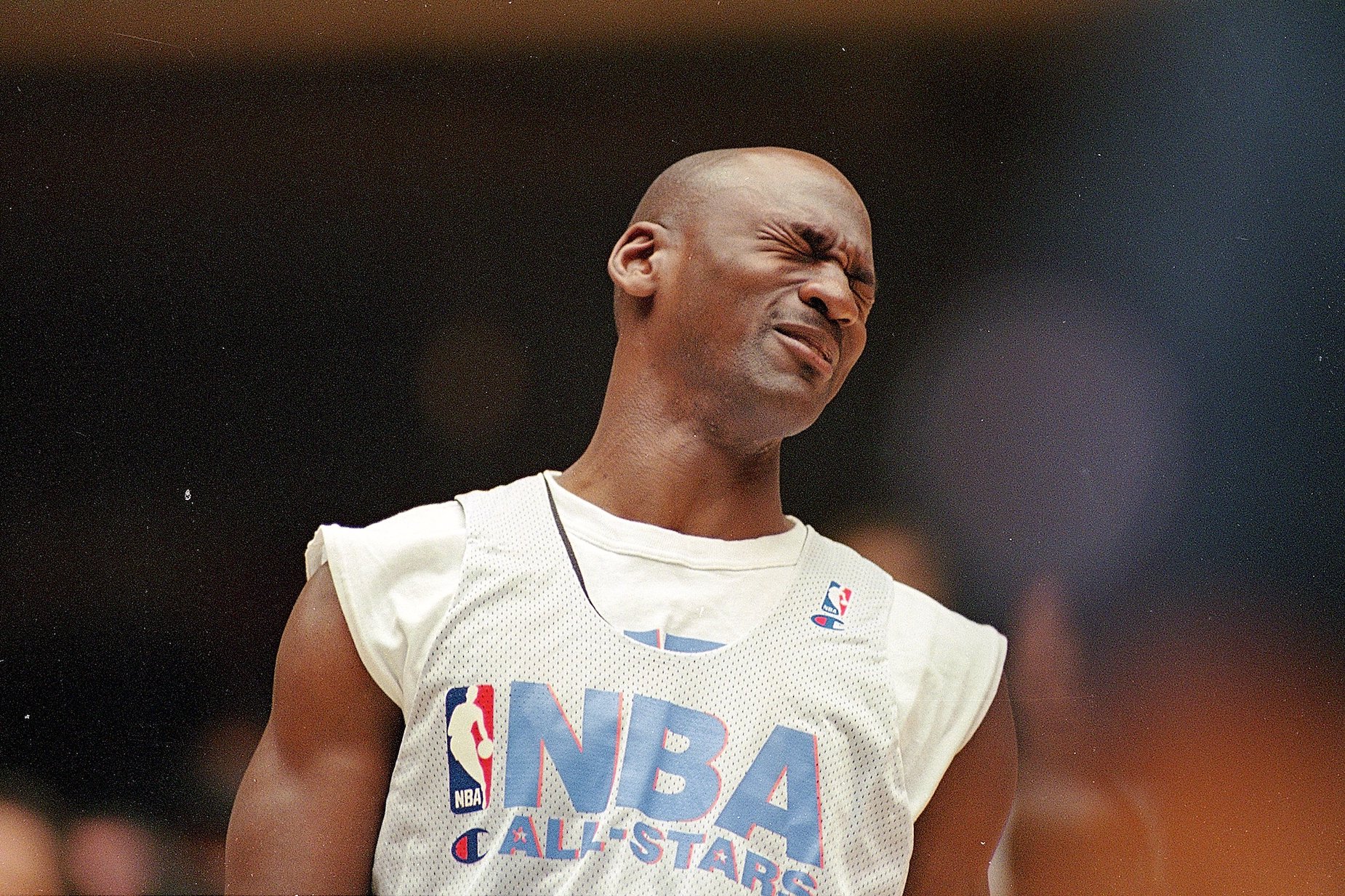 Michael Jordan Was One-Upped By Marques Johnson During a 'Space Jam' Scrimmage: 'You Had My Poster on Your Wall in College, Brother'
While Marques Johnson might not be the biggest name in NBA history, he still managed to one-up Michael Jordan.
When you hear the name Michael Jordan, it's easy to imagine a fully-formed basketball diety, capable of dispatching any opponent unlucky enough to stand in his way. His Airness, however, wasn't always the top dog on the hardwood. Like everyone else, he grew up appreciating the work of older stars. One of those men, it seems, was Marques Johnson.
While Johnson might not be a household name today, the forward had a capable NBA career. His skills apparently persisted into retirement, though, as he managed to join in on a Space Jam scrimmage and one-up His Airness.
Michael Jordan played plenty of basketball while filming 'Space Jam'
For most people, starring in a feature film would be enough work to occupy the majority of their time. Michael Jordan, however, does things his own way.
When it came time to film Space Jam, His Airness decreed that he needed to be able to keep working on his craft. With no local gyms up to the star's standards, Warner Brothers constructed the 'Jordan Dome' on the backlot. Once under its roof, MJ could lift weights, hit a full-size basketball court, and do anything else he needed to be at his best.
The dome wasn't just a place for solitary work, though. Between the star power naturally on the set and those who simply caught wind of this one-of-a-kind facility, just about everyone wanted a chance to hit the court. Jordan ended up hosting what amounted to all-star games, scrimmaging against Reggie Miller, Alonzo Mourning, and other top-tier talents.
During one of those games, Marques Johnson even joined in.
Marques Johnson one-upped Michael Jordan during a 'Space Jam' scrimmage
These days, Marques Johnson may be confined primarily to the basketball history books. The small forward had a capable career — we'll get to that in a bit — but, for the purposes of this story, he found himself on the Space Jam set during the summer of 1995.
One of Johnson's sons, Kris, was a member of UCLA's NCAA title-winning squad, and the Bruins headed to the Jordan Dome to get in on the action. Marques, as a former player, joined them and even found himself facing His Airness during a game.
"Game point. I think I catch it inside, and I do a little dunk," the NBA veteran explained on The Rich Eisen Show. "So, Michael's like, 'Hey old man, hey old man. Don't be trying to dunk out here. Don't be trying to dunk out here. You're too old. You never did that when you played. You never did that when you played.'"
While facing some Michael Jordan trash talk, with or without the potential repetition, would be enough to have most men shaking in their sneakers, Johnson wasn't thrown off. Instead, he had a counter-punch ready to go.
"I looked at Michael. I said, 'Man, whatever I did when I played, you had my poster on your wall in college, brother. So I must be doing something right.'"
Johnson was making reference to a photo of a young MJ in his college dorm room, which featured a "Johnson's Law" poster on the wall. During The Last Dance, we even saw Jordan acknowledge the poster and specifically mention Johnson as a player he admired. (H/T Fansided)
Jumping back to the scrimmage, Jordan knew when he had been beaten and ultimately acknowledged his old hero's exploits.
"He just got all embarrassed and blushing," Johnson concluded. "'You right. You right about that. I loved your game. I love your game in college.' That gave me a chance to one-up Michael. How many people can say that?"
In fairness to Marques Johnson, he did have a capable basketball career
As mentioned above, Marques Johnson might not be the biggest name in basketball history. In fairness to the forward, though, he did quite a bit more than burn Jordan on that fateful day.
Johnson played his college ball at UCLA, where he won an NCAA title and claimed college player of the year honors. He then joined the Milwaukee Bucks as the third overall pick of the 1977 draft. Over 11 seasons in the Association, he averaged 20.1 points, 7.0 rebounds, and 3.6 assists per contest. The forward also appeared in five All-Star games and had his number retired by the Bucks organization.
If you combine those feats with one-upping Michael Jordan, it's safe to say that Johnson had quite the on-court career.
Stats courtesy of Basketball-Reference