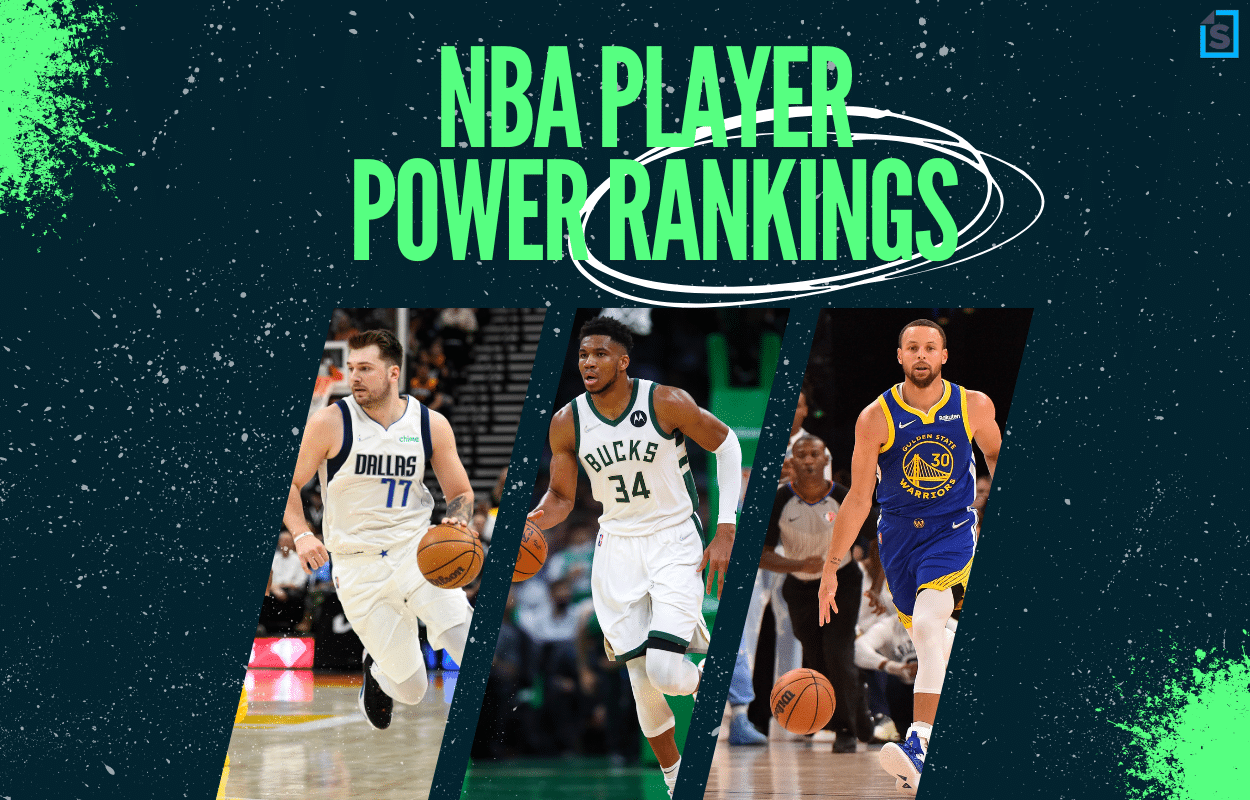 Luka Doncic Keeps Ascending for Dallas Mavericks in Latest NBA Player Power Rankings
Luka Doncic couldn't get the Game 1 victory against the Phoenix Suns, but it was hard to fault him. He's rising pretty far up the latest NBA Player Power Rankings.
Breaking news: Luka Doncic is pretty good at this whole basketball thing and keeps demonstrating his excellence for a Dallas Mavericks squad still alive in the hunt for an NBA title.
Shocker, right?
But as much as he stood out in Game 1 against the Phoenix Suns, exploding for 45 points and controlling the action in the half court seemingly every trip down the floor, has he done enough to ascend to the top spot in the latest edition of the NBA Player Power Rankings? Could he still be chasing a world-destroying version of Giannis Antetokounmpo, one of the many standouts on the Golden State Warriors, a healthy Devin Booker, or someone else still featuring in the championship chase?
Using data provided by NBA Math, we're turning to rolling player ratings, which use game score and schedule adjustments to evaluate how each player has performed over his last 10 appearances. The higher the number, the better the performance, and it's scaled in a way that the scores are comparable to the scale on which scoring outputs are measured.
As was the case in the last edition, players must have suited up at least once in the last week and still be playing in the postseason to be eligible for our top-25 countdown, which begins now.
Nos. 25-21: Brook Lopez, Jrue Holiday, Mikal Bridges, Tobias Harris, Dorian Finney-Smith
25. Brook Lopez, Milwaukee Bucks: 11.98
24. Jrue Holiday, Milwaukee Bucks: 12.39
23. Mikal Bridges, Phoenix Suns: 12.94
22. Tobias Harris, Philadelphia 76ers: 13.11
21. Dorian Finney-Smith, Dallas Mavericks: 13.23
If the Philadelphia 76ers hope to overcome Joel Embiid's unfortunately timed injury, they'll need to keep getting production out of Tobias Harris.
That sound you hear? It's thousands of Sixers fans nervously biting their nails simultaneously because they've been down the "trusting Harris to come through in big moments" path before, and it hasn't exactly gone well.
This time around, the 29-year-old is doing everything he can to elevate his game. He followed up a double-double in the closeout game over the Toronto Raptors with 27 points and six boards on 11-of-18 shooting in Game 1 against the Miami Heat. Sure, that came in a loss. The team was outscored by a whopping 25 points while he was on the floor. But it's hard to fault his effort and willingness to take on increased scoring responsibilities.
Harris is somewhat quietly averaging 19.1 points, 9.0 rebounds, and 2.6 assists while slashing 53.7/41.2/85.7 in the postseason.
Nos. 20-16: Al Horford, Bam Adebayo, Desmond Bane, Brandon Clarke, Klay Thompson
20. Al Horford, Boston Celtics: 14.01
19. Bam Adebayo, Miami Heat: 14.25
18. Desmond Bane, Memphis Grizzlies: 14.75
17. Brandon Clarke, Memphis Grizzlies: 14.99
16. Klay Thompson, Golden State Warriors: 15.82
Brandon Clarke keeps doing all the little things necessary to succeed.
He's impossible to handle on the offensive glass, vacuuming in plenty of second-chance opportunities when he doesn't tip the ball out to his teammates, and his effort level only swells in key moments. You can see the high-effort finish down the stretch of Game 5 against the Minnesota Timberwolves up above, and he followed that up with a frozen rope of a tip-out to Ja Morant just a few minutes later.
When Clarke is feeling it, he possesses tremendous touch from floater range, giving him a combination of physicality and finesse typically found in players who receive far more national attention. Now, he'll have to keep putting it on display to give the Memphis Grizzlies a chance at an upset over the heavily favored Golden State Warriors.
Clarke bounced back nicely in Year 3 after a disappointing sophomore campaign, and he's validating that performance in the playoffs. He's scored in double figures during each of his first seven appearances and has played with the type of intensity that buoys the efforts of all the running mates surrounding him on the perimeter.
Nos. 15-11: James Harden, Tyrese Maxey, Jordan Poole, Jaylen Brown, Jalen Brunson
15. James Harden, Philadelphia 76ers: 16.18
14. Tyrese Maxey, Philadelphia 76ers: 16.36
13. Jordan Poole, Golden State Warriors: 16.95
12. Jaylen Brown, Boston Celtics: 17.33
11. Jalen Brunson, Dallas Mavericks: 18.05
If this is where James Harden is going to live in the NBA Player Power Rankings, the Philadelphia 76ers will have to readjust their expectations. Regardless of when Joel Embiid returns to the lineup, they won't be able to compete with the other Eastern Conference heavyweights, much less deal with whichever squad ends up representing the Western Conference.
To his credit, Harden has done a nice job adjusting to a new role that sees him shoot less and pass more, racking up assists without a drastic increase in turnovers to counterbalance his diminishing explosiveness and isolation ability. Though he struggled in a Game 1 loss to the Miami Heat, he's still averaging 9.4 dimes and 3.7 cough-ups through seven postseason games, and Philly has yet to lose when he reaches double figures in the assist column.
On the flip side, the bearded guard hasn't scored more than 22 points in a single playoff game and has seen his scoring average fall to 18.6 points — the first time he's dropped below 20 since 2011-12, back when he scored 16.3 points per game off the Oklahoma City Thunder bench.
It's not that he's missing every shot so much as failing to play with the same level of aggression, and that's problematic for a Philadelphia offense in need of more scoring juice to lighten the responsibility on Tobias Harris and Tyrese Maxey. Without the occasional vintage performance from Harden, a promising season may come to a premature end.
Nos. 10-6: Ja Morant, Deandre Ayton, Stephen Curry, Jayson Tatum, Chris Paul
10. Ja Morant, Memphis Grizzlies: 18.11
9. Deandre Ayton, Phoenix Suns: 18.49
8. Stephen Curry, Golden State Warriors: 19.34
7. Jayson Tatum, Boston Celtics: 19.68
6. Chris Paul, Phoenix Suns: 21.36
When Deandre Ayton is the biggest player on the court, good luck to the opposition. Blasphemous a comparison as it may seem, he can look like a David Robinson simulacrum when he enjoys the size advantage, bullying smaller players with physicality while still displaying a soft touch and a convincing face-up game.
Ayton's biggest shortcoming is often between the ears since he doesn't display the requisite aggression to dominate on the interior with consistency. After a mistake, he can become too passive, letting the ball find him organically rather than demanding touches against players he knows he can beat around the rim.
That wasn't the case during the first half of a Game 1 victory over the Dallas Mavericks when he was aggressive early and often, jetting out to 19 points on 9-of-12 shooting by the end of the second quarter, at which point his squad held a 13-point advantage. Progress not perfection, right?
Ayton is already enjoying a fantastic postseason, averaging 21.1 points, 9.6 rebounds, and 2.1 assists while shooting 68.0% from the field. And yet, it's hard to shake the belief that he still has another level to reach.
Nos. 5-1: Jimmy Butler, Devin Booker, Giannis Antetokounmpo, Joel Embiid, Luka Doncic
5. Jimmy Butler, Miami Heat: 21.82
4. Devin Booker, Phoenix Suns: 22.65
3. Giannis Antetokounmpo, Milwaukee Bucks: 22.93
2. Joel Embiid, Philadelphia 76ers: 24.1
1. Luka Doncic, Dallas Mavericks: 26.24
What can't Luka Doncic do?
Since he returned from the calf strain that kept him out of action for the first three games of the first-round series against the Utah Jazz, he's been nothing short of phenomenal. First came 30 points, 10 rebounds, and four assists in a one-point loss to the Jazz, but he followed that up with 33, 13, and five in a blowout victory and 24, nine, and eight in the closeout Game 6 clash.
Still, all those numbers paled in comparison to what he did in his first meeting with the Phoenix Suns.
Albeit in a loss — and it's hard to fault him given the talent disparity throughout the two lineups — Doncic exploded for 45 points, 12 rebounds, and eight assists while shooting 15-of-30 from the field, 4-of-11 from downtown, and 11-of-14 from the stripe. He danced around bigger defenders, asserted himself physically when drawing a smaller matchup, and cooly spearheaded a Dallas offense that shifted from explosive to moribund when he left the floor.
Doncic will need to post similar heroics each time out to have a chance of taking down the West's No. 1 seed, but he's given precious few reasons to bet against him doing everything he possibly can as an individual.
All stats, unless otherwise indicated, courtesy of Basketball Reference and NBA Math and accurate heading into games on May 3.