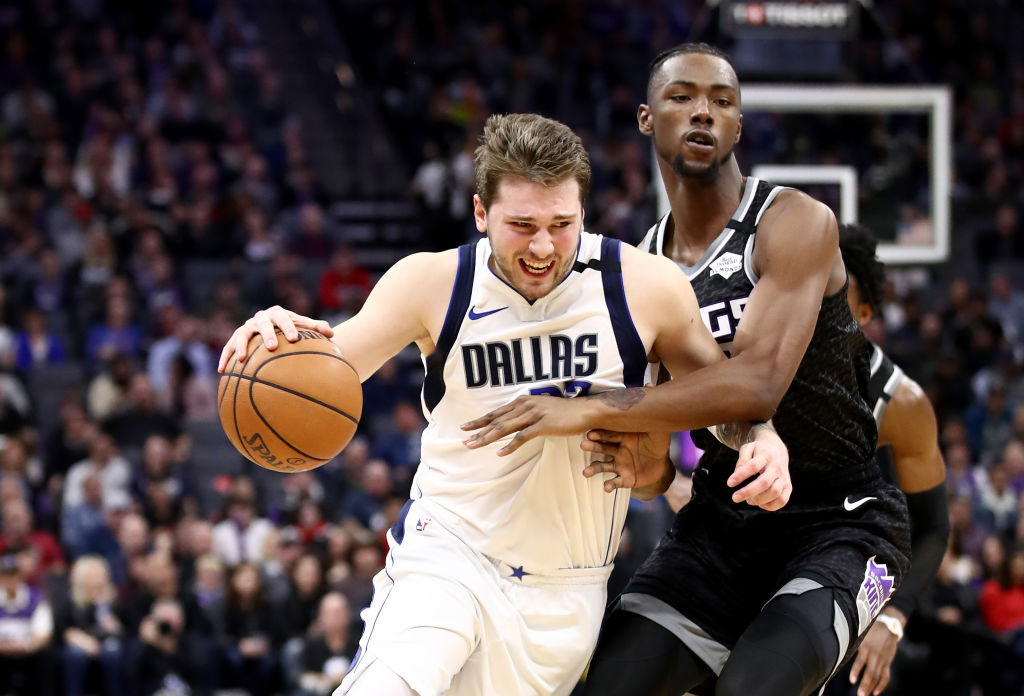 Luka Doncic Can't Stop Dropping Historic Triple-Doubles
Stop us if you've heard this before: Dallas Mavericks star Luka Doncic recorded a triple-double and made NBA history last night.
If you're an NBA fan, this won't come as a surprise: Luka Doncic recorded another historic triple-double last night. While the Dallas Mavericks star might be relatively new to North America, he's no stranger to stuffing the box score; Wednesday night was the most recent entry in his attempt to rewrite the record books. This triple-double, however, was a bit different.
Doncic seems to make NBA history every time he takes the court, but this most recent outing showed a more than just a scoring touch. The young Slovenian also demonstrated a remarkable sign of maturity.
Luka Doncic's road into the NBA record books
It's completely normal for young athletes to experience some growing pains in the early stages of their careers. Luka Doncic, however, hasn't put a foot wrong since moving to the United States.
After joining his local club in Slovenia, Doncic came into his own with Real Madrid; after three full seasons in Spain, he was ready for the NBA. The Atlanta Hawks selected the guard third-overall in the 2018 NBA draft but sent him to Dallas in a draft-day trade; Mavs head coach Rick Carlisle said Doncic had the potential to be a franchise player. If anything, that's proved to be an understatement.
During his first season in Texas, Doncic averaged 21.2 points, 7.8 rebounds, and 6 assists per game and easily took home the Rookie of the Year award. Despite that breakout campaign, the guard has only improved this season. Doncic is currently averaging 28.8 points, 9.8 rebounds, and 9 assists an outing. He's producing at a historic rate; with every outing, he seems to record another triple-double and break another record.
Another night, another NBA record
On Wednesday night, the Dallas Mavericks topped the Sacramento Kings 127-123. Unsurprisingly, Luka Doncic picked up another triple-double and set another NBA record.
The young Slovenian finished with 25 points, 15 rebounds, and 17 assists, making him the youngest player in NBA history to record a triple-double with more than 15 rebounds and 15 assists. He also made league history as the youngest player to record a triple-double with at least 17 assists.
Doncic's march into the history books didn't end there, though. He also became the first player in Dallas Mavericks history to score 25 points while pulling down 15 boards and dropping 15 assists. The young guard now has 20 triple-doubles; Jason Kidd holds the franchise record with 21.
"These numbers are just crazy," Carlisle said after the game. "It's hard to fathom. They're trapping him all over the court every time down. He's both beating the traps and playing beautifully out of the traps."
The most impressive part of Luka Doncic's historic night
While just about everything Luka Doncic does on the court is impressive, something stood out on Wednesday: his career-high 15 assists. The guard has never been shy about passing the ball, that stat line, combined with his postgame quotes, displayed a remarkable amount of maturity.
"They were doubling me every time, and I like it," he explained. "Basketball is five players so somebody's going to be open if they double me." Doncic certainly didn't have any problems finding that open man.
It seems obvious, but Doncic's willingness to pass will only help him in the long run. While teams will still try to force the ball out of his hands, they'll have to know that a double-team is more likely to produce an assist than a bad shot or a turnover. Either Doncic will end up with a bit more space, or he'll keep dropping dimes with ease.
The sky is already the limit for Luka Doncic; if he keeps dishing out assists, though, he'll be almost unstoppable.