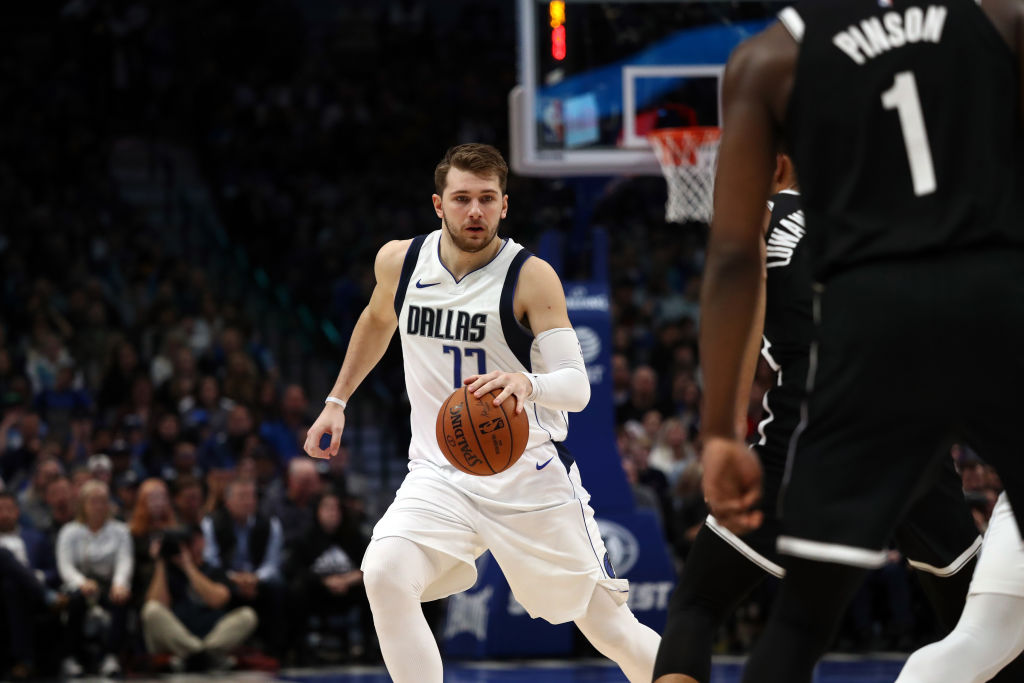 Luka Doncic Says That His Historic Performances are 'Just Stats'
Luka Doncic seems to make NBA history every time he steps onto the floor. The young Mavericks star, however, isn't focused on his stats.
To sports fans, few things are as sacred as records. While we'll never see someone like Michael Jordan take the court alongside modern greats like LeBron James, we can compare their all-time performances. Luka Doncic, however, isn't too concerned with his place in history.
While the young guard has been turning in all sorts of unprecedented performances, he believes those numbers are "just stats." When the chips are down, Doncic is more concerned with one aspect of his game.
Luka Doncic's record-setting season
When a player transitions between leagues, they usually need some time to adjust. Luka Doncic, however, didn't miss a beat when he came to North America.
After starting out with his local club in Slovenia, Doncic burst onto the scene with Real Madrid; after three full seasons in the Spanish capital, the jump to the NBA. The Atlanta Hawks snagged the guard with third-overall in the 2018 NBA draft but promptly traded him to Dallas for the rights to Trae Young and a first-round pick. Dallas head coach Rick Carlisle said Doncic had the potential to be a franchise player; those words proved to be prophetic.
During his first season in North America, Doncic averaged 21.2 points, 7.8 rebounds, and 6 assists per game and easily won the Rookie of the Year award. While that's an impressive stat line for any young player, the guard has only improved this season. Despite missing four games with an ankle injury, Doncic averaging 29.4 points, 9.7 rebounds, and 8.9 assists an outing. He's breaking records set by guys like Michael Jordan and Oscar Robertson, but the young Slovenian isn't concerned with his place in history.
Luka Doncic isn't looking to make history
While the 2019 NBA season is only a few months old, Luka Doncic has spent most of the campaign making NBA history. He's broken Michael Jordan's record for consecutive 20 point, five rebound, five assist games and has recorded an unprecedented 19 triple-doubles before age 21; at this rate, Doncic will be dominating the league's record books before long.
Despite that place in history, the young Slovenian isn't concerned about building a legacy. "I don't know what to tell you, man," Doncic said when he was asked about recording yet another 30-point triple-double. "I don't mind, but [it's] just stats. I think every game is another stat."
Records are all well and good, but Doncic has something more important on his mind: "For me, all I would say is it's more important to get a win," he explained.
The Dallas Mavericks are winning games
For all of his success, Luka Doncic has remained remarkably humble. He's deflected praise on multiple occasions, preferring to focus on winning; thanks to him, the Dallas Mavericks are doing just that.
The team currently sits 10 games over .500 with a 23-10 record, holding down sixth place in the Western Conference. That that might not sound like a dominant spot in the standings, they have a nice cushion and are a virtual lock to make the playoffs. Things should also continue to improve once Kristaps Porzingas returns from injury; he was playing well during Doncic's absence and, if both players are clicking, gives the Mavs a solid one-two punch.
It's admirable for Luka Doncic to focus on winning games rather than setting records. If he keeps performing at his current clip, though, he'll kill both birds with the same stone.