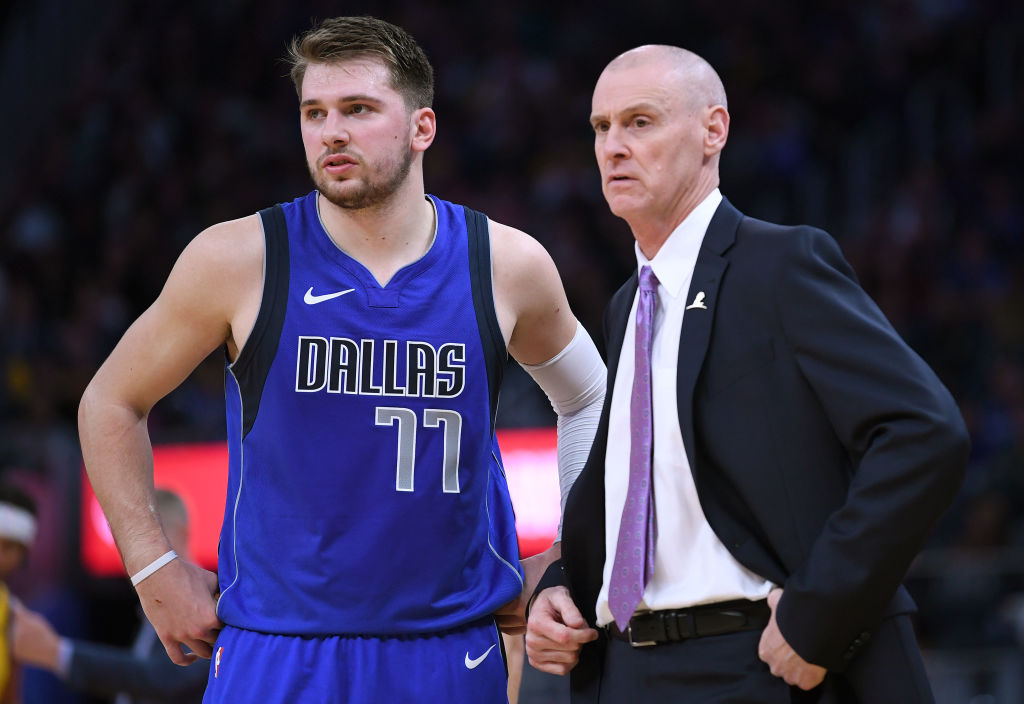 Rick Carlisle Believes Opposing Teams are 'Beating the S—' Out of Luka Doncic
Luka Doncic might be a rising NBA star, but Dallas Mavericks head coach Rick Carlisle believes that opposing defenders are roughing him up.
While every NBA player is freakishly athletic, some tasks are harder than others. Guarding someone like LeBron James or Luka Doncic, for example, has to be a crushing experience; no matter what you do, certain stars are capable of scoring at will. Some defenders, though, have apparently been crossing the line with the Dallas Mavericks' young star and head coach Rick Carlisle isn't happy about it.
Speaking to reporters over the weekend, Carlisle came out swinging. In his eyes, opposing teams are "beating the s—" out of his star player.
Luka Doncic's rise to NBA dominance
If you believe that defenders are trying to rough Luka Doncic up, it's cynically understandable. Ever since coming to North America, the young guard has been virtually unstoppable.
Doncic cut his teeth in Europe, starring for Real Madrid, before making the jump to the NBA. The Atlanta Hawks selected the Slovenian third-overall in the 2018 NBA draft but promptly traded him to Dallas. Mavs' head coach Rick Carlisle said Doncic could be a franchise player; the guard immediately started proving his coach correct.
During his first NBA campaign, Doncic averaged 21.2 points, 7.8 rebounds, and 6 assists per game and cruised to the Rookie of the Year award. While that was an impressive introduction to North America, the guard has only improved this season. Despite missing four games with an ankle injury, the young star is shining brighter than ever. He's currently averaging 29.4 points, 9.7 rebounds, and 8.9 assists an outing; when you're constantly breaking records and being compared to NBA legends, it's safe to say things are going well.
Rick Carlisle comes to his young star's defense
While the Dallas Mavericks definitely won't be complaining about Luka Doncic's meteoric rise to stardom, there is a downside to his NBA success. According to his coach, opposing defenders are trying to stop him by any means necessary.
They're beating the s— out of him," Rick Carlisle explained. "He's handling it well, but teams are taking liberties on him. We saw it with Dirk [Nowitzki] for 20 years —my 11 years—all the time. Taking physical liberties on him, trying to knock him down, beat him up, stuff like that. It's not good. It's not good. He's handling it very well, but it's happening every game."
"I don't like it, and I'm constantly communicating it to the people that are involved," Carlisle continued. "Look, he's a great player, so people are going to go after him. It doesn't mean that a lot of the stuff is right or in the spirit of what the game should look like."
What can Luka Doncic and the Dallas Mavericks do about it?
Whether you believe opposing teams are crossing the line or simply playing tough defense, there does seem to be something to Rick Carlisle's comments. Doncic himself agreed with his coach, and the guard is attempting just under 2.5 more free throws per game, as compared to last season.
At this point, though, Carlisle's options seem to be limited to his current press offensive. While he'll want to keep his young star—who has struggled with technical fouls in the past—from getting too frustrated, raising public awareness might help buy a few quicker whistles.
"We've just got to make the officials aware of it constantly," the head coach said. "What happens is teams will come in and they'll set a level of aggressiveness. There's a level where it's so physical that they only call a certain number of fouls. We've got to be able to play like that. We've got an aggressive team, but taking liberties is not good. He's got scratches on his arms all the time and stuff like that. It's not good."
If nothing else, Luka Doncic might get the benefit of the doubt once NBA officials consider him a superstar. At this point, we shouldn't have to wait much longer.