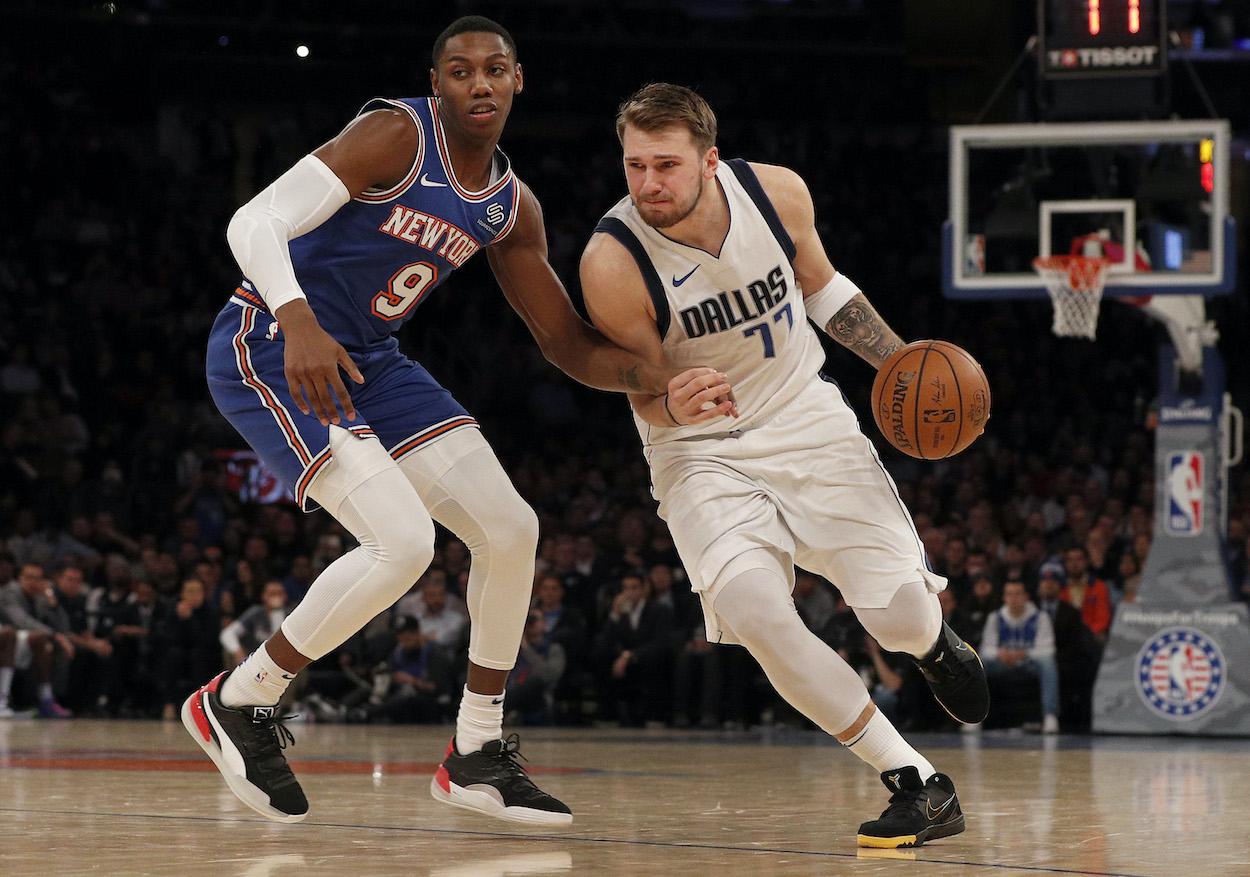 Luka Doncic to the New York Knicks? ESPN's Jay Williams Thinks So
After a disheartening playoff loss and organization drama, Luka Doncic New York Knicks rumors are heating up. ESPN's Jason Williams believes that it is entirely possible the superstar ends up in the Big Apple someday. It will be up to Mark Cuban and Dirk Nowitzki to prevent that from happening, starting this offseason.
The Dallas Mavericks crashed out of the 2020-21 NBA playoffs with another series loss to the Los Angeles Clippers. Then suddenly, rumors and speculation started running wild. This includes a Luka Doncic New York Knicks rumor that Knicks fans will be salivating over.
ESPN analyst Jay Williams added to the speculation and got New Yorker's hopes up even more by saying two simple words about the Doncic to the Knicks rumors: "it's feasible."
The Dallas Mavericks are having a wild 2021 offseason already 
Up two games to none over the Clippers in the first round of the Western Conference playoffs, Doncic and the Mavs looked poised to stake their claim as an NBA championship contender. Twelve days later, the Clippers eliminated the Mavs from the playoffs, and the offseason of discontent began.
Kristaps Porzingis started the drama by saying that he feels "more like an afterthought than a co-star as Doncic dominates the ball and the spotlight." The Porzingis trade rumors went into overdrive with that quote.
After that, The Athletic published an expose highlighting the tension between many in the Mavs organization, including Doncic, and Haralabos Voulgaris. The former professional sports gambler is now the team's director of quantitative research and development and possibly, "Mark Cuban's shadow GM."
The front office unrest culminated in both longtime general manager and president of basketball operations Donnie Nelson and 13-year head coach Rick Carlisle leaving the franchise.
To help stabilize the organization, clean up the mess, and hopefully keep Doncic happy in Big D, Cuban brought in Mavericks legend Dirk Nowitzki as a "special adviser."
ESPN analyst Jay Williams says Luka Doncic Knicks rumors are 'feasible'
At least one analyst believes that all this turmoil could lead to Doncic ultimately doing something Nowitzki never did, leaving the franchise.
On the Keyshawn, JWill and Zubin show, co-host and former NBA player Williams explained that this scenario now seems more possible than ever:
Earlier in the year I said, 'New York could be a potential opportunity,' and people killed me for it — killed me for it! For Luka, it's feasible. There are feasible scenarios where you start looking at where will Luka want to go and build if it doesn't work out in Dallas.
This possibility excited guest host and noted New York sports fan Alan Hahn. He responded like most Knicks fans, saying, "it's too early for you to get me this excited."
Williams concluded by telling Hahn that "New York isn't the only option, but I will say, there are a lot of rumblings, and Mark Cuban needs to put water on it."
The Mavericks need to build around Doncic to keep him long-term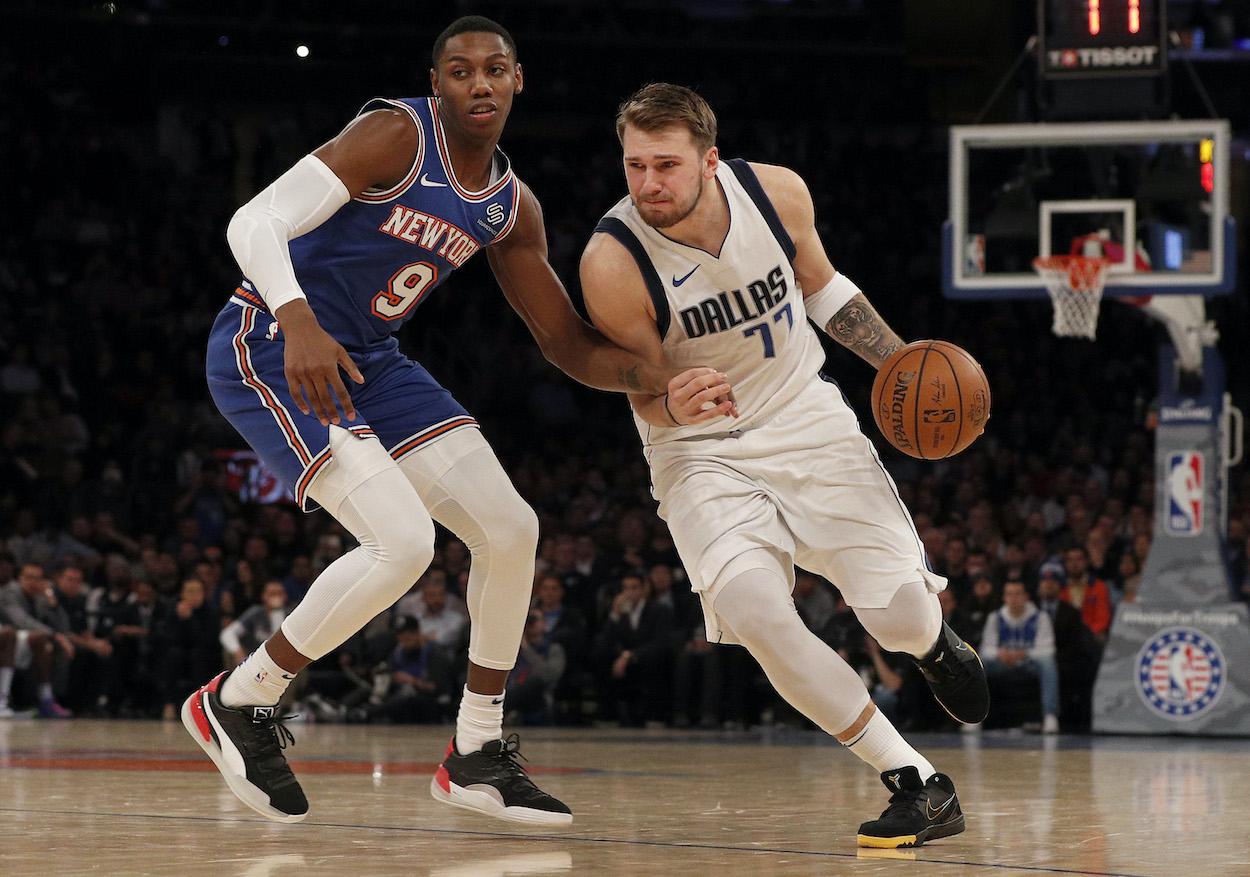 The first step in Cuban's tamping down of the Doncic New York Knicks rumors is bringing in Nowitzki. The two foreign-born stars played together in Doncic's first season and Nowitzki's last. Doncic likes and respects the German by all accounts, so the Slovenian may feel better with him involved.
The next step is getting rid of Porzingis. The Mavs' two biggest names don't get along and never quite complimented each other on the court as expected. The injury-prone big man won't fetch a superstar price in the trade market. However, he could return a quality piece to help with step three, putting a team around Doncic that not only supplements his skills but helps make him better.
Step four involves bringing in a new coach and GM that, while supporting Doncic, won't kowtow to him like Nelson and Carlisle seemingly did. The new Mavs power structure needs to work with their young star while independently doing what's best for the organization as a whole.
If Dallas can accomplish these things, it should lead to the final two steps, winning and making Doncic happy so that he signs a long-term extension when his rookie super-max extension is up in 2027.
If not, the Luka Doncic New York Knicks rumors will only grow stronger, and the fans at Madison Square Garden will get more and more excited about the possibilities.
Like Sportscasting on Facebook. Follow us on Twitter @sportscasting19