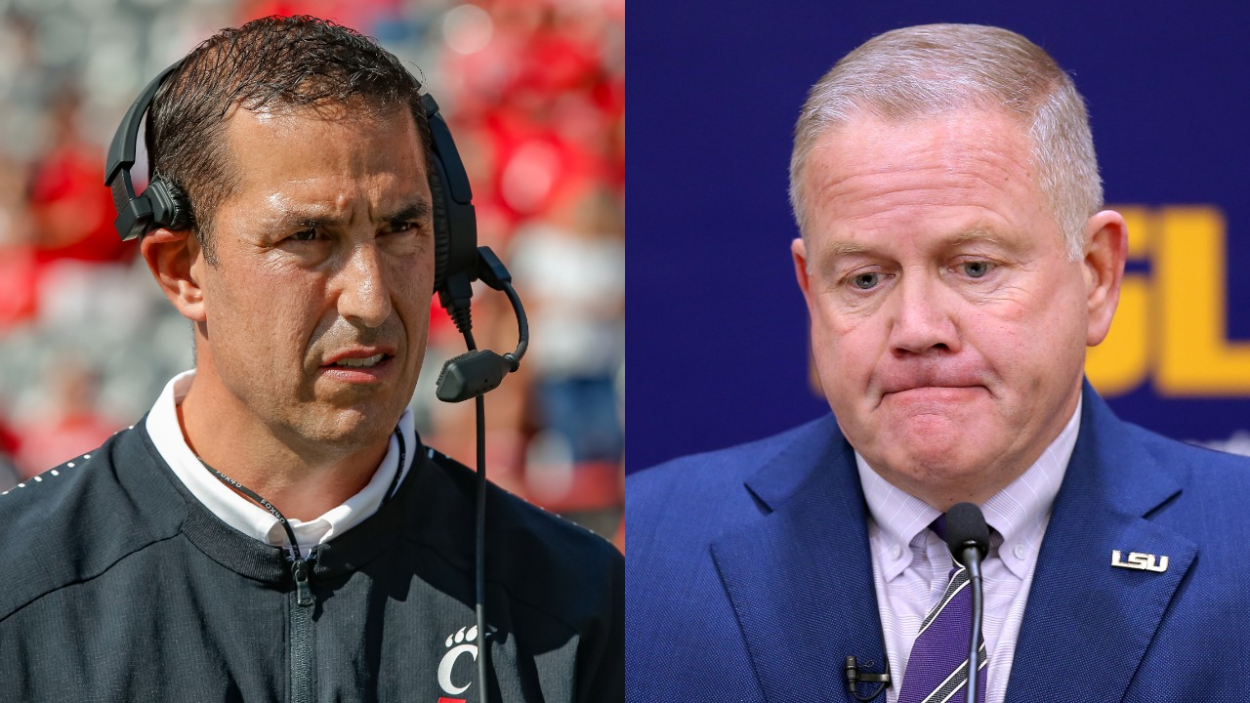 Luke Fickell Just Solidified Cincinnati's Standing Amongst College Football's Elite and Beat Brian Kelly Again in the Process
Luke Fickell and the Cincinnati Bearcats had a magical 2021 season, and the coach just solidified UC's standing amongst the elite teams in college football.
Some college football fans are likely wondering whether the Cincinnati Bearcats were just a one-hit-wonder during the 2021 season. They had a great team with a ton of talent, but can they really repeat that success?
Luke Fickell, however, appears to be letting everyone know that UC is here to stay. He just solidified Cincy's standing amongst college football's elite and defeated former Bearcats head coach Brian Kelly again in the process.
The Cats aren't going anywhere.
Luke Fickell and the Cincinnati Bearcats are welcoming Corey Kiner from LSU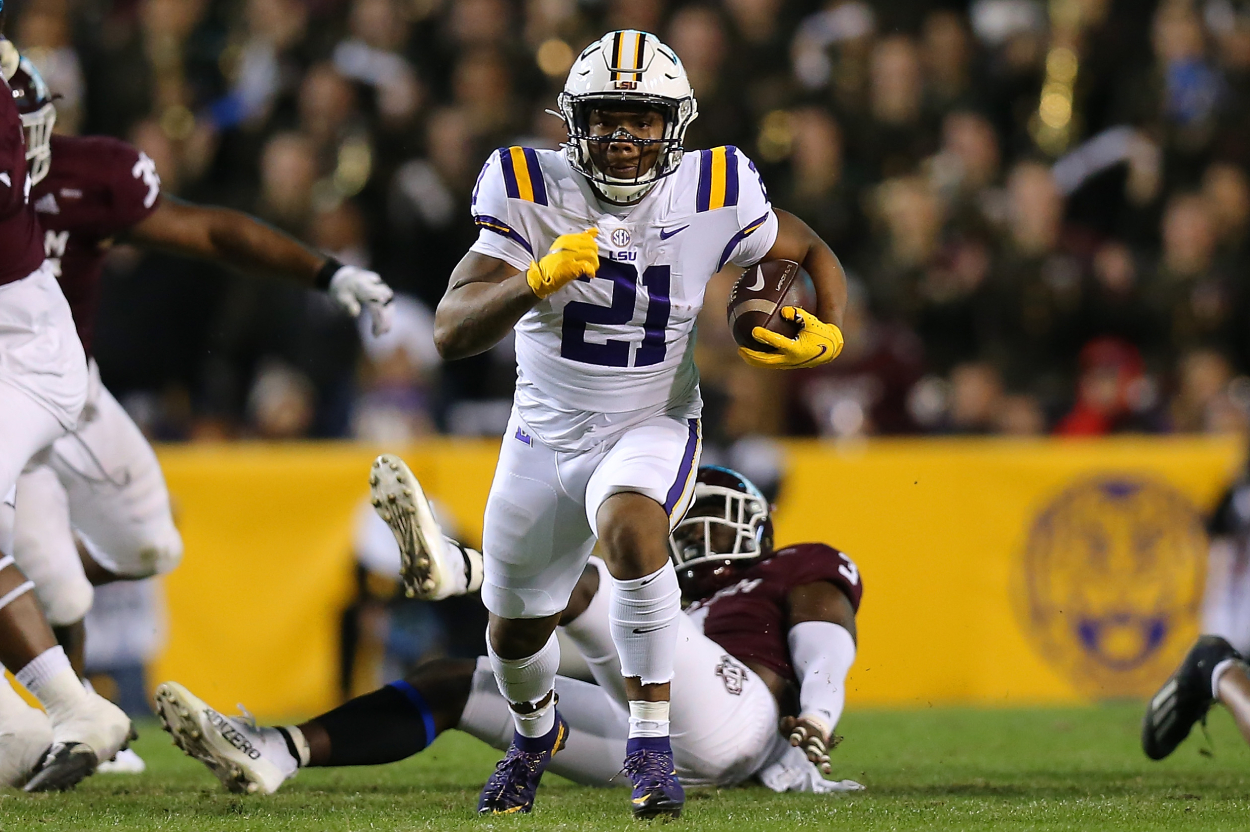 Brian Kelly coached at Cincinnati from 2007 through 2009. He led the team to great success, including a 12-0 regular season in 2009 and a Sugar Bowl appearance. However, he left the school for Notre Dame before that aforementioned Sugar Bowl, and the way he departed rubbed fans and even players the wrong way.
The Bearcats eventually got their revenge, beating Kelly's Fighting Irish 24-13 last season. The coach then left Notre Dame in a similar fashion at the end of the year, burning bridges on his way out of town. He has since taken over at LSU.
But Kelly is still receiving Ls from Cincinnati.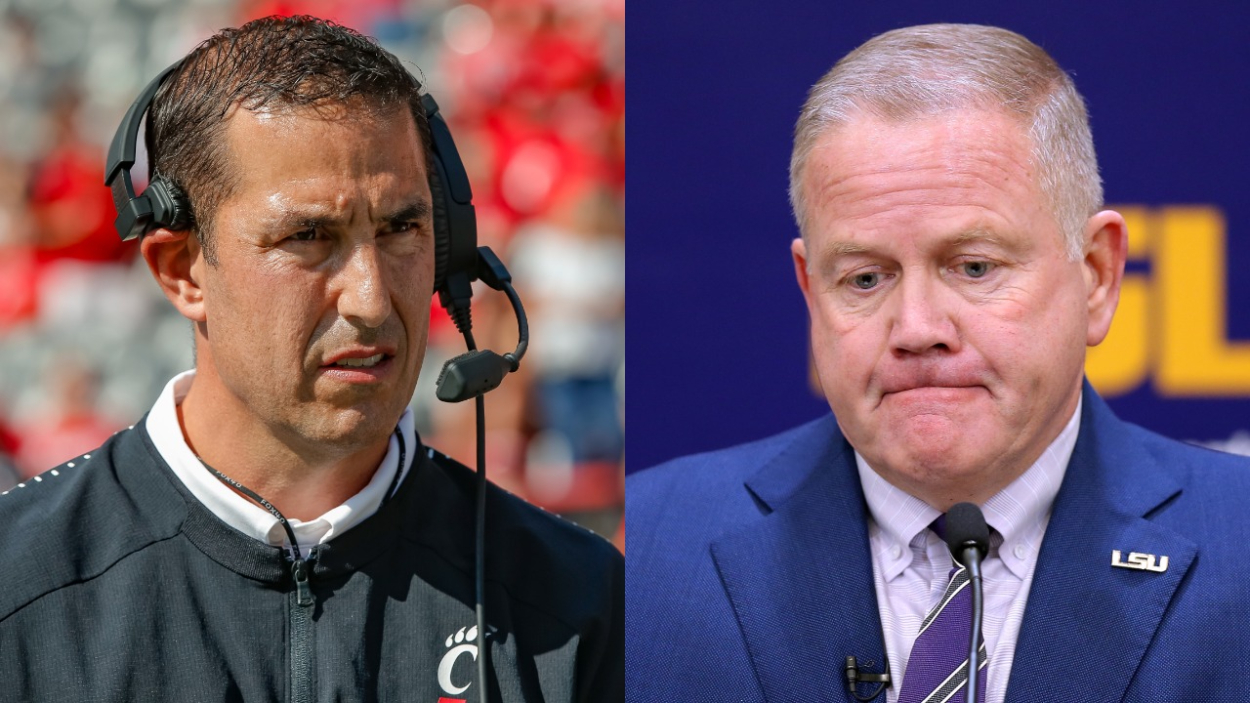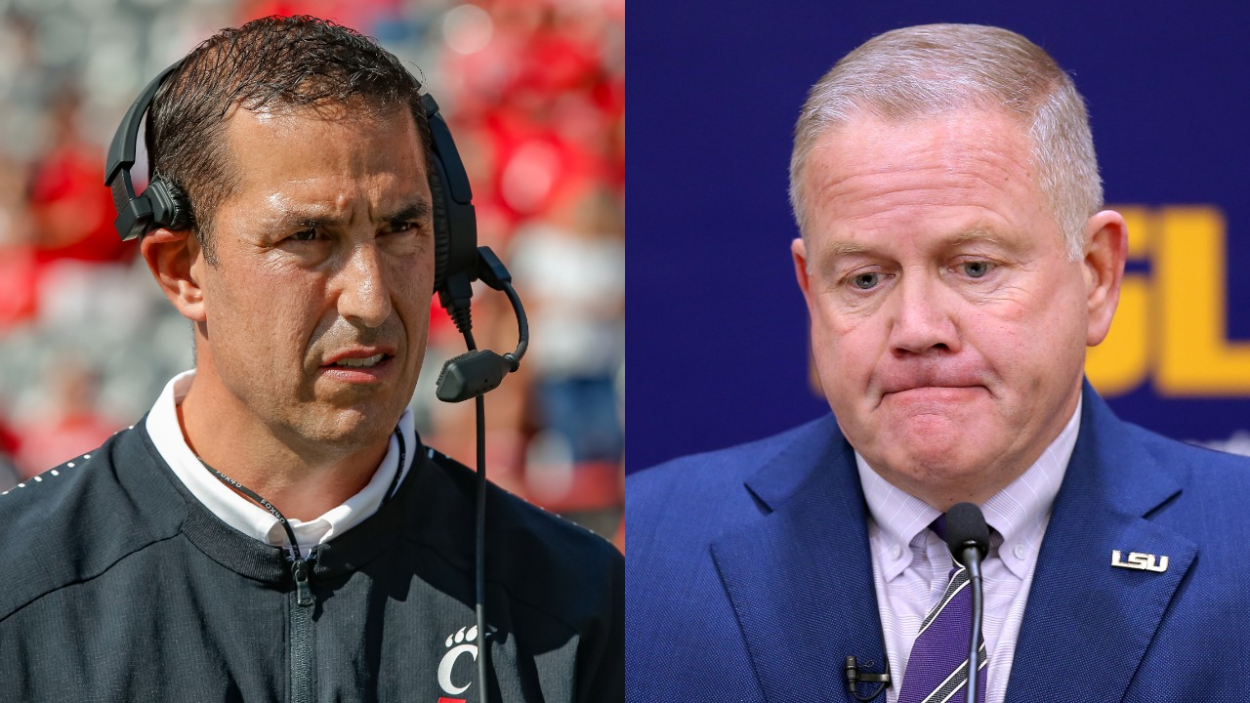 LSU's second-leading rusher from 2021, Corey Kiner, announced on April 18 that he was entering the transfer portal. Kiner is originally from Cincy. He won Ohio's Mr. Football in 2020 while playing for Roger Bacon High School, and he became a four-star prospect with offers from LSU, UC, Florida, Michigan, Notre Dame, Ohio State, and several other notable programs.
Hours after announcing his intent to transfer, Kiner picked his next school: Cincinnati.
The Queen City kid is leaving Brian Kelly's LSU Tigers and will now play for his hometown team, Luke Fickell's Cincinnati Bearcats.
Corey Kiner raises Cincinnati's potential for 2022
It was unclear what Fickell's Cincinnati offense would look like in 2022. The team still has talent left over from its 2021 College Football Playoff squad, but it also lost a lot. Quarterback Desmond Ridder, wide receiver Alec Pierce, and running back Jerome Ford are all gone.
Kiner, though, brings some clarity to that running back room. He will almost undoubtedly become RB1 after averaging 4.1 yards per carry on 79 attempts for LSU last year. He also finished 10th in Ohio history with 7,130 career rushing yards in high school.
Kiner gives Cincinnati its second former Ohio Mr. Football. Redshirt sophomore quarterback Evan Prater will likely be the favorite to land the starting QB position in the fall, and he won the award in 2019. Prater was a four-star prospect and the sixth-ranked dual-threat QB in his class. He had offers from the likes of Michigan State and the University of Miami.
The two would immediately become a nightmare for opposing defenses, especially in RPOs. Prater threw for over 5,600 yards in high school but also ran for more than 4,100.
Will the Bearcats make the College Football Playoff again in 2022? It's hard to say. They lost a ton of talent, but there's a good chance they could go undefeated in conference play again. They also don't play a resume-boosting team like Notre Dame, but Arkansas is on their schedule, so perhaps facing an SEC school will help in that regard.
Whether Cincinnati goes all the way back to the CFP again or not, though, Luke Fickell is proving that the Bearcats are here to stay.
Stats courtesy of Cincinnati Athletics and LSU Athletics; Recruiting info courtesy of 247Sports