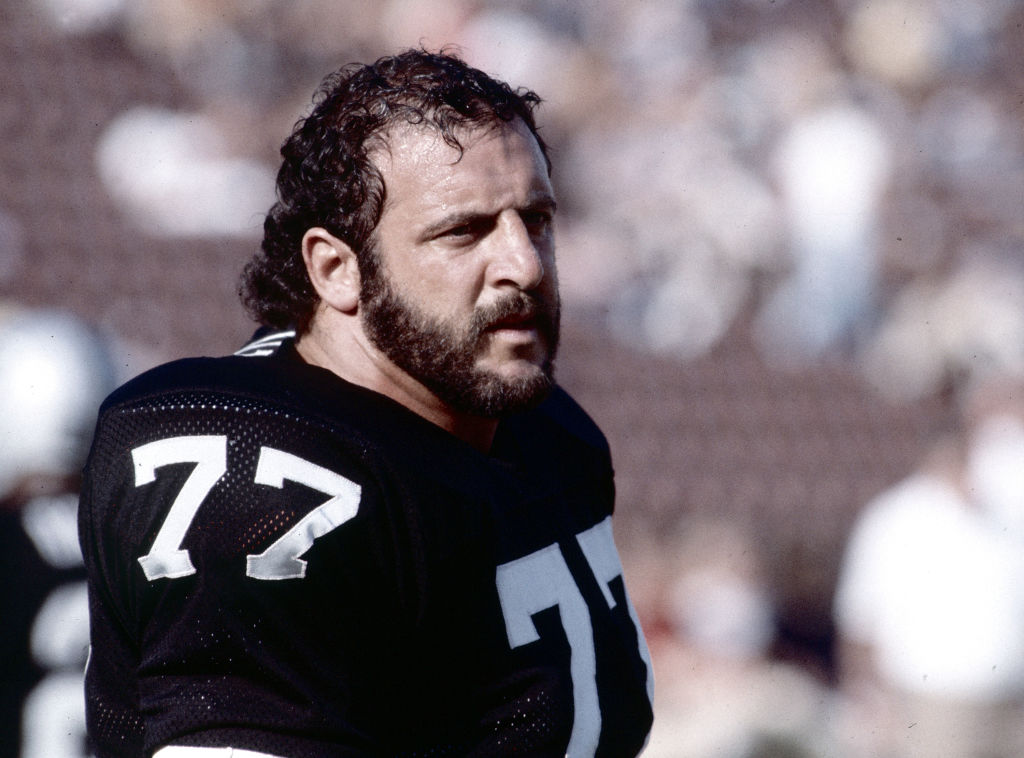 Lyle Alzado's Tragic Story of Lies, Steroids, and His Untimely Death at Age 43
Lyle Alzado's tragic story of lies, steroid use, and his untimely death at age 43 after 15 seasons in the National Football League.
Lyle Alzado played his college football at Yankton College, a small NAIA school in South Dakota. There, the future Denver Broncos and Los Angeles Raiders defensive lineman fine-tuned his game that prepped him for a life in the NFL. It was also there that Alzado began his use of steroids.
Lyle Alzado's NFL career
Lyle Alzado played 15 years in the National Football League. He spent the first eight seasons with the Denver Broncos, the team that selected him in the fourth round of the 1971 NFL draft. He attended little-known Yankton College in South Dakota.
According to ESPN, a Broncos assistant scout had car trouble while in Montana. He passed the time by watching video of Montana Tech, who happened to be playing Yankton. The 6-foot-3, 250-pound Alzado caught the eye of the scout and the Broncos selected him with the 79th overall pick in 1971.
Alzado left the Broncos after eight seasons and went on to play three seasons with the Cleveland Browns. He ended his career by playing four seasons with the Los Angeles Raiders. Alzado made the Pro Bowl twice and was named the UPI AFC Player of the Year in 1977. He was a Super Bowl champion as a member of the Raiders in 1983.
Alzado's use of steroids
According to ESPN, it was at Yankton College where Lyle Alzado began using steroids. He was undersized in high school and experimented with them in college and never stopped, using it even after his days with the Los Angeles Raiders were over. Alzado was known for his intense play and the steroids helped that cause. For years, Alzado denied ever using steroids, but he came clean in a 1991 Sports Illustrated article.
The article came out in July of 1991, three months after Alzado was diagnosed with brain cancer and 10 months before his death in May of 1992. Alzado admitted he lied for years and he didn't hold back. He said he was scared and he was fearful of others who had also taken steroids. Alzado said an alarming 90 percent of the athletes he knew were on steroids.
"Almost everyone I know," Alzado said in the first-person article in Sports Illustrated. "They are so intent on being successful that they're not concerned with anything else. No matter what an athlete tells you, I don't care who, don't believe them if they tell you these substances aren't widely used. Ninety percent of the athletes I know are on the stuff. We're not born to be 280 or 300 pounds or jump 30 feet. Some people are born that way, but not many, and there are some 1,400 guys in the NFL."
Steroids ruined Alzado's life
While steroids helped keep Lyle Alzado's motor running on the football field, it did the same off and he paid the price for it. Steroids were responsible for sudden mood swings which ultimately led to fights, divorces, and an unhappy lifestyle.
"I got moodier and moodier, too," he told Sports Illustrated." I had a couple of divorces and I yelled all the time. Anytime I'd walk into a restaurant or a bar, I always felt like I had to check everything out to make sure no one was going to mess with me. I was so high-strung that I needed to play a game every day. That is what was so hard when I decided to retire. I'd had an Achilles injury, which I'm sure was a result of all the steroid use."
Although there is no direct connection between steroids and his brain cancer, Alzado believed his health issue was a result of taking steroids all those years.  "This is the hardest thing I've ever done, to admit that I've done something wrong," he said. "If I had known that I would be this sick now, I would have tried to make it in football on my own—naturally. Whoever is doing this stuff, if you stay on it too long or maybe if you get on it at all, you're going to get something bad from it. I don't mean you'll definitely get brain cancer, but you'll get something. It is a wrong thing to do."