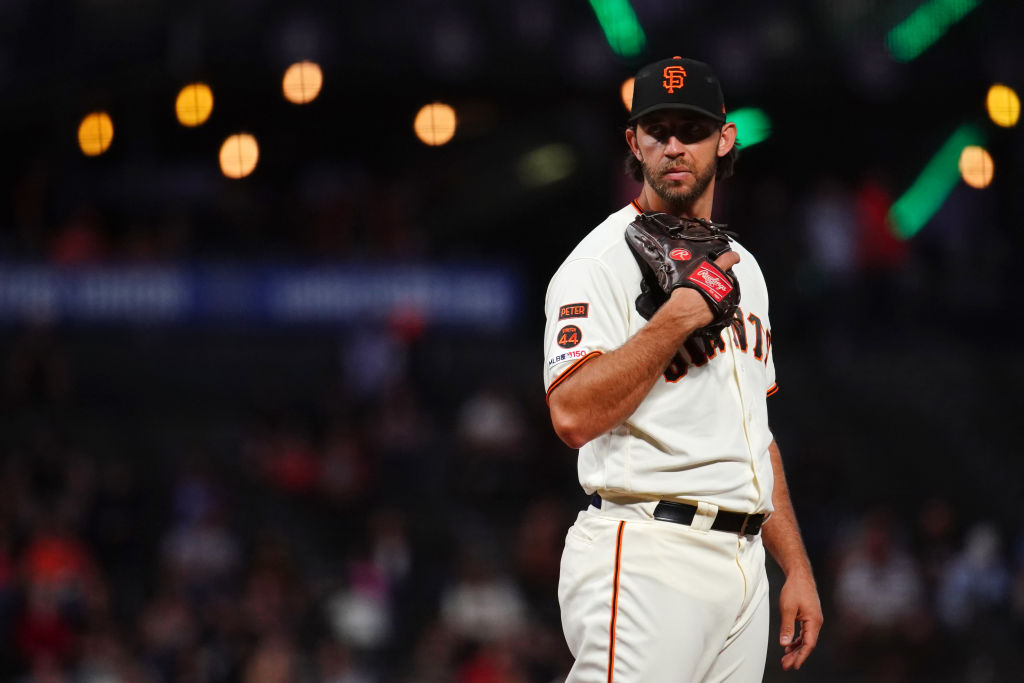 Madison Bumgarner Once Dated a Girl Named Madison Bumgarner
Madison Bumgarner is a simple man. So simple, in fact, that he once dated a girl with the same name as his and couldn't have cared less.
Have you ever met someone with the same first and last name as yours? Diamondbacks starting pitcher Madison Bumgarner has. In fact, he actually dated a girl with his exact same name. Madison Bumgarner and Madison Bumgarner — the cutest and strangest couple in town. Imagine him explaining that one to his parents in high school.
Madison Bumgarner grew up in a place called "Bumtown"
Madison Bumgarner was born in a secluded town a few miles outside of Hickory, N.C. The area he grew up in was known by the locals as "Bumtown" because Bumgarners made up a large portion of the population.
The Hickory Daily Record explained it best.
"Bumtown" so named almost a century ago for all the Bumgarners living on both sides of Deal Mill Road – is actually a mile northeast of Sawmills, four miles southeast of Hudson, three miles northeast of Granite Falls, three miles west of Oak Hill, nine miles south of Lenoir, four miles northwest of Dudley Shoals and 10 miles northwest of Hickory."
As of 2014, there were close to 100 Bumgarners living in "Bumtown." That sure would get confusing for most people, but Madison was always used to it.
"It's just home. It's where I grew up," Bumgarner once said." I always look forward to going back there. There's no place like home for anybody. That's pretty much it, I guess. There are definitely a lot of Bumgarners there. But it's just home."
Madison Bumgarner actually dated a girl named Madison Bumgarner
When a town of that size has so many people with the same last name, it's likely you'll find someone with the same first and last name as yours. There's probably multiple John Bumgarners, a few Bob Bumgarners, and maybe a couple of Emma Bumgarners living in the same town.
One thing we know for sure is there were at least two Madison Bumgarners growing up in "Bumtown" over a decade ago. Tom Verducci of Sports Illustrated wrote a feature story about Bumgarner in 2014, and the World Series champ said he actually dated a girl in high school named — you guessed it — Madison Bumgarner.
That was about all the information Bumgarner divulged. After all, he's one of the quietest and most personal figures in professional sports today. He's a simple man. A simple man who has a World Series MVP trophy, but a simple man nonetheless.
So what if she had the same name? They weren't related by blood, and you can't help who you fall for as a teenager. There would've been no argument over who would take on the other's last name if the couple got married, but the Bumgarners sadly didn't last.
Bumgarner put "Bumtown" on the map
Bumgarner may not have stayed together with the other Madison, but he made "Bumtown" famous through his success with the Giants.
Bumgarner played his first 11 MLB seasons with San Francisco. All he did was win three World Series rings and a World Series MVP during his time there. The man who came from a small town in North Carolina became known as one of the most clutch postseason pitchers of all time.
Throughout his career, Bumgarner has posted an 8-3 record in the playoffs. Four of those eight wins came in World Series games, and he's never lost a World Series game in his entire career.
Bumgarner has a 2.11 ERA across his 14 postseason starts. In his five World Series starts, Bumgarner has a 0.25 ERA. He's widely considered one of the greatest postseason pitchers in MLB history.
Madison Bumgarner put "Bumtown" on the map with his incredible accomplishments in the MLB. It's too bad Madison Bumgarner isn't still by his side to share his success.