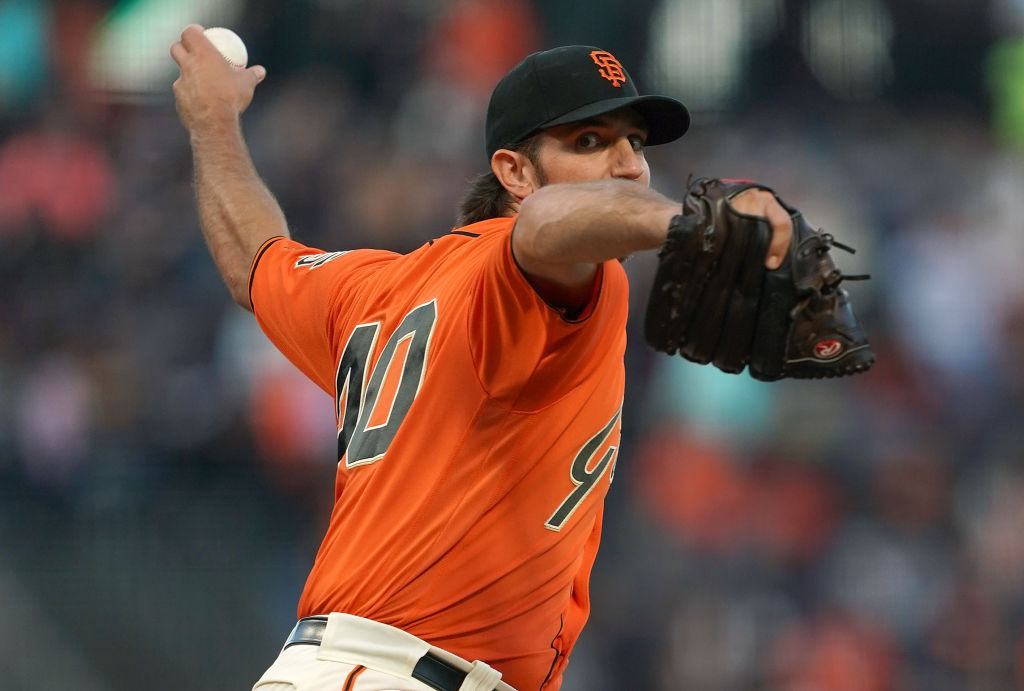 Madison Bumgarner's Hobby Could End His MLB Career
Arizona Diamondbacks pitcher Madison Bumgarner has been using an alias to compete in rodeo competitions during baseball's offseason for several years.
Baseball pays the bills for Madison Bumgarner, but the Arizona Diamondbacks pitcher has also been competing in a less visible and more dangerous sport in between MLB seasons.
Bumgarner was doing it under an alias, but a story published this weekend has blown his cover and raised questions about whether the way he's been moonlighting is even permitted under his lucrative contract with the team.
Madison Bumgarner, aka Mason Saunders, is a rodeo champion
Although friends knew that Madison Bumgarner has been living a double life in the sports world, it took a weekend story by The Athletic to bright his second career to light. The four-time all-star has been competing in team-roping rodeo competitions for at least four years, keeping his identity secret by using Mason Saunders as his alias.
And Bumgarner isn't like those sports or entertainment stars who try qualifying for the U.S. Amateur in golf and embarrass themselves by shooting a 97. He's good enough at team roping, in which one rider ropes the head of a steer and the other snares the back legs, that he was part of a duo that won $26,500 last December in Arizona.
Bumgarner, 30, isn't ruling out going on the rodeo circuit full-time once his career as a major-league pitcher is over. He said he has been using the alias and sticking to mostly smaller competitions to avoid garnering too much attention. He earned $600 in a rodeo event last spring just two days before pitching in a spring training contest in Arizona.
"Everybody knows about it," he said in the website interview. "It's just that the media, and therefore the public, didn't."
Madison Bumgarner makes a comfortable living playing baseball
It's not the money that's attracted Madison Bumgarner to the rodeo scene since he has already banked more than $57.5 million in his major-league career.
Bumgarner reached the majors with the San Francisco Giants in 2009 at the age of 19. He was selected for the All-Star Game four straight seasons beginning in 2013 and has compiled a 119-92 record with a sharp 3.13 ERA, averaging 8.7 strikeouts per nine innings.
He became a free agent after slumping to a combined 19-25 record over the past three seasons and signed with the Arizona Diamondbacks. He'll make $6 million in 2020 as part of a contract worth $85 million over five seasons.
Is Madison Bumgarner supposed to be doing this?
Madison Bumgarner was still a free agent late last year when he won the $26,500 prize in a rodeo event, so the Arizona Diamondbacks would have had no reason to be alarmed or possibly even know about his offseason exploits. Now, however, there's the matter of his huge contract. Major-league teams can weave riders prohibiting certain dangerous activities into contracts.
Bumgarner throws the baseball left-handed but says he hurls the lasso right-handed, which may be of little consolation to a baseball front office worried that he could potentially injure both limbs or other body parts by being thrown from his horse.
Mike Hazen, general manager of the Diamondbacks, declined to discuss specific contract language when he was asked about Bumgarner, who missed three months of the 2017 season with a sprained throwing shoulder and rib injuries after what was reported as an accident while riding a dirt bike – which he conceded probably violated his contract.
Bumgarner might want to consider the fate of Yoenis Cespedes, who signed a four-year, $110 million contract with the New York Mets in December 2016. Cespedes sustained multiple right ankle fractures in an accident at his Florida ranch that has not been fully explained in public.
The two-time all-star appeared in a combined 119 games in 2017-18 and did not play for the Mets at all last season. The team withheld part of his salary, citing contract language regarding banned activities, and the union filed a grievance.
The sides settled before the case went to arbitration and Cespedes surrendered a chunk of what was due to him. He lost nearly half of the $29 million negotiated for 2019 and two-thirds of his $29.5 million salary for the upcoming season.