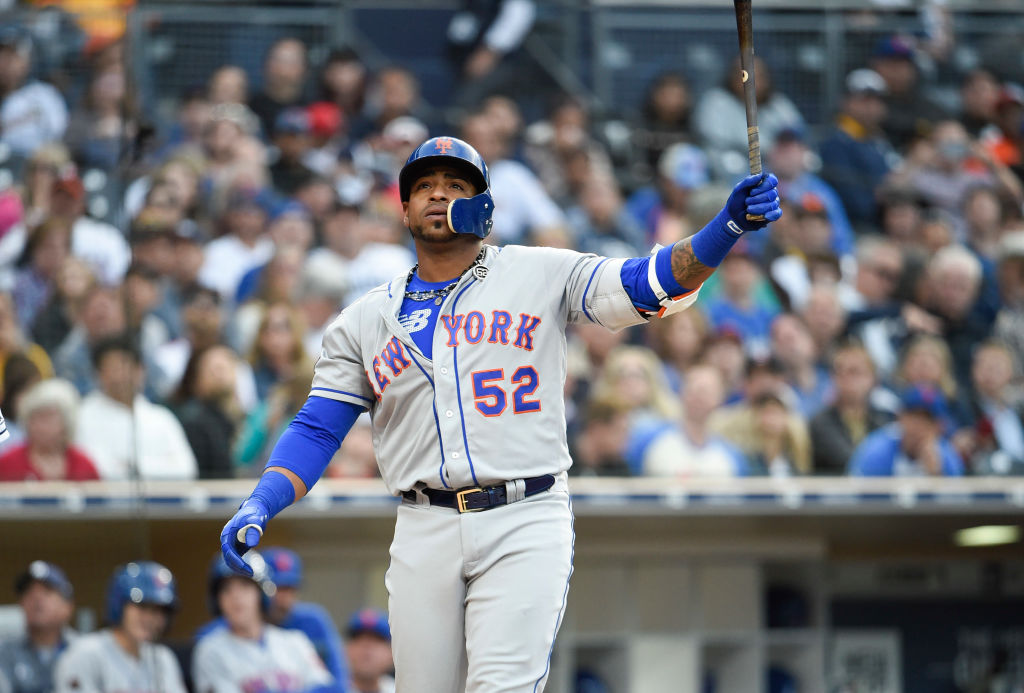 How a Wild Boar Cost New York Mets Outfielder Yoenis Cespedes Millions
Every MLB player is going to suffer his fair share of injuries, but Yoenis Cespedes' run-in with a wild boar has to be one of the weirdest.
For professional athletes, injuries are a reality of life. From Mickey Mantle tripping over a sprinkler to more mundane muscle tears and strains, virtually every baseball player eventually finds their way to the injured list. New York Mets outfielder Yoenis Cespedes, however, didn't get hurt on the field; he suffered an ankle injury while dealing with a wild boar on his farm.
While Cespedes' stint on the sidelines will certainly go down as one of baseball's weirdest, it was no laughing matter for the outfielder. In fact, that run-in didn't just hurt Cespedes' ankle; it also hurt his wallet.
Yoenis Cespedes' career to date
During his time in Cuba, Yoenis Cespedes made a name for himself as an incredibly talented baseball player. After defecting to the United States, his upward trajectory continued in Major League Baseball.
When Cespedes arrived in America, he was hailed as a five-tool player and a generational talent. The outfielder lived up to the billing with the Oakland A's, batting .292 and belting 23 homers; he finished second in American League Rookie of the Year voting, only losing out to Mike Trout. His legend continued to grow in 2013 thanks to a victorious appearance in the Home Run Derby and impressive ALDS.
Cespedes defended his Home Run Derby crown in 2014 but was traded to the Boston Red Sox in July. The outfielder spent the rest of the season in Beantown before joining the Detroit Tigers for the next campaign; in the following July, he was traded again, this time to the New York Mets.
While the outfielder immediately burst onto the scene in Queens, powering the Mets to the World Series, but things slowly started to decline. Cespedes signed an extension before the 2016 season but struggled to stay healthy; when he opted out after the first year of the deal, the Mets inked the outfielder to a new contract. Since then, Cespedes has played a total of 119 games and missed the entire 2019 season due to injury.
How a boar cost the Mets' outfielder millions
After Yoenis Cespedes missed the entire 2019 MLB season, his massive contracted looked like an albatross tied around the Mets' collective neck. In December, however, the outfielder and the club were able to work out a deal to "restructure and amend" their contract. As part of the deal, Cespedes' salary was reportedly slashed from $29.5 million to under $10 million.
After the agreement was made, however, the New York Post slowly exposed some of the backstory. Ever since last season, the accepted story was that Cespedes hurt his ankle in a "violent fall" at his Florida ranch. That fall, however, seems to have been caused by a wild boar.
According to the Post's report, "Cespedes has traps on his ranch for a variety of reasons, including to keep boars away from people." On this occasion, however, a live boar was apparently removed from a trap; while no one is exactly sure what happened next, the outfielder reacted and stepped into a hole.
The outfielder immediately reported the injury, but the Mets apparently tried to "[withhold] Cespedes' 2019 pay and were considering an attempt to make the remainder of his pact a non-guaranteed contract" due to his potentially risky behavior. The recent contract restructuring, though, allowed both parties to put the issue behind them.
Yoenis Cespedes joins baseball's pantheon of weird injuries
While injuries are no laughing matter, Yoenis Cespedes has to be the first professional athlete to get hurt at the hands of a wild boar. Major League Baseball, however, is no stranger to weird injuries.
After becoming a New York Yankees hero, Aaron Boone infamously blew out his knee playing pick-up basketball. Both Kevin Pillar and Sammy Sosa spent time on the shelf after sneezing too hard; similarly, Tom Glavine once broke a rib while vomiting. Randy Johnson—a utility player, not the pitcher— and Wade Boggs even got hurt putting on socks and shoes, respectively.
Clearly, Yoenis Cespedes and that boar are in good company. Hopefully, the Mets' outfielder can stay injury-free in 2020; after his salary cut, Cespedes will be eager to bring home the bacon.