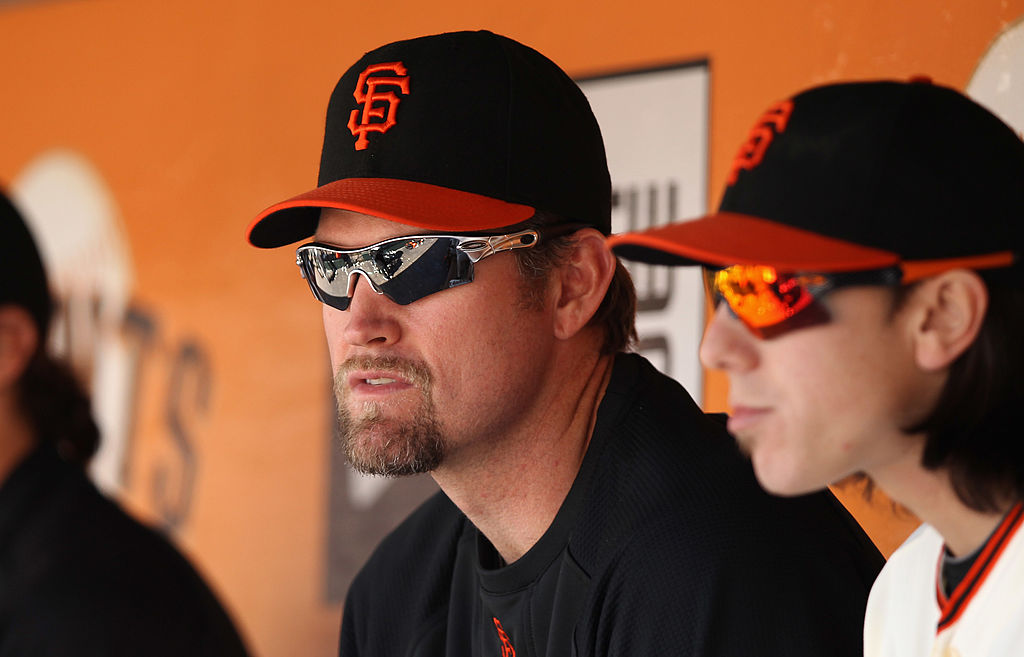 The Giants Will Ban 1 Player From Their World Series Reunion
Aubrey Huff has two years to clean up his image if the former Major League Baseball star intends to earn an invitation to the reunion celebrating the San Francisco Giants' 2012 World Series championship. However, the retired slugger can forget about rubbing elbows with former teammates and front-office employees this summer when the Giants hold …
Aubrey Huff has two years to clean up his image if the former Major League Baseball star intends to earn an invitation to the reunion celebrating the San Francisco Giants' 2012 World Series championship.
However, the retired slugger can forget about rubbing elbows with former teammates and front-office employees this summer when the Giants hold their 10-year reunion commemorating their 2010 World Series championship over the Texas Rangers.
Team executives have informed Huff that his history of controversial comments have made him persona non grata at a celebration they've scheduled for Aug. 16.
Aubrey Huff's comments have created controversy
Aubrey Huff was out of baseball after appearing in 52 games for the 2012 San Francisco Giants, hitting just .192. His career totals in 13 major-league seasons for five organizations included 242 home runs, 904 RBIs, and a .278 batting average.
After officially retiring in January 2014, Huff did some radio and TV work and released a book in which he wrote about anxiety issues exasperated by the pressure of playing in the major leagues.
Huff's activity on social media and his support of Donald Trump in recent years has created headlines. A tweet by him critical of presidential hopeful Bernie Sanders in November 2019 said that "knowing how to effectively use a gun under socialism will be a must."
Huff, now 43, has also suggested that women marry for money and advocated on Twitter last month for kidnapping and enslaving Iranian women, a comment that he said was said in jest. He posted that his account had been suspended for seven days this month.
Huff's Twitter profile describes himself as "Father, 2X World Series Champ. I'm a critically acclaimed stick figure artist, who's politically incorrect. Love God, Country, & support toxic masculinity!" He has 48,000 followers on that social media platform.
Aubrey Huff was indispensable to the 2010 Giants
Aubrey Huff played first base and outfield for the 2010 San Francisco Giants after leaving the Detroit Tigers as a free agent. He recorded his 1,500th career hit late in the regular season and finished the year with 26 homers, 86 RBIs, and a .290 average.
Huff led all Giants batters including Buster Posey in hits, walks, runs scored, homers, RBIs, and games played and was their only player in the top 10 in the MVP voting, finishing seventh.
He drove in eight runs in 15 postseason games, including four in five contests as the Giants captured their first World Series title in 56 years by defeating the Texas Rangers.
Why the San Francisco don't want Huff at their reunion
With some of his social media comments already raising eyebrows, fan reaction to Huff was mixed last September when he appeared at Bruce Bochy's last game as manager.
It has been known that the Giants have scheduled a reunion of their 2010 championship team, so reporters for The Athletic contacted the organization to ask about Huff's status.
The Giants responded with a statement saying that they had already informed the retired slugger that he won't be included in the event because of his "multiple comments on social media that are unacceptable and run counter to the values of our organization."
The statement went on to say that the decision does not mean the organization did not appreciate what Huff contributed to the championship run.
Huff was not happy to learn of the decision: