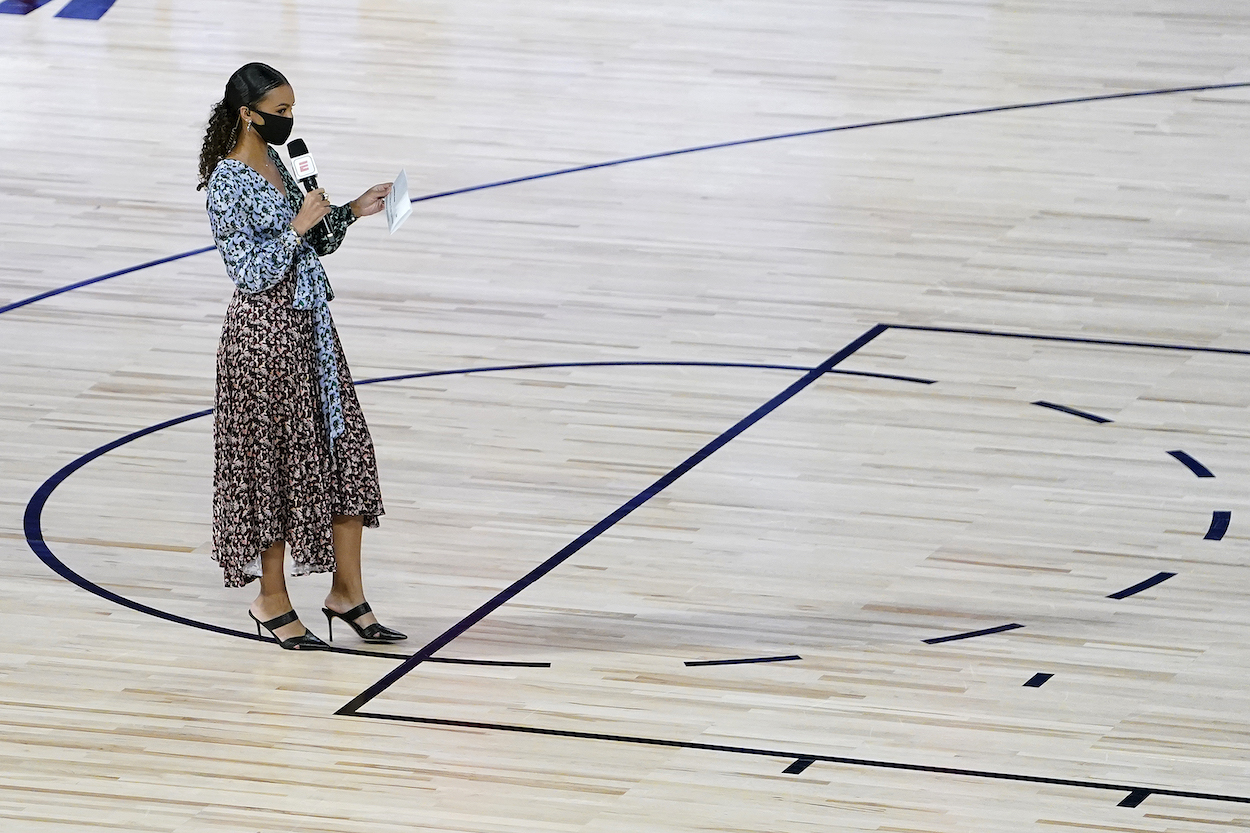 Malika Andrews Overcame a Dark Past Before Becoming ESPN's Top NBA Sideline Reporter
Malika Andrews' rise to ESPN's top NBA sideline reporter has seemingly happened overnight. It's even more impressive when you understand the dark past she overcame to get there.
Malika Andrews delivers sideline reports for ESPN's NBA coverage like a seasoned veteran. Quite impressive, considering she's just 25, made her ESPN television debut last season in Orlando at the NBA bubble, and is just a couple of years removed from working as a newspaper reporter covering Donald Trump and Stormy Daniels. 
Andrews' rapid ascent to the top of the sports media world has happened almost overnight. However, don't mistake that for cutting corners or a lack of hard work. It's just the opposite. She is devoted to her craft, focused, and driven. Her early career success is remarkable, especially when you understand what she's overcome. Just over a decade ago, Andrews was in a very dark place. 
Malika Andrews quickly moves her way up in sports media world
After growing up in Oakland, California, Malika Andrews attended the University of Portland to study communications. In Oregon, she befriended several people who worked for the school newspaper and wanted to join them. With the only opening available in the sports department, she began her career as a sports journalist.
She wrote quality content and excelled. Over the next several years she moved her way up, becoming the school paper's sports editor and then the editor-in-chief. She earned awards from the Society of Professional Journalists, the National Association of Black Journalists, and the Columbia Scholastic Press Association. 
Malika Andrews earned her bachelor of arts degree and graduated with honors. Out of college, she landed a job at the Denver Post before moving to the Big Apple as a James Reston Reporting Fellow with the New York Times sports department. She stayed for a year before moving to work as a sports reporter for the Chicago Tribune.    
Malika Andrews joins ESPN
In 2018, Malika Andrews joined ESPN as a reporter for the website covering the Chicago Bulls and Milwaukee Bucks. A year later, she returned to New York to cover the Knicks and Brooklyn Nets.
Things continued to progress for Andrews and she began appearing on TV at the start of the 2019-20 NBA season. Then the pandemic hit. When the NBA returned from its hiatus four months later, Andrews was one of the first reporters on the ESPN World of Sports Complex campus detailing her own experiences of life in the bubble. 
When the games started, she provided insightful sideline reports like she had done it for years. In September, Andrews showed a personal side when she broke down on SportsCenter while talking with Scott Van Pelt about the response of players and her own reaction to the announcement a grand jury had declined to charge officers in the death of Breonna Taylor.
"I have prided myself in being able to be objective and cover these sorts of issues," Malika Andrews said, then paused trying to maintain her composure. "But when it is so clear that the system of objectivity in journalism is so whitewashed, and doesn't account for the fact that when I'm walking up the hill, my wonderful producer reminds me that Breonna Taylor was 26 and I am 25, and that could have been me. It is very hard to continue to go to work and that's what these players were feeling." 
She rebels as a youth and battles an eating disorder
Malika Andrews eloquently conveyed her feelings and that of the Black community that night in Orlando. It was a far cry from that young teenage girl in California just over a decade earlier who had no control of her feelings or her life.  
At 14 years old, Andrews told the New York Post she was "angry, depressed and anxious." She had turned away from her family and stopped studying. She got kicked out of school. And, she developed an eating disorder.
"I struggled with restricting and purging. It is not really anorexia or bulimia. It is more anorexia than bulimia, but it doesn't fit super neatly into a box, which I learned through my years of treatment that more and more eating disorders don't fit neatly into a box."
With things quickly spiraling out of control, she turned to her parents for help. They sent her to a year-round therapeutic boarding school in Utah. It was the best thing that could have happened to her.
She turned her life around and graduated early at age 17. After spending a year at her grandfather's civil rights law firm, she opted to go to Portland and began her career in journalism.
Malika Andrews' life story and career are inspirational. And to think they're just getting started.