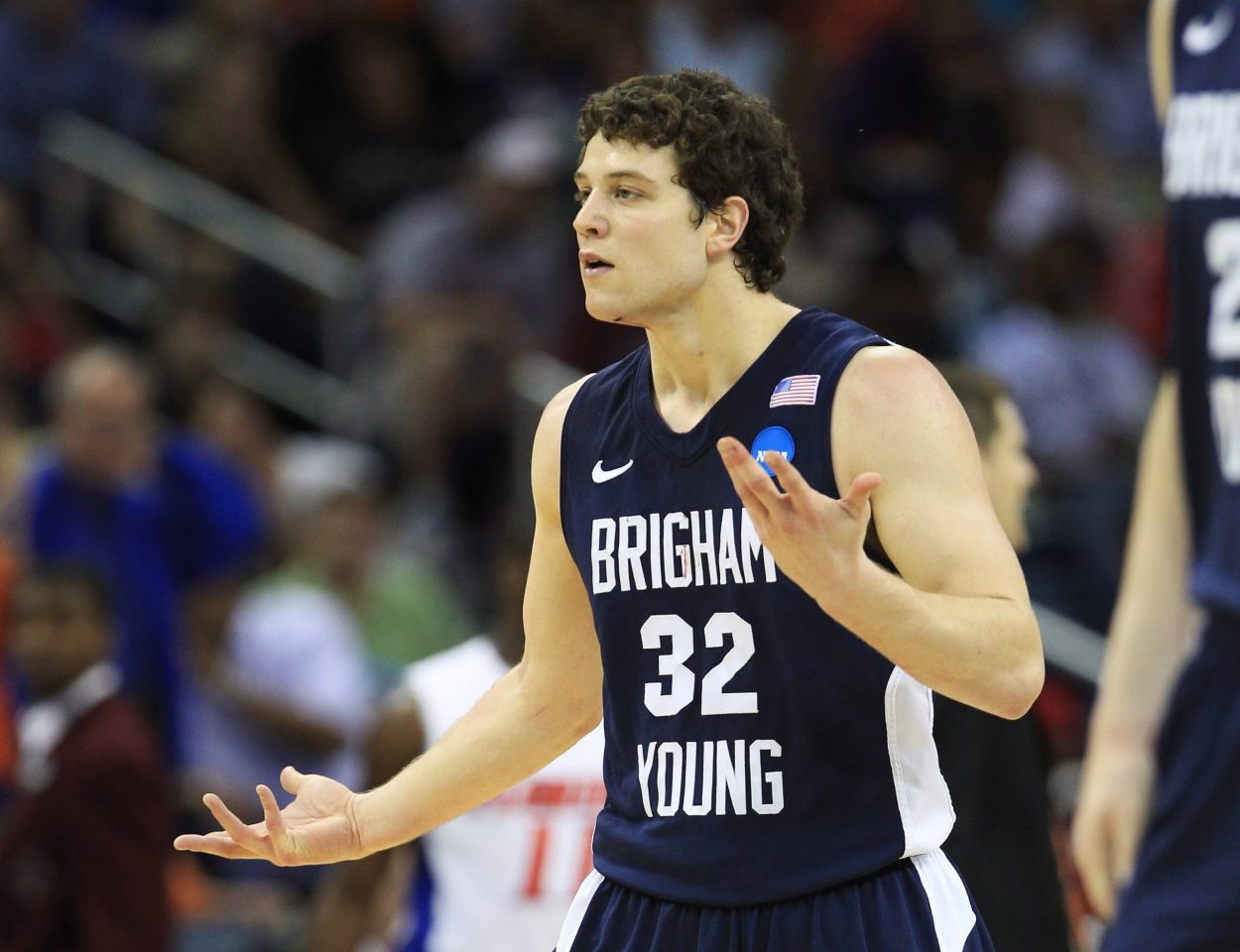 March Madness Heroes Who Burned Out in the NBA
Not every NCAA standout makes a career in the NBA. Here are some March Madness heroes turned busts.
Throughout NCAA history, numerous March Madness heroes also found stardom or respect in the NBA. Patrick Ewing had a Hall of Fame career with the New York Knicks after leading what amounted to a collegiate dynasty at Georgetown University.
Still, plenty of March darlings ultimately burn out at the next level. For every Stephen Curry, there's a Mateen Cleaves. Some of these players might be considered NBA busts, while others simply had their moments in the sun and never projected all that well beyond college.
With the 2022 NCAA Tournament on the horizon, let's take a look back at four players who captured the hearts and minds of Americans everywhere during March Madness before their careers rapidly came to an end. As a point of clarification, plenty more names could have made it onto the list, but the players chosen had spectacular runs in the NCAA Tournament itself, rather than merely having strong collegiate resumes.
Steve Alford, Indiana Hoosiers
As wild as this might sound, there was a time when Alford was seen as the next great point guard. Legendary Indiana Hoosiers head coach Bob Knight selected him over future Hall of Famer John Stockton for the 1984 Olympics.
Indeed, Alford dominated for the Hoosiers during the program's heyday.
The Indiana kid made two All-America teams during his time in Bloomington. He put a stamp on a terrific career during his senior season, averaging 22.0 points, 3.6 assists, and 2.6 rebounds while leading the Hoosiers to the national title.
Alford really excelled during March Madness. He scored 33 points in a win over the UNLV Runnin' Rebels in the Final Four and poured in 23 against the Syracuse Orange in the NCAA Championship Game.
However, Alford never stuck in the NBA. He played just four seasons and 169 games in the Association. Imagine if the Indiana Pacers went with Alford over Reggie Miller in the 1987 NBA Draft.
Ed O'Bannon, UCLA Bruins
Long before O'Bannon essentially began an antitrust suit that has since resulted in the NCAA allowing NIL deals for amateur athletes, he dominated at Pauley Pavilion.
After playing 23 games and averaging just over 12 minutes in his freshman season, O'Bannon started nearly every game as a sophomore, averaging 16.7 points, 7.0 rebounds, 1.3 steals, and 1.0 blocks. Quite the leap, right?
Soon enough, O'Bannon cemented himself as the best player in college basketball. He won the Wooden Award in his senior season, averaging 20.4 points, 8.3 rebounds, 2.5 assists, 1.9 steals, and 0.8 blocks while leading the Bruins to a national title.
O'Bannon could not be stopped in the NCAA Championship game. He torched Arkansas for 30 points and pulled down 17 rebounds while also pilfering the Razorbacks three times.
A guy who seemed destined for NBA stardom fell way short and became one of the top busts. The New Jersey Nets selected O'Bannon with the No. 9 overall pick in the 1995 NBA Draft. He played just 128 games and struggled to overcome persistent knee pain.
Nowadays, basketball fans probably recognize O'Bannon as the guy who took on the NCAA for using his likeness in an EA Sports videogame. At one point in time, though, he helped the Bruins return to their former glory.
Jimmer Fredette, BYU Cougars
Stephen Curry, Damian Lillard, and Trae Young draw plenty of "oohs" and "wows" from NBA fans whenever they hoist three-pointers from the logo. Former BYU Cougars star Fredette popularized long-distance shooting as much as anyone else.
Fredette became a national sensation for his prolific marksmanship and audacious shot selection. He won both the Wooden and Naismith Awards in his senior season and led the NCAA in scoring average at 28.9 points.
The guard put on an exhibition during March Madness. Actually, he did so before the NCAA Tournament even began.
Fredette scored a whopping 52 points in the semifinals of the MWC conference tournament. He maintained his high level of scoring on the national stage, averaging nearly 33 points in three games and putting on a breathtaking performance against Gonzaga in the second round.
The Sacramento Kings acquired the rights to Fredette after the Milwaukee Bucks selected him 10th overall in 2011. He played only 241 games, the last of which came in 2019 with the Phoenix Suns.
Fredette's name pops up every now and then, and he's made numerous star turns internationally. However, the former Cougars star never managed to make it in the NBA.
Shabazz Napier, UConn Huskies
In 2011, Napier watched Kemba Walker lead UConn on a historic run that began with a sensational Big East Tournament win and ended with the Huskies being crowned NCAA champions.
Three years later, Napier had his own March Madness moment.
Napier made All-America First Team during the 2013-14 campaign, averaging 18.0 points, 5.9 rebounds, 4.9 assists, and 1.8 steals. However, his Huskies were up against it heading into the NCAA Tournament, heading into the bracket as a No. 7 seed.
Not to be denied, Napier led UConn on a Cinderella run. He scored 25 points in a second-round win over a heavily-favored Villanova squad. He scored 25 more points in the Elite Eight, upending a Michigan State squad featuring Gary Harris, Denzel Valentine, and Adreian Payne.
Napier capped things off against Julius Randle, the Harrison twins, and the Kentucky Wildcats in the national title game, scoring a game-high 22 points to go with six rebounds, three assists, and three steals en route to Most Outstanding Player (MOP) honors.
But whereas Cardiac Kemba parlayed his March Madness success into NBA stardom, Napier struggled to find his place.
The undersized point guard never managed to stick in the NBA. He appeared in 345 games and most recently suited up for the Washington Wizards in 2020, but has not played in the Association since.
Stats courtesy of CBB Reference and Basketball Reference.