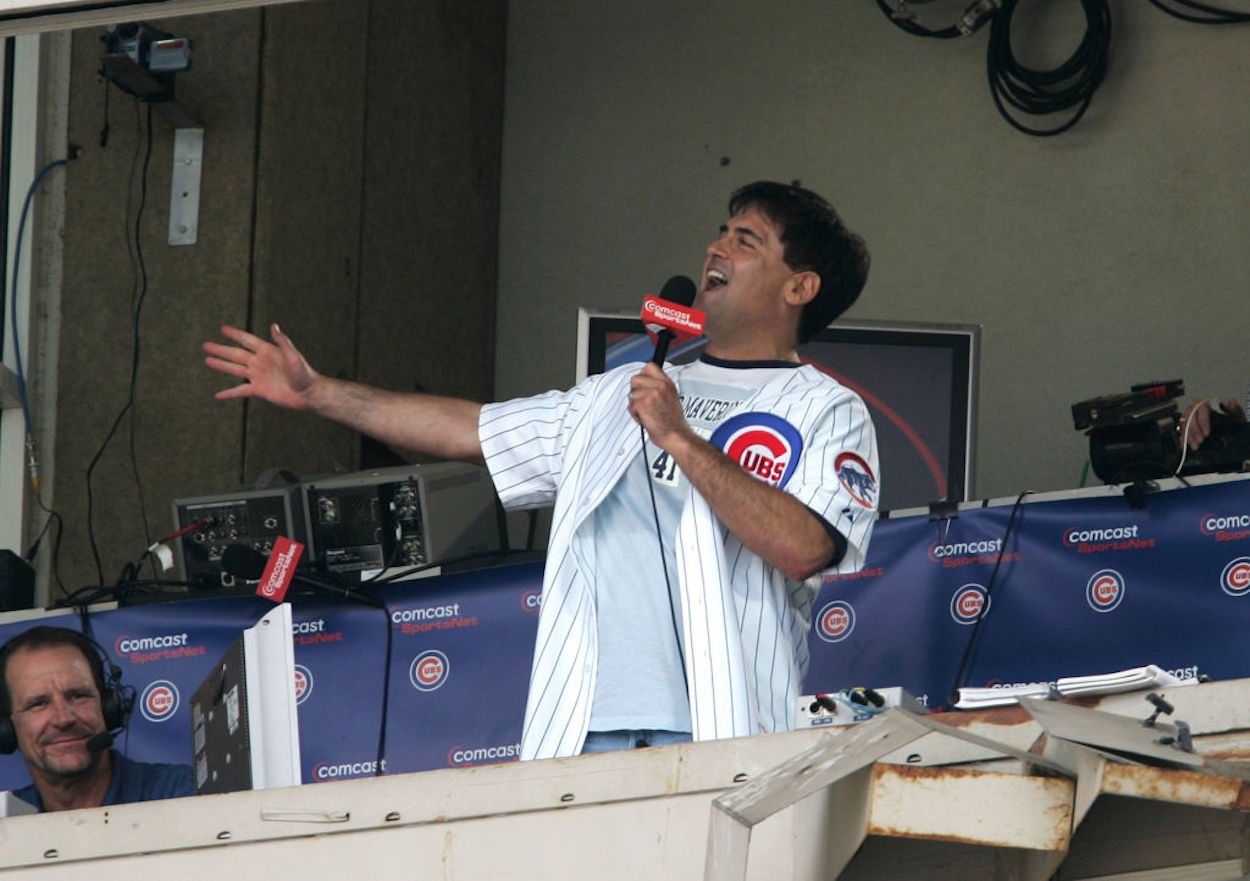 Mark Cuban's Idea for Fixing Major League Baseball Won't Sit Well With Purists
Mark Cuban may own the Dallas Mavericks, but he has some big ideas for improving Major League Baseball. They probably won't be popular, though.
Whether you think he's a genius or find him to be a bit obnoxious, it's tough to argue with Mark Cuban's success. Beyond his sizable fortune, the Pittsburgh native has found success in pro sports as the governor of the Dallas Mavericks. That doesn't mean he can't lend some insight to baseball, though.
During a recent appearance on The Dan Patrick Show, Cuban was asked what he'd do if he had the chance to invest in Major League Baseball as a product, ala Shark Tank. The Mavs governor said he'd be interested, provided he'd get to make some changes. As you might expect, those ideas probably won't sit well with baseball purists.
Mark Cuban would bring a TikTok-style approach and more bat flips to Major League Baseball
If you've ever seen Shark Tank, you'll know that sometimes Cuban will only agree to invest in a product if he can make certain changes to ensure success. Major League Baseball, it seems, is in need of those tweaks.
"I would say [that], with some changes, I would," Cuban told Dan Patrick when asked if he'd hypothetically buy into the overall MLB product.
So, what are those changes? The first sounds like a hybrid of social media and the NFL's beloved Red Zone.
"I think baseball is well-suited for the TikTok generation because it comes in small bites," the billionaire explained. "And using a TikTok-like, AI-driven approach, you could create an application where, you know, you could be living in Dallas and be a Rangers fan, but, if … your favorite player came up, you'd have an app where you'd be swiping in those plate appearances or those pitches. … There's so many ways that baseball could use technology to present the game that they don't."
While that way of watching America's Pastime may seem jarring, it's not that alien of an idea. Major League Baseball already has MLB Big Inning, which scratches a similar itch, albeit as a streaming product within MLB TV. You could argue, though, that reality automatically limits its scope; you're not going to reach new fans with a subscription service, especially one that usually airs around 9 pm.
Cuban's other suggestions, however, will probably raise a few more eyebrows.
"And then I would push to speed the game up, like no throwing around the horn. You know, I would go away from some of the traditions. I would make the players do bat flips. … Things that might get the ball thrown at you, but you'd have to talk to the players first to say, 'Look, you know, if we want to change this game and get kids excited again, we're going to have to make changes.'"
Whether you agree with Cuban or not, something has to give
It's safe to assume that plenty of baseball fans won't care for Cuban's ideas; America's Pastime, for better or worse, is built on history and tradition. With that being said, though, you can't take too many issues with his underlying ideas.
Baseball, for all its positives, is losing the arms race when it comes to popularity. Just consider the numbers presented by the New York Times in a 2019 story called "How Popular Is Baseball, Really?". Although the piece presented things with a positive gloss, highlighting a strength within local markets, things don't look great.
When that story was written, "about 68.5 million fans attended major league games during the 2019 regular season, down from a peak of nearly 80 million in 2007." Juliette Love also noted that "according to YouGov's ratings of active sports personalities, 91 percent of Americans have heard of LeBron James and 88 percent have heard of Tom Brady, but only 43 percent have heard of Mike Trout of the Los Angeles Angels, baseball's best player." That was theoretically because only 1% of the country could see more than 25% of Trout's game, as opposed to virtually the entire United States being about to watch TB12 or King James.
Those numbers have likely changed since then, but the underlying point is all the same: Baseball has niche popularity in pockets of the country, but lacks a national, 'you've gotta see this' appeal.
In fairness to baseball, though, this problem isn't unique to them. Hockey has also struggled to overcome its regionality and market stars; it also doesn't help matters when color commentators essentially say that skill isn't welcome in the modern game.
The rub, however, comes in modernizing in a genuine and engaging way. Simply embracing bat flips doesn't address the root cause of the problem.
Take, for example, Major League Baseball's infamous Players Weekend jerseys. While that could have been a genuine opportunity to highlight the athletes and their unique stories, we got a ham-fisted implementation that didn't do much besides anger purists. Having Aaron Judge wear a jersey that says "All Rise" doesn't tell me anything about him or help me engage with him as a human being; it just feels like a branding exercise. There needs to be a balance between the marketing side of things and genuine emotion. Sports, at the end of the day, are supposed to be fun.
All of that is to say, while Cuban's answers might not be the perfect solution, baseball needs to do something to compete with the likes of the NBA. Finding that exact answer, though, is the challenge.