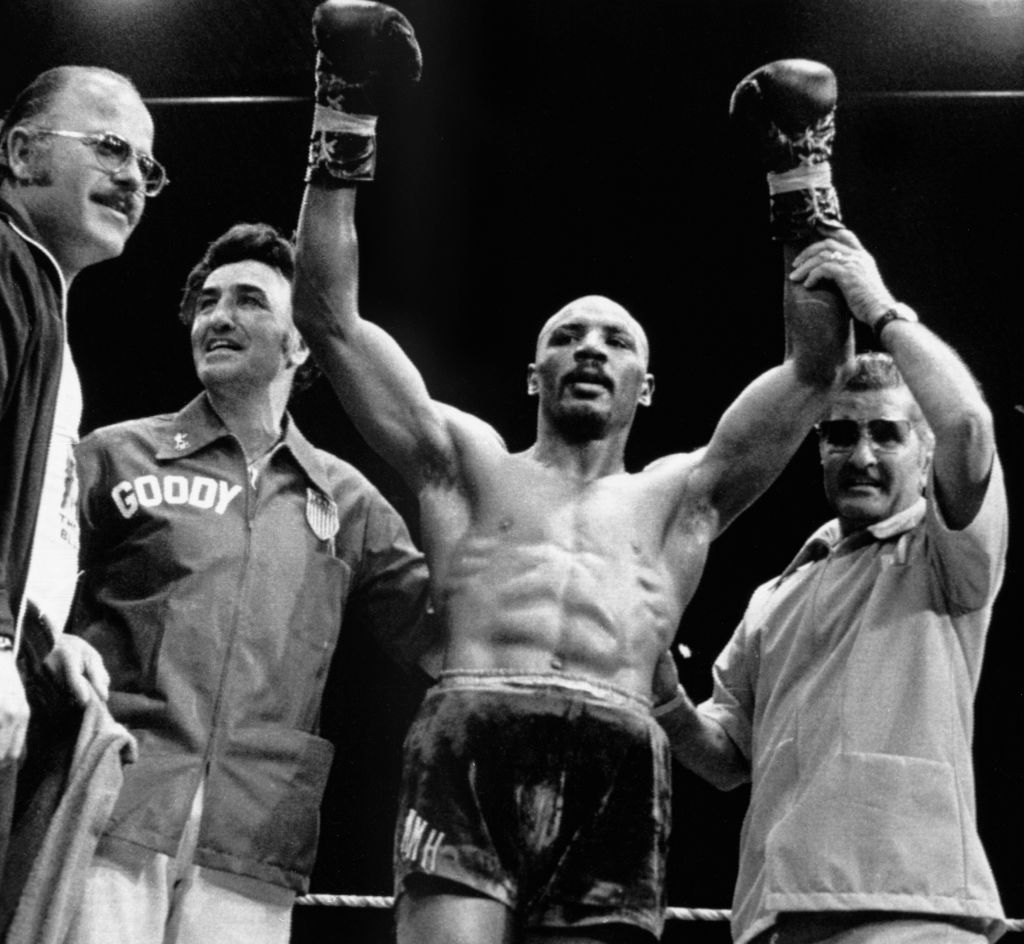 Marvin Hagler's Boxing Career Began Because of a Man Only Known as 'Mister Joe'
Hall-of-Famer Marvelous Marvin Hagler's boxing career began because of a man only known to him as Mister Joe.
Marvelous Marvin Hagler always knew he wanted to box but with no father figure in the house, he didn't know where to begin. Enter Mister Joe. Mister Joe spent a very small amount of time with Hagler, but little did he realize he played a major role in helping him win 62 professional fights. Hagler became the undisputed middleweight boxing champ for better than seven years and earned a classic fight with Sugar Ray Leonard that's still talked about today.
Marvin Hagler's boxing career
Marvelous Marvin Hagler was a knockout machine. Hagler won 62 professional fights in his career, winning 52 via knockout. Hagler owns the highest knockout percentage among all undisputed middleweight champs at 78 percent. He was inducted into both the International Boxing Hall of Fame and the World Boxing Hall of Fame.
Hagler was left-handed, but he could also fight as a right-hander. When he began boxing professionally, boxing legend Joe Frazier told Hagler it would be very difficult for him to win a title. "You have three strikes against you," Frazier said in an ESPN article. "You're black, you're a southpaw, and you're good." Hagler overcame those odds to the tune of 12 title defenses between 1980-1987.
Hagler lost just three times in his career to go along with a pair of draws. One of his losses came in his final pro fight, suffered at the hands of Sugar Ray Leonard in a split decision in April of 1987. Hagler was named Fighter of the Decade in the 80s by Boxing Illustrated. Twice, he was named Fighter of the Year by The Ring magazine and by the Boxing Writers Association of America.
Hagler vs. Leonard
It's a decision today that still is debated among boxing fans. Sugar Ray Leonard won the first two rounds of the fight, but the debates go on from Round 3 and beyond. Judge Joe Filippo scored the bout 115-113 in favor of Marvin Hagler, while judge Dave Moretti had it 115-113 with Leonard winning. The official ringside judge JoJo Guerra scored it 118-110 Leonard, saying he dictated the fight.
One of Hagler's managers, Pat Petronelli, said Guerra was way off and Hagler was robbed. "This here official, JoJo Guerra, should be put in jail," he said, in an article in the New York Times. Petronelli had no real beef with Moretti's decision that Leonard won 115-113. "I can understand that," he said. "It was a close fight."
Hagler wanted a rematch, but Leonard, as he said he would before the fight, was ready for his third retirement. In 1988, Hagler then announced his retirement from the sport. According to an article in ESPN, Leonard offered to fight Hagler in 1990 in a bout that would've paid Hagler $15 million, but Hagler had moved on in his life and declined.
Who was Mister Joe?
Marvin Hagler's father abandoned the family when the boxer was a young child. The family was on welfare, but Hagler had big dreams. He was into all kinds of sports, but he was a fan of Floyd Patterson and someday wanted to be like him. "I always wanted to be somebody," Hagler once told Sports Illustrated. "Baseball, I played like I was Mickey Mantle or Willie Mays; basketball, I'd be Walt Frazier or Kareem; boxing, I'd pretend I was Floyd Patterson or Emile Griffith."
When Hagler was 10 years old, an elderly social worker, only known to him as Mister Joe, gave him his first boxing gloves. While Mister Joe provided the gloves, it was Hagler's uncles who did the training. "He always said he wanted to be a boxer," Hagler's mother Ida Mae said in Sports Illustrated. "I didn't believe him. He said he wanted to be like Floyd Patterson."
Not only did Mister Joe provide Hagler with boxing gloves, but he also helped steer him in the right direction. "He helped me with any problems I had," Hagler said of Mister Joe. "He taught me sports. We went to the park to fly kites. He'd call up, 'What's the problem? You gonna be at the club?' He kept me out of trouble. He got me involved in counseling other kids. I haven't seen him since I was a kid, and I've been trying to find the guy again for a long time."